5Q with Daybreak intern Emma Penton
Emma Penton is a third-year student from Torbay, NL majoring in psychology and minoring in sociology and Canadian studies.
1. What are you doing for a summer internship?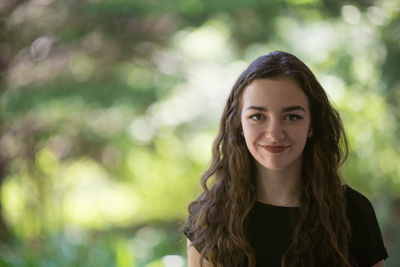 I was successful in receiving a grant from the Design-Your-Own Internship Fund through Future NB. I am working at Daybreak, which is a non-profit organization located in Sackville, NB. Daybreak is a mental health support group for people above the age of 19. It allows participants to participate in different activities throughout the month in a safe, non-judgmental, and supportive setting. Daybreak provides a sense of community for anyone in the Tantramar region. I am under the supervision of Melody Petlock, Mount Allison's SHARE advisor, working alongside community members in the Tantramar COVID-19 Task Force under the Mental Health Committee. I am creating resources for the area such as street survival and seniors' guides and also outreach activities with members of Daybreak, such as going to the community garden!
2. What do you hope to take away from this experience?
This internship gives a meaningful experience that is transferable for the future. By the end of the internship, I will be able to plan, prepare, and lead social and recreational activities to promote inclusion and mental health. I will also have the chance to understand and assist with all aspects of operating a small non-profit activity centre, providing support and services for adults with chronic mental illness. This internship has provided me with a unique opportunity to gain experience in the field of mental health care and advocacy.
3. What has been your favourite part of the internship so far?
I love getting to interact with Daybreak members at the community garden or through driveway visits! It is so lovely to get outdoors, converse, and get the instant satisfaction that you are making someone's day. I am also so lucky to have such a great supervisor and mentor in Melody Petlock. She has so much knowledge, experience, and ideas in her field. Melody's support and guidance are helping me shape my goals for the rest of my time at Mount A as well as for future grad and career opportunities.
4. How has the pandemic affected your internship?
Due to COVID-19, Daybreak had to significantly limit the number of activities and gatherings. But the pandemic also created an opportunity to work on the Tantramar COVID-19 Task Force committee and start mental health action initiatives. With the pandemic affecting the amount of outreach I can do, I am updating the resources that come along with a small non-profit activity, including the website and new community guide booklets.
5. What extracurriculars are you involved in on and off campus?
I have been involved with Habitat for Humanity, Transitioning for Life, residence Health and Wellness, and Jack.org. Most recently, I was the academic mentor in Windsor Hall. I am the social media co-ordinator for Mount A's Parks Canada Club and have been involved with Relay for Life. This upcoming year, I am a member of the Orientation Crew, Human Resources Manager at the MASU, and am continuing my involvement with Mount A's Psychology Society. I volunteer weekly at S.M.I.L.E., and I also work as a bartender at The Pond.
Bonus question: What is one piece of advice you would give to your first-year self?
The first year of University is a time for self-discovery. I recommend embracing opportunity and applying yourself to all the opportunities that Mount A offers to their students within studies, bursaries, internships, leadership positions, and more! Experience within your field is an excellent way to network.
One of the benefits of Mount A being a small, undergraduate-focused school is that the opportunities to gain experience in your field are more easily accessible. When you get involved as early as your first year, you can narrow your focus and develop exciting opportunities for yourself that you are also passionate about! Do not be afraid to reach for things outside your comfort level — there is always someone supporting you.