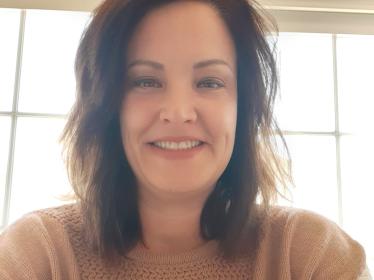 Sacha DeWolfe is an assistant professor at Mount Allison University working with the Canadian Studies Department. She is a Dr. Althea Warren Macaullay CFUW scholarship recipient (2018-2019), Indspire's Building Brighter Futures: Bursaries, Scholarships and Awards recipient (2018-2019, 2019-2020 and 2020-2021), an O'Brien Fellowship recipient (2019-20) and was recently awarded a Social Sciences and Humanities Research Council grant (2020-2022). The focus of her PhD research is investigating the social, political and historical factors contributing to her identity as a Mi'kmaq person and how her life stories contribute to an expanded dialogue of Wabanaki identity. Included in her dissertation is a documentary film which takes the audience on a journey from damage to desire.
Sacha received her Bachelor of Arts with a major in Sociology and a double minor in Human Resource Management and Industrial Relations, Bachelor of Education with a focus on elementary, Master of Education in Critical Theory and is a PhD candidate at the University of New Brunswick. Her Master thesis research was titled, "Schooling Behind Bars: An Analysis of the Therapeutic Community Model and How it Shaped Education for Incarcerated Youth."
She has been an educator for over 15 years at all levels of practice. She was formerly the Director for the Office of First Nation Education at the Department of Education and Early Childhood Development in New Brunswick. Sacha has also been involved on research teams investigating various aspects of Indigeneity.
Sacha led students through the Community Engaged Learning practicum in the winter 22' term and instructed a unique experiential community based course in August 22' titled, Indigenous Community Assets.
Sacha is teaching Indigenous Studies this fall and two courses in the winter term titled, Social Aspects of Place and a course she developed titled, Learning to Desire.
Retaining First Nation Students in the Nursing Program at the University of New Brunswick
Migration and Indigenous contexts of Mathematics Education (MIME): Changing storylines with strength-based pedagogies