Karin Aurell
Part-Time Lecturer — Flute
---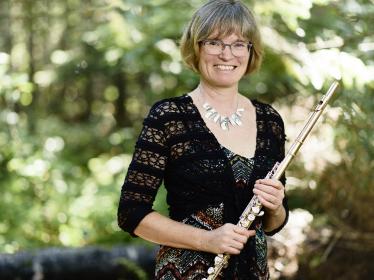 Karin Aurell studied flute with Gerard Schaub, Lennart Ehrenlood, Robert Aitken and William Bennett among others. After finishing her M.Mus. in music performance at the University of Goteborg, she spent many years playing principal flute in the Norrköping Symphony Orchestra on Sweden's Baltic coast before relocating to Canada in 2001. Since then she has built a career as a chamber musician, performing regularly all across the region with her groups Ventus Machina (woodwind quintet) and Trio Arkaède.
Karin played in the Norrkoping Symphony Orchestra (SON), in Southern Sweden, from 1988 until she moved to Canada. With this orchestra, she performed all across Europe, and recorded extensively on the BIS and CPO labels. She has worked with such distinguished conductors as Franz Welser-Most, Daniel Harding, Leif Segerstam, Okko Kamu and Herbert Blomstedt.
Karin teaches flute in the music departments of Mount Allison University and Université de Moncton. Former students of hers have gone on to participate in the National Youth Orchestra and the Youth Orchestra of the Americas. Six of her students have represented New Brunswick or Nova Scotia in the National Music Festival, several of them winning awards and one taking the grand prize. Karin's former students have gone on to study at the Curtis Institute, the Carnegie Melon School, the Manhattan School of Music, Université de Montreal and the University of Toronto.
In 2011, she was part of launching New Brunswick's professional woodwind quintet, Ventus Machina. This group is presented by Symphony New Brunswick in their Virtuoso Series, performing programs each year in Moncton, Saint John and Fredericton. The quintet also plays outreach concerts and workshops in schools around the province, as well as organizing two summer chamber music camps, one for youth and one for adult wind players.
In fall 2017, Ventus Machina released their first full length album, In the Weeds. The album was nominated for two ECMA awards. Ventus Machina's second album, Folklore, will be recorded in spring 2020, and following the release, tours are planned to South America, northern Europe and Western Canada.
Ventus Machina is supported by the Canada Council and the Province of New Brunswick.
Karin's first solo recording, Nightingales for Katy, was released in 2005. Her second CD, with Trio Arkaède (with Isabelle Fournier, violin and Julien LeBlanc, piano) was released to critical acclaim in summer 2008. The trio's second CD, Tour de France, was launched in 2014 and comprises music by French composers from the early part of the 20th century. It received a very favourable review in La Scena Musicale and was nominated for classical recording of the year at the ECMA awards.
Karin was a member of New Brunswick new music collective Motion Ensemble, and she continues to commission work from the region's composers and to play new music whenever the opportunity arises. In November 2009, she was chosen by the Canadian Music Centre as one of 50 ambassadors to Canadian music.
Karin spends her summers on PEI, where she plays in the Charlottetown Festival Orchestra.