Erin Bardua
Part-time Lecturer — Diction
---
Office hours
By appointment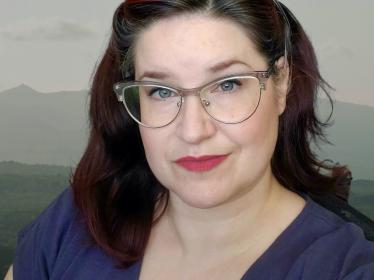 Soprano Erin Bardua is a frequent soloist, voice teacher, and stage director. She is also a co-founder of Essential Opera, a collective performing and creating opera in Ontario and Atlantic Canada. Professor Bardua's practice as an artist encompasses new composition, early music, the work of historically stigmatized and underrepresented artists, and a dollop of Broadway and commercial styles. Her goal as an instructor is to help artists use their voice as singers, communicators, and humans with autonomy and agency in their creative work. This translates into a student-led, evidence-based teaching approach in the studio. and an emphasis on consent, inclusion, and accessibility in rehearsal and performance.
Much of Ms. Bardua's most recent work has been on film and online. In 2020, her company Essential Opera produced two operatic films: Mirror, mirror by Anna Pidgorna; and December by Monica Pearce. In 2021, Ms. Bardua created a solo programme of contemporary and original music for unaccompanied voice and voice with flute titled Afterwards-Day, which premiered at Sappyfest: Infinite Variety, a 24-hour streamed performance event. She also played the role of Helen in a hybrid live and streaming production of Fun Home with Mount Allison University's Drama department, and was a featured soloist in a programme of works by early Baroque women composers with the Sackville Festival of Early Music, also presented in hybrid form. Essential Opera's upcoming projects include another operatic short film, this time of Monica Pearce's Etiquette, and an opera creation project with composer Fiona Ryan. 
Ms. Bardua has performed with Orchestra Toronto, the Talisker Players, Nota Bene Baroque, Pax Christi Chorale, Toronto Sinfonietta, Oshawa-Durham Chorus, Arcady Baroque Ensemble, St. James Cathedral Choir, Capella Intima, London Pro Musica, the Menno Singers, Pacific Opera Victoria, Vancouver Opera, and Opera Anonymous, among others. Her concert repertoire includes many oratorios by Handel (including Messiah, of course), and others such as Haydn's Creation, Mozart's Requiem, Bach's Magnificat and Passions, Vivaldi's Gloria. Ms. Bardua's operatic roles have includedAlcina (Handel), and numerous Mozart such as Pamina (Die Zauberflöte), Countess (Le nozze di Figaro) and Donna Anna (Don Giovanni). 
She has provided dramatic coaching and stage direction for the Halifax Summer Opera Festival, where she directed Monteverdi's L'incoronazione di Poppea in 2018 and Handel's Alcina for the 2019 season; she was Assistant Director on the Mount Allison Drama Department's production of Godspell in 2019; and she will be directing at COSA (Centre for Operatic Studies and Appreciation) Canada in 2023.