Erin Bardua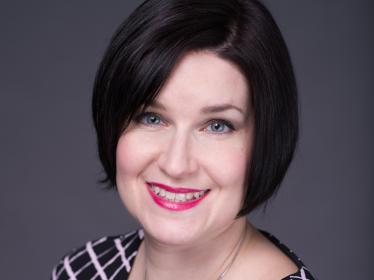 Soprano Erin Bardua holds a Master of Music in Voice Performance from the University of Toronto (2009) and a Bachelor of Music from the University of Victoria (1999). She also studied voice and opera at the Victoria Conservatory of Music (1999-2001), contemporary opera and song at the Banff Centre's Dramatic Integration programme (1999), NUOVA Opera Intensive (2000), Tafelmusik Baroque Summer Institute (2006), Halifax Summer Opera (2006).
Ms. Bardua adjudicates all levels of voice, music theatre, and choirs at music festivals, including at provincial festivals in Ontario (2018), Saskatchewan (2018), and Nova Scotia (2017); local festivals from Brampton, ON to Gander, NL (2011-present).
As a stage director, she directed Monteverdi's L'incoronazione di Poppea (2018) and Handel's Alcina (2019) for Halifax Summer Opera Festival, and has  provided dramatic coaching and stage direction for Mount Allison University's Opera Workshop. She was Assistant Director on the Mount Allison Drama Department's production of Godspell (2019).
In 2010, Erin co-founded Essential Opera with fellow soprano Maureen Batt. The company's 2020 season included producing two short films of operas by Canadian women composers: Mirror, mirror by Anna Pidgorna and December by Monica Pearce. Previously, Essential Opera has produced concert performances of works ranging from Handel to Weill, and continues to commission original works. Erin has also been featured in operatic films by director John Greyson, providing voiceover (Jericho, 2021, and Murder in Transit, 2013) and appearing in principal onscreen roles (Murder in Transit and Last Car, 2017).
As a soloist, Ms. Bardua has performed with Orchestra Toronto, the Talisker Players, Nota Bene Baroque, Pax Christi Chorale, Toronto Sinfonietta, Capella Intima, Pacific Opera Victoria, Vancouver Opera, and Opera Anonymous, among others. Her concert repertoire includes many oratorios by Handel (including Messiah, of course), and others such as Haydn's Die Schöpfung, Mozart's Requiem, Bach's Magnificat and Passions, Vivaldi's Gloria and numerous solo motets, Rutter's Requiem and Hodie, and Zelenka's Missa Omnium Sanctorum. Erin's operatic roles have included Alcina (Handel), and numerous Mozart such as Pamina (Die Zauberflöte), Contessa (Le nozze di Figaro) and Donna Anna (Don Giovanni). She has also premiered and workshopped leading roles in several new operas.
At the University of Toronto, Erin studied with Jean MacPhail, and received the Richard Bradshaw Fellowship in Opera (2008). Prior teachers include Gwenlynn Little, Alexandra Browning-Moore, and Karen Smith. Coaches have included: Rachel Andrist, Kate Carver, Don Tarnawski, Stephen Philcox, Che Anne Loewen, Mia Bach; masterclasses have included Carol Vaness, Emma Kirkby, Edith Wiens; dramatic coaches included Brian Deedrick, Graham Cozzubo and more. Erin has also studied Clown Through Mask with Sue Morrison, focusing on applying clown to opera and vice versa.
M.Mus., University of Toronto
B.Mus., University of Victoria
Evidence-based vocal pedagogy
Acting, character study, and stagecraft for singers
Fostering inclusive spaces for training, rehearsal, and performance