Psychology professor receives Mount Allison's top teaching honour
Dr. Jennifer Tomes to be awarded the Herbert and Leota Tucker Teaching Award during 2017 Convocation ceremonies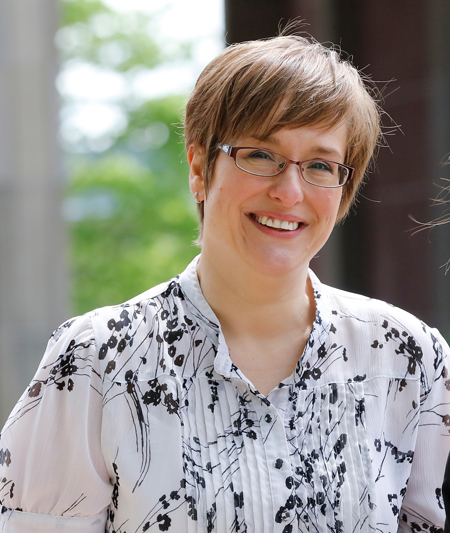 Mount Allison University Psychology professor Dr. Jennifer Tomes has been named this year's recipient of the Herbert and Leota Tucker Teaching Award. The Tucker Award is the highest teaching honour at Mount Allison.
"Jennifer is a dedicated teacher and researcher," says Mount Allison President and Vice-Chancellor Dr. Robert Campbell. "Her commitment to teaching excellence and the scholarship of learning has had an impact not only in her own classroom, but on her colleagues at Mount Allison and elsewhere, as well as on the discipline as a whole. She is a remarkable educator and I congratulate her on this fitting and deserved award."
Tomes joined Mount Allison's Department of Psychology in 2000.
"This is a huge honour, especially in a place where there are so many incredible teachers and instructors," she says. "To be singled out for acknowledgement is just amazing."
Tomes is a specialist in cognitive psychology and memory. She draws on this expertise to research and apply pedagogical approaches in her classes that have been demonstrated to be successful. Testing students frequently, for example, helps improve their performance and she is vigilant about providing examples to help students better understand complex concepts.
"A lot of people view teaching as an art, but I view it as art and science — I try to use techniques that have been validated by science," she says.
Tomes is always willing to provide extra help for students who are struggling or additional challenge for those who are excelling. As a research supervisor she is a skillful mentor as she guides the next generation of psychology scholars and practitioners.
"I think it is really important to mentor students," she says. "I mentor them while they are here, but also after they have graduated. If there is any advice or help I can give, I try to do that. They don't stop being my students once they leave."
Tomes is also generous in sharing what she has learned with her colleagues. Known as a champion of teaching excellence, last year she co-created and co-edited Mount A Teaches, a book that showcases the pedagogical methods and philosophies of faculty members across all disciplines at Mount Allison. She also recently ran a workshop for faculty members at Mount Allison, Lessons from Memory — What instructors can learn from cognitive psychology. One participant said the workshop completely changed the way she teaches.
"I think it is important that we learn from each other," Tomes says. "I have learned so much from my colleagues, so if there is anything I can do to give back, I do so. And I just enjoy teaching, whether it is the students in my class or sharing with my colleagues."
One of Tomes' areas of research expertise is the long-term effects of concussions. Even in this, she has found a way to apply her knowledge to improving teaching by working with Mount Allison's Department of Athletics and Recreation, The Meighen Centre, and the University Senate Committee on Students with Disabilities to develop Mount Allison's new back-to-school protocol for students with concussions.