PPE student pursues public service and public policy internship opportunity in Rwanda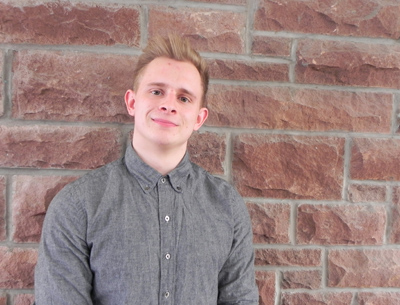 Fourth-year philosophy, politics, and economics (PPE) honours student Grant Benjamin worked last summer in Kigali, Rwanda as one of Mount Allison's L.R. Wilson Interns in Public Service and Public Policy. This internship is designed to give senior PPE students the opportunity to expand their knowledge and understanding of public service and public policy with practical work experience.
Benjamin worked with the organization Laterite in Kigali. It conducts research and data analysis on the economic and social development of Rwanda. A fellow Allisonian, Mallory Baxter ('08), is the organization's senior research associate.
The organization eased Benjamin into the work, but soon he was working on some challenging projects.
"It was an incredible experience. When I first got there, they had me drafting training orientation manuals for their enumerators that they send out to collect data," he says. "As I got more familiar with what was going on, I began to create national surveys to collect data on education. My big project was an analysis of the current state of science and technology education in secondary schools. That is a program run by the African Institute of Mathematical Sciences."
The work involved drafting surveys, scheduling and attending government meetings to gather information, and meeting with individuals from NGOs about some of the other programs that already existed for training teachers.
"It is great to see our students and graduates working together to make a difference in the world — and using the skills they learned at Mount A to do so," says his internship supervisor and head of economics, Dr. Craig Brett.
Benjamin also really enjoyed life in Kigali.
"I wasn't sure what to expect, but as soon as I got there, there was an overwhelming sense of community. Moving from Toronto to Sackville, you find people are much more friendly, but from Sackville to Kigali, it was a whole other level," he says.
The experience confirmed to Benjamin that he wants to work in policy.
"At Laterite, I had the opportunity to work in the health sector, in the education sector, in agronomy. It gave me a greater breadth and that is what I want to be doing, hopefully with NGO consultancy for nonprofits," he says.

Benjamin credits his PPE degree with developing his basic skills.
"Coming from high school I was not sure what I wanted to do, but PPE gave me a great overview," he says. "I got quantitative skills with economics and writing skills with politics and philosophy as well. It has prepared me for just about anything."
He was also able to explore his areas of interest in his coursework. For example, for a project in an econometrics course, he looked at whether the democratic peace process could be extended to non-state actors. This involved evaluating where terror attacks occurred over the last 40 years and seeing whether there are any trends in the data that were consistent with the theory that democracies were more peaceful.
Out of the classroom, he plays football for the Mounties. He describes being a varsity student-athlete as the equivalent of a full-time job.
Next year Benjamin will attend the University of British Columbia to complete a Master's of Economics.