Mount Allison students take part in national Japanese speaking contest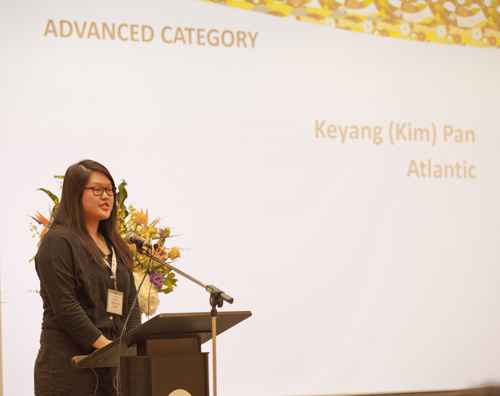 Two Mount Allison students put their talent for languages and public speaking to the test at the Canadian National Japanese Speech Contest, held in Vancouver, BC on March 18.
Sally Wong, an exchange student from Hong Kong, and Ke Yang (Kim) Pan ('17) were the regional winners in the intermediate and advanced categories respectively, earning them the trip to British Columbia for the national competition.
"This year they invited TV Japan to tape the contest and do a little broadcast afterwards and we met the consul general of Japan in Vancouver," Pan says. "It was really formal and made you want to engage more because it just felt so special. And it was good motivation. You got to see non-Japanese people being very good at Japanese and you think, 'I want to be able to do that too.'"
This was the 28th edition of the annual national public speaking competition, with 28 students competing in four categories: beginner, intermediate, advanced, and open.
The competition also included a chance to experience Japanese culture. The speakers had the opportunity to take part in a Japanese tea ceremony, try Japanese foods like sushi, and go to karaoke.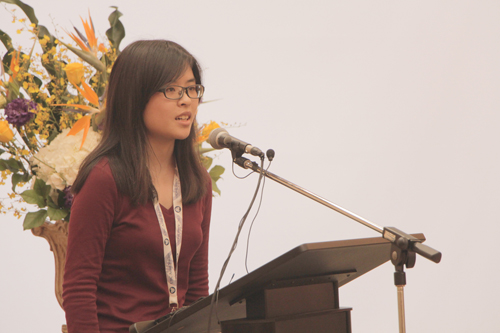 Wong says this is the first time she has ever participated in public speaking and wasn't sure she wanted to, but was encouraged by her professor, Miyako Oe.
"It was a precious chance, so I really practiced a lot before the competition," she says. "I've met so many Japanese friends here and they are so friendly and kind. I practiced my speech with them and they corrected my intonation and my accent, sentence by sentence. One of my Japanese friends, Sakurako, helped me a lot. She practiced with me the night before the regional contest and reminded me to make eye contact and to take a deep breath before delivering the speech to help me calm down."
Mount Allison is one of only a handful of universities in Atlantic Canada to offer Japanese studies, but the University also runs an English-language program for Japanese students — the MASSIE program — so there are always many students whose first language is Japanese to turn to for help.
Pan, who is a Marvel comics fan, spoke about whether or not the world needs super heroes, while Wong's speech focused on how the discipline in Japanese elementary schools impacts Japanese society.
"They are responsible for cleaning their classrooms by themselves and they distribute lunch to their classmates according to a particular system," she explains. "They learn rules like that from elementary school on and they keep that when they grow up. I linked it to the earthquake and tsunami in 2011 in eastern Japan. After the disaster, it was a mess, but people lined up for materials and it wasn't chaos. That is because of their education."
Wong is pursuing a major in e-logistics and technology management with a minor in Japanese studies at her home university, while Pan, who is from Shanghai, China, is completing a double major in psychology and Asian studies at Mount Allison, along with a minor in Japanese studies.
Asian studies is a specially approved major — one Pan created herself with the support of the University. Her interest in Japanese language and culture grew out of her love of anime and games.
"In my third year I went to Waseda University in Tokyo for a full-year exchange. It was a new program at Mount Allison and I was the first one to go," she says. "I had to study intensive Japanese and when I came back I was really motivated to participate in the public speaking competition and win so I could go to nationals."
Oe says 13 Mount Allison students participated in the Atlantic Canada Japanese Speech Contest, held March 4. Although public speaking is an extracurricular activity, Oe works closely with each student, helping them perfect their speaking notes and offering tips and advice on how to deliver the final product.
"For some of the students, it is their very first time public speaking, and it is in a second language, so it is a big challenge," she says. "But they get to meet students from other universities and learn from them and they learn how to express their ideas and stories in a second language. It is a great opportunity for students to challenge their capabilities."