Mount Allison stages War memories with music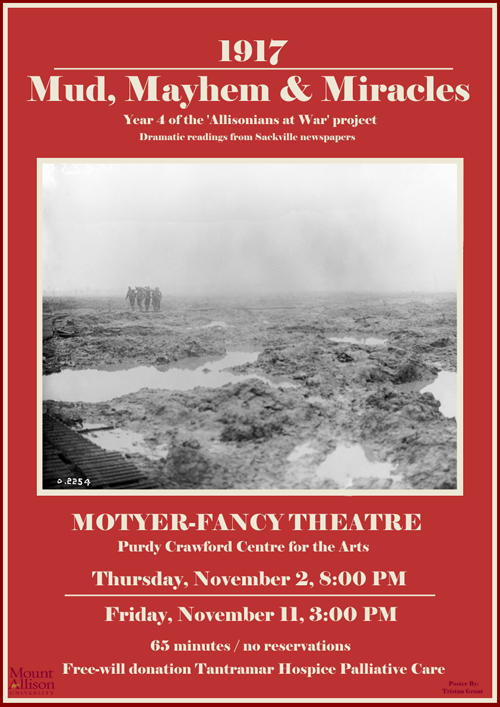 SACKVILLE, NB — Guards watch over the bridge between Sackville NB and Amherst NS, an explosion in Halifax is felt in Newfoundland, events in Europe reverberate around the world, and the dining hall at Mount Allison University is two-thirds empty every day.

Another movie about the Apocalypse? No. It's 1917, World War I has been raging for three years, and everyone, on the Tantramar Marsh and throughout our country, feels its impact.

1917: Mud, Mayhem and Miracles will be staged twice on the Mount Allison University campus, in the Motyer-Fancy Theatre, Purdy Crawford Centre for the Arts: Thursday, November 2 at 8 p.m. and Saturday, November 11 (Remembrance Day) at 3 p.m.

Like the first three productions, this one shares letters and war news, as well as reports of patriotic picnics and other charitable events, from the three local newspapers: The Sackville Tribune, The Sackville Post, and The Mount Allison Argosy.

Director Alex Fancy says that this staged reading is "verbatim theatre," whose goal is to channel voices from another time, rather than interpret events. Nevertheless, says Fancy, "this will be another very moving experience, for readers and spectators alike. The voices tell us just what it felt like at the time, and it is impossible not to be swept up in the turmoil of 1917."

Liam Cole, from Port Elgin NB, is reading for the fourth year.

"There are grim moments, but what a testimony to courage and determination," says Cole. "People even tried to keep their sense of humour!"

Jennie Del Motte will again provide music, and will sing war songs that were popular in the earlier productions. For 70 minutes, she and seven readers will take spectators back exactly one hundred years.

The 2017 production is dedicated to Mrs. Jean MacAulay, a nurse in World War II and a longtime resident of Sackville who passed away earlier this year, shortly after her 100th birthday.

A free-will donation is suggested for the Tantramar Hospice Palliative Care Organization. No reservations, except for disabled patrons.

Contact 506-364-2234 (Motyer-Fancy Theatre), 506-364-2480 or 506-536-0857 for more information.