Mount Allison President Dr. Robert Campbell appointed to the Order of Canada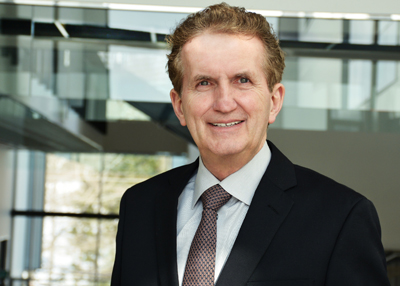 Dr. Robert Campbell, Mount Allison University's 14th President and Vice-Chancellor, has been appointed to the Order of Canada.

His Excellency the Right Honourable David Johnston (LLD '11), Governor General of Canada, announced 69 new appointments to the Order on Dec. 30, 2015.

Campbell was recognized for his contributions to academia, as an authority on postal services, and as President of Mount Allison University.

"The Order of Canada represents an affirmation that what one has been doing has value and that these efforts and activities make a positive contribution to society," says Campbell. "I am honoured and humbled to receive this appointment."

Campbell has been Mount Allison University's President and Vice-Chancellor since 2006 and his second term was recently extended to 2018. He began his career at Trent University, where he was provost and dean of arts and science and was dean of arts at Wilfrid Laurier University before coming to Mount Allison.

In addition to his work as President and Vice-Chancellor, Campbell has also maintained an active research program on Canadian politics and postal systems. In this capacity he has served as a key advisor for Canada Post, chairing the federal panel that produced the Strategic Review of the Canada Post Corporation in 2008.

He has served on the boards of a number of professional organizations, including Universities Canada, the Atlantic Association of Universities (which he chaired 2010-11 to 2012-13), and the Atlantic Institute of Market Studies. He has been named a Top 50 CEO by Atlantic Business Magazine on four occasions.

Mount Allison graduate and honorary degree recipient Dr. Catherine Callbeck ('60, LLD '96) was also named to the Order of Canada on December 30 for her contributions to the citizens of Prince Edward Island as a former politician and senator, and as a business and community leader.

The Order of Canada is one of the country's highest civilian honours and recognizes outstanding achievement, dedication to the community, and service to the nation. Its motto is DESIDERANTES MELIOREM PATRIAM — they desire a better country.