Mount Allison hosts Social Sciences Discussion Series centred on current issues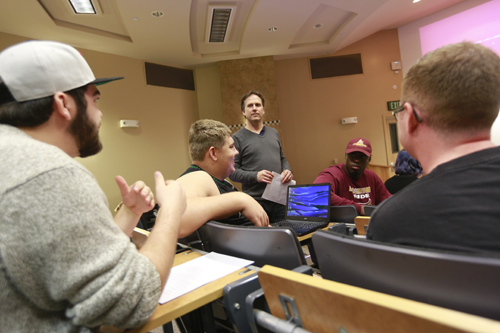 The social sciences aim to understand human interactions in a social context.
Social scientists — in anthropology, commerce, economics, geography and environment, political science, international relations, and sociology — each look at human behaviour from a different angle. Political science may explain why one political candidate is chosen over another, economics why food prices are going up, geography and environment how human activity influences our environment, and anthropology why one person believes something different than another.
It is within this context that Dr. Patricia Kelly Spurles, a professor of anthropology, decided to organize a Social Sciences Discussion Series to explore how professors in social sciences at Mount Allison experience their connection to important current issues such as police brutality, reconciliation, mental health, and climate change as researchers and as teachers. The first event takes place Friday, Nov. 18.
"A few years ago we had research seminars where certain topics were discussed, and often many people in the room could relate the topic to something they had a professional knowledge of. Not just opinions that come from being a good citizen, but a perspective based on their disciplinary training, or something that was related to their teaching, even if it wasn't exactly what they do research on," she says. "It was interesting because it gave everyone a better understanding of the topic by introducing viewpoints that were informed but different from the one the researcher was presenting."
Kelly Spurles says sciences and social sciences work hand-in-hand.
"The sciences provide advances in technology and create commodities, but the social sciences look at how these commodities and technologies are used in society," she says. "Whether a new technology is adopted can depend on human behaviour, public policy, and the nature of an organization, so the sciences must rely on our understanding the nature of human needs in order to guide development productively."
Social sciences are also essential to government.
"In terms of social policy for example, every area of government relies on social forecasting — understanding the structure, the distribution, and the characteristics of society," Kelly Spurles says. "It is important to recognize that not only are the social sciences important to understanding society and social change and to giving us a sense of intention and planning as we look toward the future, but they are also a relevant area of study for young people. It is not something that is just fun — it also develops marketable skills."
The first event in the Social Sciences Discussion Series focuses on the topic of police brutality. It takes place on Friday, Nov. 18 at 3:30 p.m. in the Avard-Dixon Building, Room 117. Future sessions are focused on reconciliation (date to be announced), youth mental health (March 10), and climate change (April 7).