Inaugural McCain Scholars announced at Mount Allison University 
Distinctive awards help support new students, honour members of the Margaret and Wallace McCain family 
SACKVILLE, NB — Five Mount Allison University students have been named the inaugural recipients of the McCain Scholar Awards this Fall. The awards, supported and named in honour of members of the Margaret and Wallace McCain family, are renewable awards, each valued at $40,000 over four years. These scholarships, with five being available each year, are among the leading and most prestigious student awards at Mount Allison.
The 2021-22 recipients are: Heidi Atto (Moncton, NB), Marie Fogarty (Charlottetown, PEI), Laurena Lord (Port Burwell, ON), Quinn McManaman (Moncton, NB), and Hanna Stiles (Moncton, NB).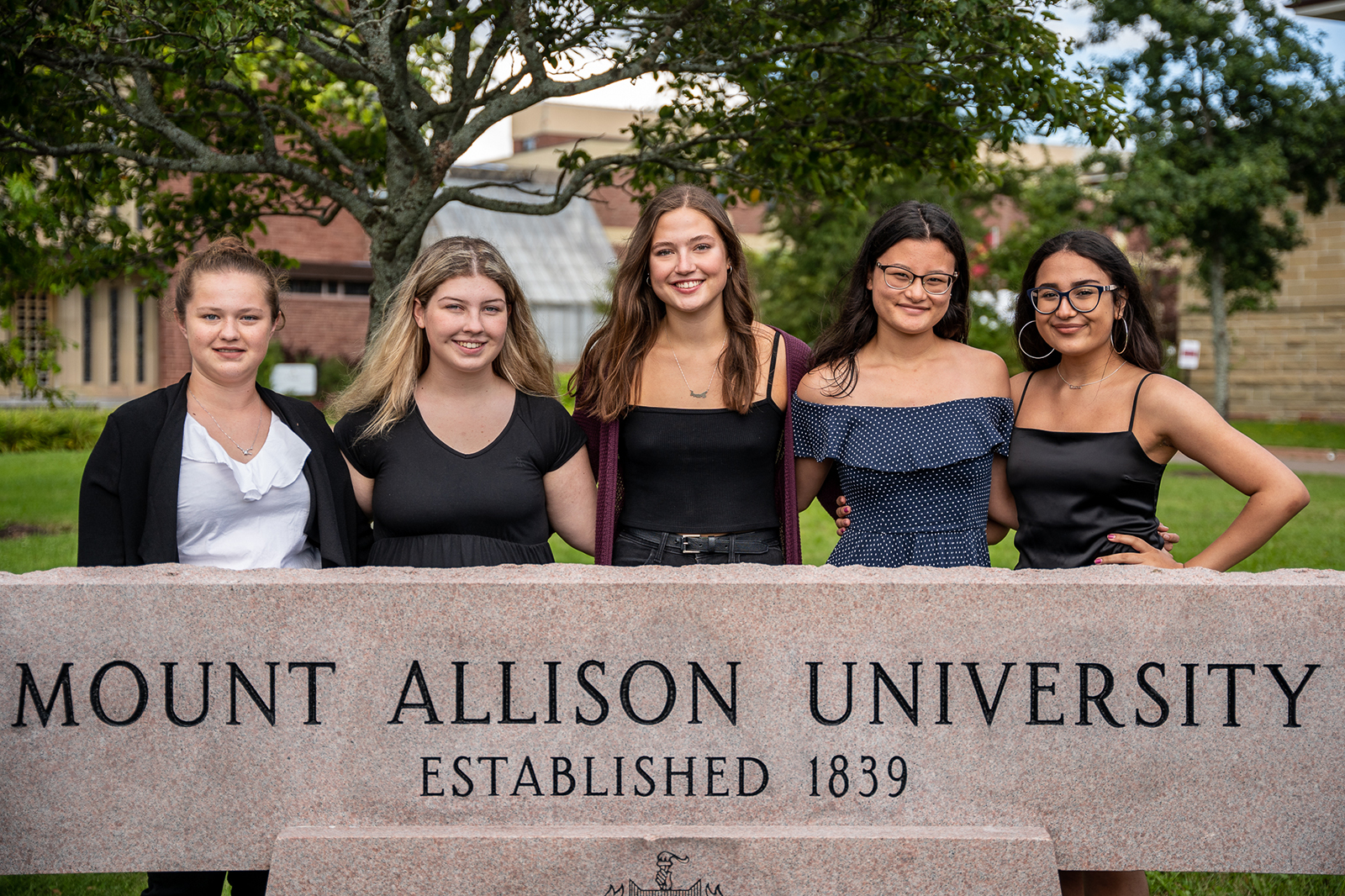 The McCain Scholar awards are unique in that they seek to recognize personal attributes of students such as resilience, perseverance, reliability, responsibility, creativity, and leadership — in addition to academic achievements. These attributes are all demonstrated by early accomplishments in student's home communities, schools, sports teams, clubs, and interests.
"It is important to inspire and support a thirst for knowledge in our youth, both inside and outside the classroom, through community connections, volunteer opportunities, and extracurricular interests," says Margaret McCain. "Mount Allison is a leader in this type of holistic student experience and holds a special place in my family's history. We are delighted to support future generations of Allisonians through the McCain Scholar Awards and look forward to following their accomplishments, both at Mount Allison and in the future."
Mount Allison University President and Vice-Chancellor Dr. Jean-Paul Boudreau says this kind of philanthropic support allows students to focus on their academics and community and volunteer contributions.
"The McCain Scholars — Heidi, Marie, Laurena, Quinn, and Hanna — all bring a wide range of experiences and interests to our campus. I look forward to hearing about their contributions and accomplishments at Mount Allison," says Boudreau. "On behalf of the entire Mount Allison community, I thank Mrs. McCain for her innovative thinking and generous support in establishing these new student awards."
The McCain Scholar Awards will help to significantly increase the number and value of student aid offerings at Mount Allison, enabling the university to continue to attract, retain, and support well-rounded students from across Canada and internationally. In the last year and a half, the University has introduced more than 20 new academic programs and offerings, with more than 50 currently in place including a new Bachelor of Arts with joint major in geocomputing, honours Bachelor of Science in computer science and physics, as well as several new degree minors and embedded certificate programs.
The McCain family's support for Mount Allison spans several decades. In 1994, Margaret ('54, LLD '95, Chancellor Emerita) and Wallace McCain ('52, LLD '74) established the Margaret and Wallace McCain Fellows, supporting academics at the beginning of their careers with a one-year fellowship focused on teaching and research. More than 40 researchers and teachers have been post-doctorate McCain Fellows at Mount Allison over the past 25 years. The McCain family is now pleased to support student academics in a similar way – with the McCain Scholar awards.
In 2008, the Wallace McCain Student Centre opened, supported by Margaret and Wallace McCain philanthropy. This central hub for all student services replaced Trueman House, the men's residence which was named for Margaret McCain's great uncle, former Mount Allison President and Vice-Chancellor George Trueman.
Biographies — 2021-22 McCain Scholars at Mount Allison University
Heidi Atto, Moncton NB — Atto is a first-year Science student who hopes to pursue a career in medicine. Born in Syria, she and her family have already seen war. Atto often read by candlelight prior to moving to Canada at age 14. She was a member of her high school's Student Council Executive, the field hockey team, and served as mentor to Grade 9 students, earning a number of academic and community awards.
Marie Fogarty, Charlottetown, PEI — Fogarty is a long-time athlete, playing volleyball at the national, Canada Games level, and now for the Mount Allison Mounties. A leader both on the court and off, Fogarty also volunteers at Charlottetown's Queen Elizabeth Hospital. She says that the pandemic has inspired her to continue to learn about psychology and plans to pursue a Bachelor of Science in that discipline.
Laurena Lord, Port Burwell, ON — With a wide range of volunteer and community interests, Lord is a multi-sport athlete and also served on her high school's Student Council, working to keep her fellow students engaged and positive during the pandemic. Involved in fundraising event for the Canada Cancer Society (Relay for Life) and member of a robotics programming team, Lord is enrolled in the Bachelor of Science program and aspires to attend medical school following Mount Allison.
Quinn McManaman, Moncton, NB — McManaman is enrolled in the Bachelor of Science program with an interest in biology.  She plans to be involved in as many science-related activities as possible. A multi-sport athlete, playing soccer and rugby in high school and active community volunteer, McManaman also helped to raise money for the geriatric centre at The Moncton Hospital.
Hana Stiles, Moncton, NB — An award-winning student, Stiles was a member of her high school's Vocal Ensemble and an A Capella group, which competed provincially. She also competed nationally with school's show choir, at the Show Choir Canada competition, which took place in Toronto. In Grade 10, Stiles volunteered with the Toronto District School Board Refugee Youth Program, working with young newcomers to Canada. Stiles plays clarinet, violin, ukulele, piano and guitar and has lived in Japan, Kuwait, Egypt and Ontario where her mother worked as a teacher before moving to New Brunswick.