Honours sociology student researches portrayal of Inuit women in mainstream western media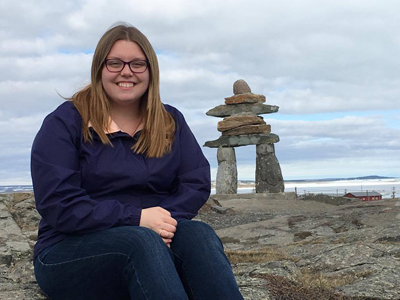 Honours sociology student Cassidy Glennie, from River Hebert, NS, has spent the past few summers in Rankin Inlet, Nunavut with her aunt and uncle who have lived there for the past 25 years. A conversation she had with her friends there led to her honours research at Mount Allison.

"I was talking to my friends about what music they were listening to and what kind of pop culture they were exposed to and it seemed like it was all mainstream western media, similar to young people here," says Glennie.

As a sociology student, Glennie was being taught to look at society from different points of view and she realized the portrayal of Indigenous peoples in the media is often inaccurate, with inaccurate stereotypes. She was curious. How do Inuit women view the portrayals and representations of their culture in mainstream western media?

That was the beginning of her thesis entitled We Don't Kiss Like That: Stereotypical Media Representations of Inuit Women in Music Videos. Her study explains how Inuit women make sense of southern popular music videos that use Inuit themes.

Glennie, working with local Indigenous organizations, setup focus groups with Inuit women asking about their reactions to four mainstream western music videos and how their culture is presented in videos.

"This study was not an attempt to speak of the Inuit women's experiences rather the focus groups provided an opportunity for academia to pass the microphone, to enable Inuit women to discuss their experiences and representations in media. Without these women this newly developed knowledge would not have been possible," explains Glennie.

Her supervisor on the project, Dr. Erin Steuter, says "Cassidy demonstrated a commitment to allyship in the thoughtful and culturally sensitive manner in which she conducted her research project in collaboration with the local Inuit women."

Glennie's results fell into four main areas. The first confirmed that there are unrealistic beauty standards projected onto all women, no matter what race or class or background. The second was that the media normalizes harmful tropes or stereotypical representations of Inuit and Aboriginal women.

"One of the participants said, 'we don't live in igloos' and 'we don't kiss like that.' The problem with these stereotypes is that people think they know about the Inuit, but this is not based on actual interactions or experiences with Inuit people but with what is portrayed in the media," says Glennie.

The third area she looked at was role models. The older women in the focus groups explained that their ancestors would never have thought about role models. At the time, life was a matter of survival.

"Even today, although the younger participants identified main stream celebrities as their role models, as they matured they sought positive role models in other Inuit women in the community."

In the fourth theme, the Inuit explained the importance of self-representation in media and how they wished they could have access to resources in order to produce their own media.

"This is actually what I am going to do my master's project on," explains Glennie.

She returned to Rankin Inlet three days after she graduated in May to disseminate her findings.