Commerce students selected as Venture for Canada Fellows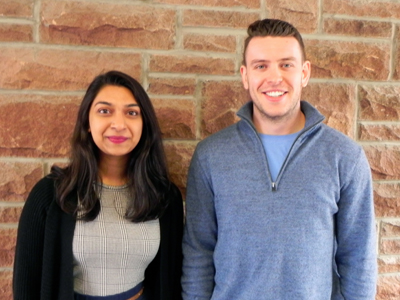 Two Mount Allison fourth-year Commerce students have been selected by Venture for Canada to be Fellows in a program that matches some of the best graduates in the country with start-up companies in their region. Alex Field, from Dartmouth, NS, and Jeehan Jawed, from Dubai, UAE, were selected from almost 1,700 applicants. Another fourth-year Commerce student, Ben Winn, who is from Scarborough, ON, was selected in November and has already started working for a start-up in Toronto.

In the Venture for Canada program students develop as entrepreneurs on the job and through seminars and workshops.

The selection process is fairly rigorous. Field, who heard about the opportunity from Mount Allison's career services office, says, "I didn't realize the scope of it and I think that helped me, not knowing there were 1,700 other people applying. So I didn't overthink it. I applied because it looked like a cool opportunity."

Jawed was encouraged to apply by her career mentor, Sally Ng ('09).

"What really made me realize that I wanted to take part in the Venture for Canada program was the Entrepreneurship and New Venture Creation class I did at Mount Allison," says Jawed. "In September we launched the start-up, Broken Bridge Clothing, which gave me and my team the opportunity to learn how to run a successful company. Not only was it really fun, but it also taught me a lot about what does and doesn't work in a start-up environment. The most rewarding aspect of it, which is what also drew me to the program, was the fact that all the work you put into the company, you can see the direct results of."

Field too has an interest in entrepreneurship and found his experience on the football team helped him develop some valuable skills.

"I have always had a bit of an entrepreneurial spirit and so I took Dr. Farooqi's Venture and Innovation class. I also play football and there is some overlap there. Working as a team to solve problems, the communication skills needed for this, being challenged, wanting to be pushed, all this has led me here. Obviously being an entrepreneur is in no way easy, so as I wrap up my time playing football, I am looking for that next challenge in life."

As well, he is glad to have a job in his home province.

"Part of the idea is that you can maintain top talent in Nova Scotia, which is another benefit of Venture for Canada. You can keep people in the Maritimes."

The program also helps graduates develop a network that will support them throughout their careers.

"There are an incredible amount of opportunities that will come from this and I am excited about the network that you get connected with," explains Field.

Venture for Canada itself is a start-up, only a year old, and is based on the model of the US organization. The matching of graduates to start-up fills an important role as these start-ups often lack the resources to participate in on-campus recruiting.