Commerce student Jonathan Harvey spends summer interning in commercial investment with Emera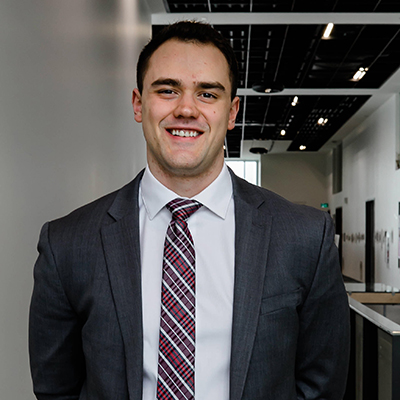 As part of Mount Allison's Summer Internship Program, Commerce student Jonathan Harvey is working as the Commercial Investment Intern for Emera, a publicly traded energy and service company in Halifax, NS.

Harvey, who is from Halifax, is specializing in accounting and finance at Mount Allison and this helped qualify him for the position, along with his unique extracurricular accomplishments.

Harvey came to Mount Allison to play football and in addition to being on the team for the last four years, he was part of a Leadership Council for the team.

"I was also involved in the investment club and am a portfolio manager in the energy sector, which complements the work I am doing here at Emera," he explains,

As well, Harvey was captain of a team of Mount Allison finance students who placed 2nd in the Venture Capital Investment Competition against students from across Canada. He says he learned a great deal from this experience. He has also been involved in the Commerce Society and has competed in the Maple League Case Competition.
At Emera, Harvey works with the commercial investments team. They preform financial analysis to provide other areas of Emera with information to help them make business decisions.

"I have been involved with evaluating regulated utilities, which are said to be non-competitive as they are governed by regulatory bodies that set fixed rates. While they may be considered non-competitive there are still some regulated advantages companies like Emera look for. My role is to essentially highlight these advantages and understand how a decision regarding these ventures could affect Emera."
Although Harvey is applying what he has learned from his courses, he says on the job he is constantly learning.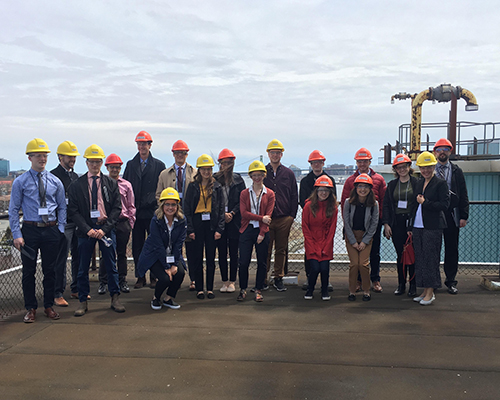 "What you learn in the classroom is definitely beneficial, but you don't have the aspect of working in the real world. It is eye opening to be working in this area," he says. "It is so complex. After my term here, I think I will just have scratched the surface of what there is to know."

The summer internship is also giving him a better idea of what he wants to do after he graduates and the skills he will need.

"It is shaping my perception of what kind of jobs are out there and I am getting a better idea of what jobs actually require and what skills I will need to continue to develop."
There has been some challenges, but he is thankful for the support of his colleagues.

"I found it hard at first to ask questions when I did not understand something. But I can rely on my peers. The people for sure are the best part of the job."