Class of 2023 honoured at Last Lecture
The ninth annual Last Lecture, recognizing graduating students for their contributions to the Mount Allison and Sackville communities, was held on April 4.
English professor Dr. Robert Lapp was chosen by the Class of 2023 to deliver their Last Lecture — Telling it Slant. The lecture marked Dr. Lapp's final lecture before retiring after 25 years of service to the University.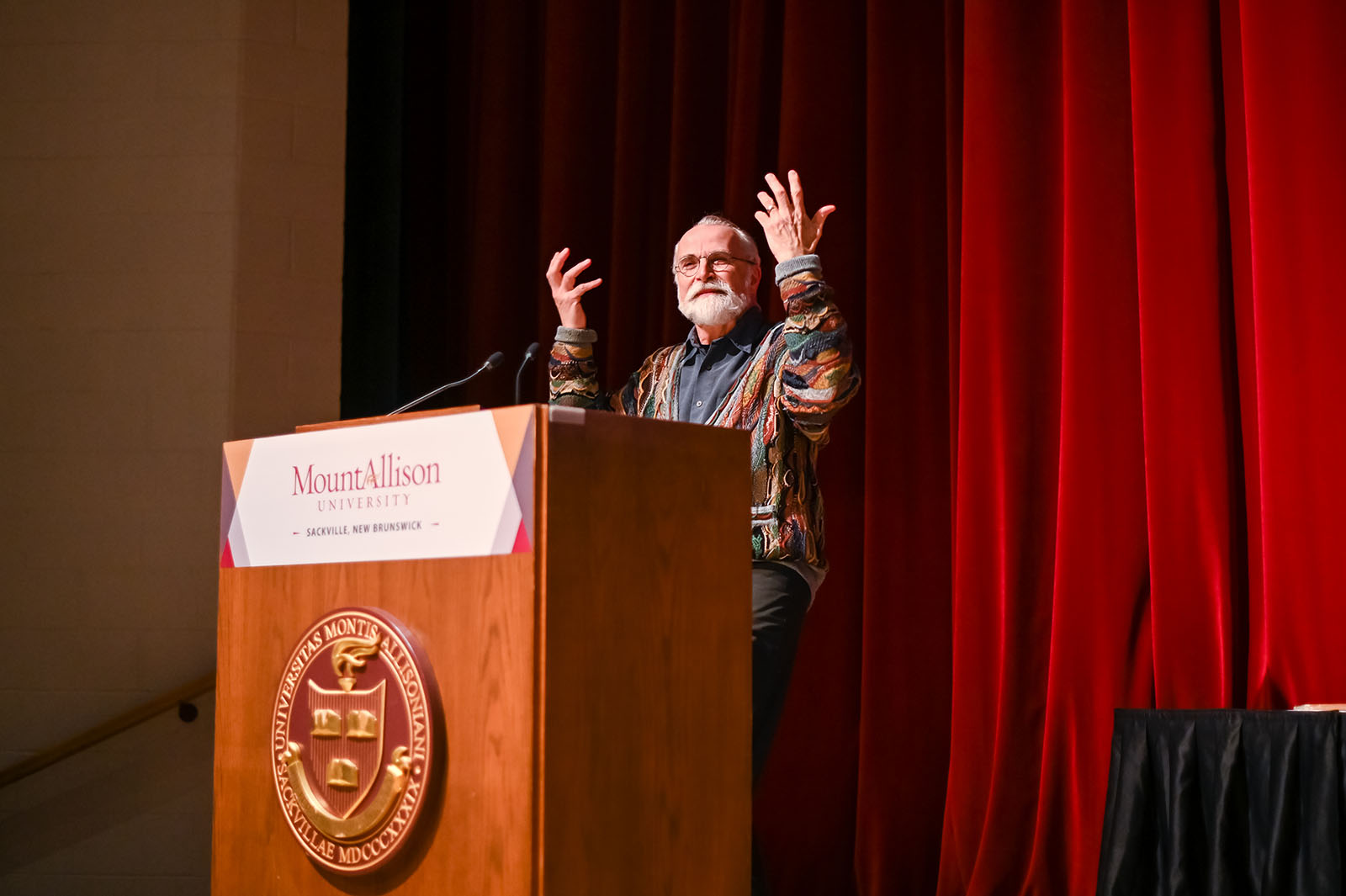 The annual Passing of the Cane saw the 2023 Grad Class President Elizabeth McNeill passing the ceremonial cane to 2024 Grad Class President Matheus Crepaldi in a ceremony that has taken place on campus since 1930. Each class president's name is engraved onto the cane as a lasting tribute.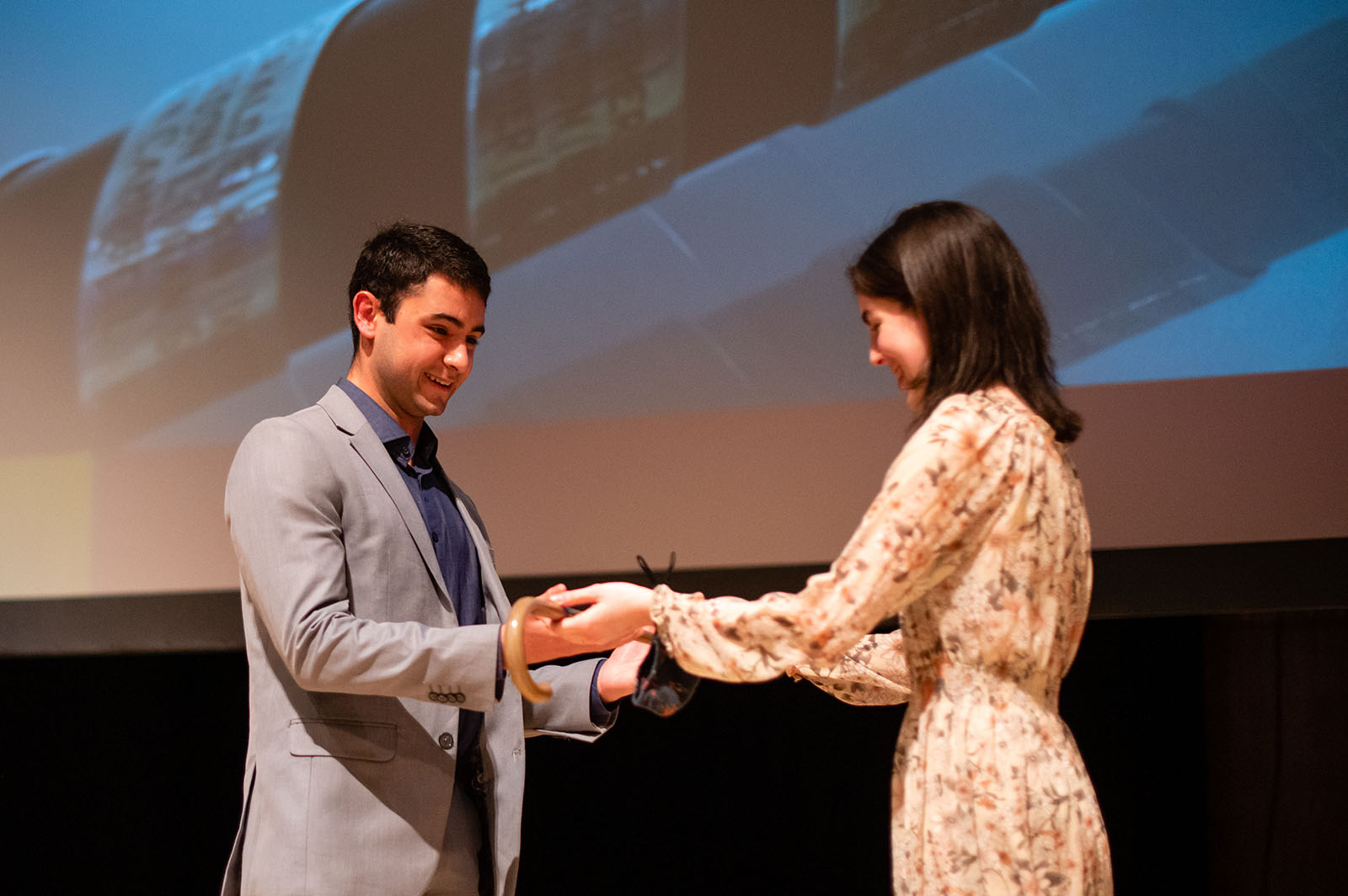 A number of major graduating awards were given out during the event.
The Don Norton Memorial Award was awarded to Logan Reid. The award honours a graduating student who, during their final year, makes the greatest overall contribution to University life.
An honours biology student and varsity soccer player, Reid has been involved in various aspects of student and academic life. He has worked as a student health intern, teaching assistant, academic tutor, note-taker, Orientation leader for the Meighen Centre, and served on various committees, including as President and VP of the Student Athlete Mental Health Initiative (SAMHI).
The Frances S. Allison Award went to Astrid Krueger. The award recognizes a graduating student whose record combines high academic achievement, extensive extracurricular involvement, and outstanding service to their peers and the community.
Krueger, who will be graduating with a honours degree in international relations and minors in philosophy, politics, and history, has been involved in various groups and societies throughout her time at Mount Allison, including the Mount Allison Student's Union (MASU), the Argosy, and Mount Allison Model United Nations (MtAUN), and has worked as a campus ambassador and teaching assistant.
The Charlie Hunter Award, which honours a student who has shown exemplary student leadership and demonstrated commitment to student involvement and engagement during their time at Mount Allison, was presented to Sophia Kennedy.
An honours history student, Kennedy has led both the History Society and MtAUN and held several leadership positions in the residence community as well as MASU. She has also served as a member of the Board of Regents' Students Affairs Committee.
The Gil Latter Memorial Award is presented to a student who has volunteered their time and demonstrated an outstanding contribution to the Sackville community. This year's recipient was Hannah Ehler.
Majoring in international community planning with minors in environmental studies and French, Ehler has been an active member of Rotaract Mount Allison, MASU, and the Tantramar COVID-19 Task Force, where she extended support to students and community members during the early stages of the pandemic, in addition to spearheading numerous food security and affordable housing initiatives in Sackville. 
Four Gold A Awards were also presented during the Last Lecture to recognize graduating students who have made outstanding contributions to the University community. This year's recipients are: Rohin Minocha-McKenney, Paul Oyedijo, SunMin Park, and Kevinique Stubbs.
A biology and commerce student, Minocha-McKenney has advocated for students through various positions with MASU, most recently as President and CEO. He has also held leadership roles in the residence community and participated in the Tantramar COVID-19 Task Force and the University's Sexual Violence Working Group.
Oyedijo, who will be graduating with an honours degree in economics with a minor in commerce, has contributed to student life as a volunteer, mentor, and leader. He has been involved with GreenLab, Enactus, Economics Society, the Black Student Union (BSU), and MASU, worked as a teaching assistant and tutor, and served on the Board of Regent's Student Affairs Committee.  
A Bell Scholarship recipient and honours biology student, Park has pursued various academic, social, and community initiatives. She initiated MtA Gives Blood, a campus-wide campaign to raise awareness about blood, stem cell, and organ donations, assisted faculty in various research projects, worked as an athletic student trainer, and wrote a children's book to improve science literacy amongst kindergarten students in rural communities. She has also been involved with MASU and the Meighen Centre.
Stubbs will be graduating with a degree in Commerce. She has taken an active role in various clubs and societies, including the Caribbean Society and BSU, volunteered as a MASSIE conversation partner, CHMA radio host, orientation facilitator, international student mentor, and planned and implemented several Black History Month initiatives.
Recipients of the Frances S. Allison, Don Norton, and Gold A Awards also received the A. Jane Avard Eaton Student Leadership Award for their contributions to student life and the community. 
The Chris Metallic Prize in Indigenous Leadership was presented to Isabella Lirette. The award was established by the Class of 2016 and recognizes a student who makes the greatest contribution to the indigenization of campus.
Lirette has been a strong leader in the Indigenous Student Support Group (ISSG), the Student Food Bank, and as an intern for the Safe Sober Space, and was part of the Indigenous Global Field School in Belize. She is dedicated to her academic life, her family, and the Mi'kmaq nation. 
The Barritt-Marshall Award went to Pushkaraj Jadhav. The award honours the graduating international student whose contributions to the internationalization of campus and the community have helped to promote cross-cultural understanding and co-operation.
A commerce, computer science, and economics student, Jadhav has been a dedicated member of MOSAIC, worked as a mentor during international orientation, served on MASU, and helped establish two business ventures in town.
The Hibberts Meekins First Generation Graduating Student Award, which is presented to a graduating first generation university student who has funded their own education through a combination of work, loans, and financial aid was awarded to Abigail Daley.
An honours psychology student, Daley has taken an active role in first-generation programming on campus. She has been involved with the psychology society, Tintamarre, and the Argosy, and mentored other first-generation students through her work with the First Gen Den.
University Leadership Pins were presented to graduating students in recognition of their extensive co-curricular leadership on campus or in the local Sackville community. Recipients include: Isra Amsdr, Corey Ashe, Hichem Brahmi, Alec Brooks, Alix Corwin, Maria Luiza De Barros Guiguer, Mira Donaldson, Erin Dumville, Anxhela Dylgjeri, Hannah Ehler, Ayomide Enoch Adekiitan, Elizabeth (Libbie) Farrell, Aura-Lynn Groomes, Logan Grossman, Ashley Hamilton, Pushkaraj Jadhav, Kaitlyn Keleher, Sophia Kennedy, Miranda King, Astrid Krueger, Isabella Lirette, Chloe Lundrigan, Thorique McKenzie, Elizabeth McNeill, Diwan Minocha, Rohin Minocha-McKenney, Graham Muise, Tannis Nelson, Thien Ngoc Hyunh, Paul Oyedijo, SunMin Park, Drew Pettis, Hugo Power, Logan Reid, Alex Smith, Amber Solomon, Kevinique Stubbs, Chloé Viola, and Sarah Workman.
MASU Departmental Award recipients who have made significant contributions to their academic department include: Kianna Lavigne (aviation – science), Chloé Viola (aviation – commerce), Logan Reid (biology), John Seunghwan Lee (chemistry), Grace Stapleton (biochemistry), Laura Paul (computer science), Lauren Farrell (mathematics), Bryn Rankin (physics), Emma Skelton (psychology), Hugo Power (commerce), Gabriele Akerley (Management Marketing), Alexa Kastner (economics), Christophe Lirette (geography), Kate Desroches (environmental studies), Bronwyn Tieleman (environmental science), Grace Tarrant (political science), Kaitlyn Keleher (PPE), Maria Luiza De Barros Guiguer (international relations), Corey Brideau (sociology), Kaitlyn Keleher (POLS-IR PPE politics), Kailey McGraw (Canadian studies), Olivia Foran (classics), Alinea Turner and Nathan Smith (drama studies), Katherine Goodine (English), Isra Amsdr (fine arts), Ruthie Stanley-Blackwell (art history), Anna Hamilton (museum and curatorial studies), Sophia Kennedy (history), Nico Deagle (modern languages & literatures), Sarah Workman (music), Astrid Krueger (philosophy), Denise Loy-Roar (religious studies), Donald Black (community engaged learning), Nell Farion (women's and gender studies).  
 
Banner photo caption (L-R): Provost and Vice-President, Academic & Research Dr. Jeff Hennessy, Sophia Kennedy, Kevinique Stubbs, Pushkaraj Jadhav, Paul Oyedijo, Isabella Lirette, Logan Reid, SunMin Park, Rohin Minocha-McKenney, Astrid Krueger, Hannah Ehler, and Abigail Daley.