5Q with renowned Canadian artist Christopher Pratt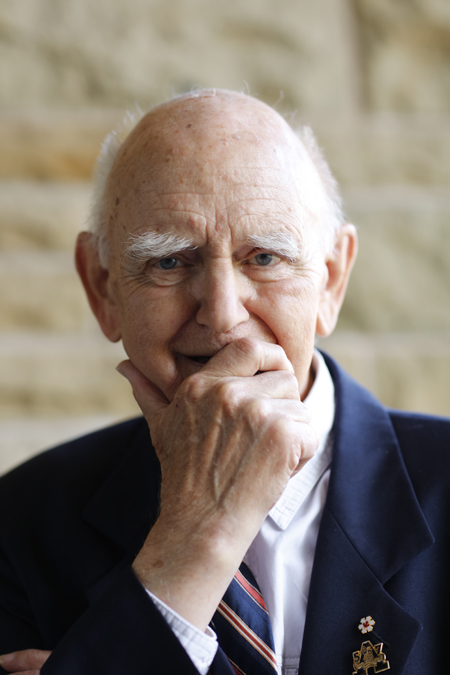 Christopher Pratt ('57) is one of Canada's best-known artists. Pratt recently returned to campus and spent an hour with Fine Arts students, answering their questions and sharing stories from his more than 50-year career.

1 — What is a work day like for you and how has it changed over time?

It hasn't changed an awful lot. When you go to work in the morning and you are 80 years old, it is not quite the same experience, but the intent is still the same, even if it starts more slowly.

I try to be in my studio by 8 o'clock and I decide the night before as soon as I go in the studio I'm going to get right at it. I go in the studio and I see some pencils that need to be rearranged or I see some cat hairs or more offensive remains of the cat and I sweep them up and deposit them, then I see something hanging on the wall and straighten that up, and then I see that the Venetian blinds are crooked — so I manage to fool away the time until about 10 o'clock when I can have a coffee.

But then I say, 'Okay, get to work,' and I usually do and I work until lunchtime and then after lunch I work until about 3 o'clock. Then I either go for a walk or drive down to Placentia Bay and then I work again in the evening from 6 or 7 o'clock until 9 or 9:30. I don't recommend that for everybody… but it's really a pattern of continuity and when I'm not in my studio for any length of time I start getting antsy.


2 — You had a big studio fire in 1992. Did that experience affect your work?

Very much so. It was at that point that I started driving all over Newfoundland… It has influenced my work in that it has somehow focused me back on the interests I had a very, very long time ago. It is very hard to describe. I always hide behind the theory that if you could put it into words, you wouldn't need to make a picture. It's a different voice. If you can pin exactly what you're thinking about into words, it's done. The picture you would make might be an illustration of those words, but it wouldn't be an extension of them.

3 — What is a good piece of advice for young artists?

I think as artists we have to realize we are making a product. Van Eyck worked on commission. Rembrandt went off on his own, but always had an eye for a customer. This may sound like sacrilege, but we are part of the world. We function in the world, we depend on the world. I don't think it is safe to have as our audience exclusively other artists.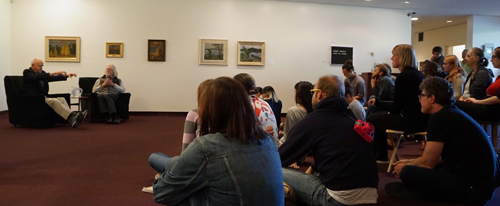 4 — How did your time at Mount Allison influence you?

My years here at Mount Allison were very, very formative. It was the first time I had ever seen so much flat land where you could see so far. The people I met, the teachers I had… When I first came here I didn't do Fine Arts. I had promised my mother I would be a doctor though I had in mind to be a wildlife biologist. I started coming to the gallery and Lawren Harris said I should be taking Fine Arts. I thought I might be able to monitor a class and I brought three or four watercolours that I had done. I showed them to him and he wrote to my father and told him I should be taking Fine Arts. My father thought he was crazy.


5 — The National Gallery purchased one of your prints before you graduated. What did it mean to you to have a big success very early on?

It was a very heady experience. I had been working at that print and one of the people from the National Gallery was visiting and he saw it and decided it was something the National Gallery should have. I rush to say there was nowhere near the immense competition that there is nowadays. There were only three or four programs in Fine Arts and Mount Allison had a very good reputation.

You probably won't have anything near the opportunities that I had, the things that came my way on a plate. But the one thing I would say is when opportunity knocks on your studio door, you better be home.