5Q with recent honours PPE grad Matthew Cross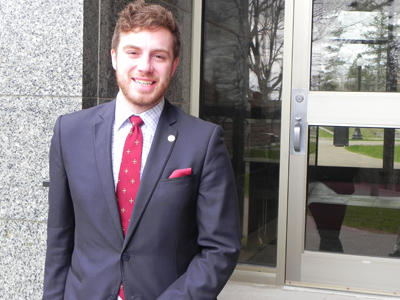 Matthew Cross recently graduated with a degree in philosophy, politics, & economics: economics emphasis with a minor in international politics.
1- Last summer you had an experiential internship and worked at the Permanent Mission of Canada to the Organization of American States (OAS), which is a chancellery (the office of an embassy) to Canada's Washington Embassy. What were your responsibilities in this position?
The chief priorities of my job consisted of writing reports on meetings of the General Assembly and assisting behind the scenes with multilateral negotiations. I would attend and write reports on a range of topics, events, and meetings, anything from Hemispheric Security to think tank panels by organizations like the American Enterprise Institute and the Atlantic Council. I also attended many Canadian-hosted events. We hosted an LGBTI speaker panel and Indigenous speaker series, where we had Grand Chief Wilton Littlechild visit the OAS to the general assembly to speak on the Indigenous WIN games. I was able to write some speeches for the Ambassador, for both Canada and OAS-sponsored functions. I was also tasked with compiling a hundred-page prep book for the Canada Delegation to the 47th Regular Session of the OAS in June.
2- What will you be doing in September?
I am doing a Master's in International Security at the Paris School of International Affairs, Sciences Po. My concentrations will be in diplomacy and intelligence. The program also includes an internship in the third semester.
I chose this program because international security is one of those fields that is just going to keep growing. The need for people who will have that understanding is always going to be there, especially as the world becomes more international and security issues become more complex as we deal with the rise of non-state actors and supra-state identities.
3- You were a best delegate award winner at the McGill Model United Nations (McMUN), which hosts hundreds of students from around the world. What did you do to get this award?
This year was my second time attending McMUN as part of Mount Allison's Model UN team. In Model UN there are three types of committees: General Assembly, Specialized Agencies, and Crises. General Assemblies are the real type of UN committees and Specialized Agencies tend to be historical pieces. Crises tend to be a type of specialized agency that is a little more fiction and action-based. My committee was the Rise of the Bolsheviks; I played the part of Prince Dimitry Pozharsky, a boyar. In a crisis you must work together and solve issues, while also trying to position yourself as the preeminent leader. In this committee we had to battle the Chinese in the East and the Finnish on the West, while facing much internal strife along the way. I like to think I won by just trying to remain the most diplomatic and working hard to solve our problems instead of trying to seize the throne myself.
I usually do around 15 to 20 hours of background research before attending a conference. I really like winning and I specialize in crises because winners tend to be the more outspoken characters and those who know the situation well. One of my most valuable classes at Mount Allison was an introduction to acting course because it helped me learn to be unafraid of public speaking. These factors all helped my chances.
4- What other extracurricular activities did you do at Mount Allison?
I came to Mount Allison wanting to get the full range of experience from a liberal arts school and I like to think I was successful in that endeavour. In my first year I played varsity soccer and was the Arts senator for MASU. The next year I auditioned for a play thinking that I would get a small role, but I ended up as Faustus in Doctor Faustus, which was an incredible opportunity that allowed me to really experience the joys of stage work and the efforts that come with it.
In my final year I was the MASU ombudsperson where I was responsible for the independent investigation of grievances made by students. It was an incredibly rewarding job that allowed me to help some students with problems they otherwise might have found too daunting.
5- What was one way you were able to use your internship experience back at Mount Allison?
I wrote my capstone paper in the American Foreign Policy course, taught by Dr. James Devine. For my final essay, I looked at how the Venezuelan crisis happened, how it was addressed, and how the U.S. played and continues to play a pivotal role in its development. When I was in Washington, a huge part of the work I did had to do with the Venezuelan crisis, attending think tanks and panels, working with other states in the G13 that Canada is part of, who tend to vote together on human rights issues. I did a lot of work with the OAS on Venezuela and I read a lot of documents on the crisis.
So it was very interesting for me and something I wanted to continue working on. I looked at the two Presidents, Maduro and Trump, and how their actions are shaping the way the crisis is unfolding. It was an incredible opportunity to coalesce my work experience with my academic experience and I was incredibly grateful for the support Mount Allison provided me.