5Q with IR/economics student Shin Yoshieda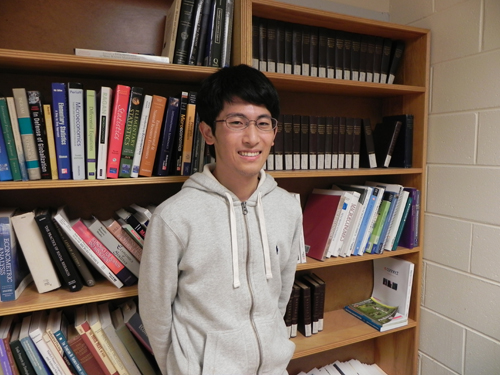 Shin Yoshieda is doing an honours in economics and major in international relations.

1. You received a Mount Allison independent student research grant to do research this past summer. What did you work on?

In the late 2000s, relations between China and Japan worsened. It was initially due to a territorial dispute over this one island. There were strong tensions. I was curious about how neighbouring countries reacted to this deterioration in the relationship and whether this had an effect on trade in the region. For example, did they take sides and refuse to trade with one or the other? So I looked at trade between Japan and China and countries in the Association of Southeast Asian Nations (ASEAN) — Indonesia, Malaysia, the Philippines, Singapore, Thailand, Brunei, Cambodia, Laos, Myanmar (Burma), and Vietnam.

The research involved a statistical analysis of trade data to predict trade flows based on population, incomes, and distances and comparing actual and predicted trade flows to determine if there were "special" relationships.

It certainly did not look like ASEAN countries took sides, not in an economic sense. It seems that ASEAN countries stayed pretty neutral. This is a good thing for the stabilization of the region that there is a strong third party in the region.
2. What did you learn from your summer research?

For my research, I used an econometrics gravity model, looking at individual countries to see if there was the same result with them as for the region as a whole. It really helped me acquire skills for research and learn how to conduct this type of an econometric study. I actually only had an introductory course in econometrics before I began, but economics professor Dr. (Frank) Strain really helped me out.

3. You are interested in eventually working in a developing country. Why is that?

I am from Japan, a developed country, but I also lived in the Philippines when I was in middle school. So I am pretty interested in that area of the world. My particular interest is in contrasting and seeing the relationship between Asian developed and Asian underdeveloped countries.

It is very evident that the standard of living is very different in the Philippines than in Japan. Seeing poverty with my own eyes during my middle school years was a pretty strong influence. I was originally thinking of going into education, but now I am interested in economics. I would like to work in the area of economic development.

4. Why did you decide to do a major and honours?

I came to Mount Allison to do IR but after taking the first-year course in economics I found it very interesting and decided to do more courses.

5. Why did you choose to come to Mount Allison?

I was looking for a smaller university in North America. Because I had lived in the Philippines and saw the poverty there, I had already decided I wanted to work for a developing country in the future. The first step for me was to gain the ability to live in an international community. Canada seemed a stable and a nice place to live. I also knew someone who had come to Mount Allison from my high school.