5Q with Drama program director Glen Nichols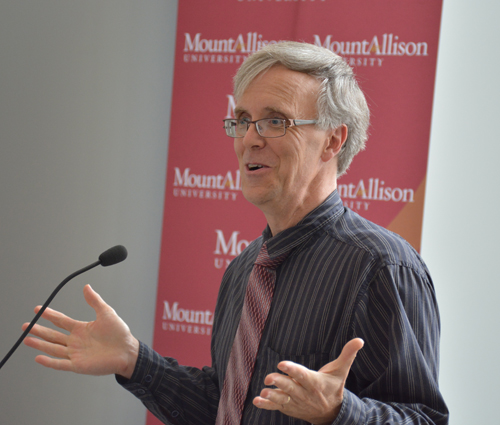 1 — You have been at Mount Allison for eight years now — what brought you here?
One of the reasons I came here is because the program announced itself as "playing a vital role in the University's overall efforts to provide a liberal education" while maintaining Mount Allison's "tradition in the fine and performing arts." Despite emphasizing the larger mandate of preparing the whole student, among our alumni we still have a lot of grads who are stage managers, artistic directors, and so on. We are training the people who will be hiring the actors from the conservatory programs. It doesn't matter what discipline you are in, there is a connection between what you are studying and the theatre. And it works the other way too — the theatre needs that expertise from people in commerce and computer science and human resources and so on.
2 — What do you teach?
I teach both classroom and studio courses. In the studio I do acting and directing and on the classroom side, I tend to do more of the drama lit courses — the development of modern drama, modern Canadian drama, Restoration and 18th-century drama. But even the literature courses have to consider the play in the theatre, so the assignments tend to be less literary and more integrated. For example, in one course I teach, we look at drama written by people who wrote about what they didn't like about the world and what they thought theatre could do to solve those problems. Then the students do the same thing — they have to write a manifesto about something they don't like and describe what kind of theatre could solve that problem.
3 — The Motyer-Fancy Theatre has been around for four seasons — how has this new space influenced the Drama program?
The Motyer-Fancy Theatre was built very specifically as a teaching theatre and it is phenomenal. The space has the flexibility to go from a completely empty deck to any kind of a stage, and has all the bells and whistles we can imagine. Even though it is four years old, the toys here are better than most of the stuff people working in professional theatre have, so it allows students the ability to create whatever they want. That is very attractive to students and it has certainly helped us in Fine Arts and Drama — our enrolment is doing well, our classes are filled, and it has raised our visibility.
4 — What do you love most about teaching drama at Mount Allison?
What is nice about teaching drama, here or anywhere else, is that the faculty-student relationship is very developed because one spends a lot of time in studio with students. You get to watch them evolve in a very personal way. And there tends to be a higher degree of engagement from drama students and that is pretty inspiring to work with too.
We usually have about seven shows per year and at least four are student-directed shows. Students have to do a lot of things that they never thought they would do — build and paint and light and act — so we've had some really interesting cases in the last few years where students came in with the intention of doing performance and by the end of their time found their most creative outlet elsewhere. One is going off to do costume design, for example.
5 — Do you have any research or creative activities on the go?
I just finished a paper last year on the role of theatre in liberal education — I worked with a research group for a couple of years on that. There has been very, very little research in Canada on this, though there is a lot of research on that connection in the States.
I'm currently working on an anthology of Canadian drama and performance documents pre-1967 with two colleagues from University of Victoria. Canadian theatre studies really grew up in the 1970s and there were a lot of publications in the early years, but all the older material has gone out of print and disappeared. The original goal was to encourage new scholarship in the old material, but the project has evolved quite a bit. Hopefully it will go to the publisher in the fall.
Bonus question — What's something you do in your spare time?
Gardening. I grow all the food we eat — you name it, I grow it and I grow in all four seasons. I have three greenhouses and I grow all the vegetables and much of the fruit that we consume. I think it is about self -sufficiency — it's really great when what is on your plate came from your own garden. And it's really cool in January when your meal includes potatoes stored from the fall and fresh salad from the greenhouse and so on.