5Q: Crossroads for Women Intern Aude Gazzano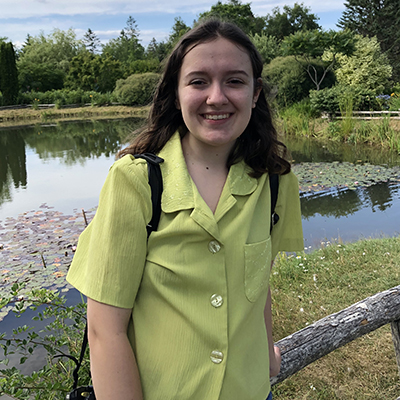 Women's and Gender Studies student Aude Gazzano is completing an internship at Crossroads for Women in Moncton, NB.

1. What is your summer internship?

I am working as a crisis intervener with Crossroads for Women. I work in the transition house in Moncton where women come to get help to escape domestic violence. We provide a safe place to stay and we work with various community resources to empower people in rebuilding their lives. We help them find an income, a place to live, counselling, and so much more!

2. What do you hope to take away from this experience?

I hope to grow as a person and learn about the systemic barriers to access such organizations! I have been learning a lot about how all the resources in the community work together and how to access them. I am also working on an EXPL course with Dr. Johnston (Canadian Studies and Women's and Gender Studies) where I have been tying my experience at the shelter with feminist theory. I am looking at systemic issues of access to women's shelter, in regards to gender identity, accessibility, and mental health and addiction.

3. What has been your favourite part of the internship experience so far?

To work with a team of strong women who share my values and work hard to help the community. I feel valued and I have had so many opportunities to learn, which is very rewarding.

4. What extracurriculars are you involved in on and off-campus?

I worked with The Argosy (Mount Allison's independent student newspaper) as one of the photographers last year. It was a very fulfilling experience, which allowed me to be more in touch with Mount Allison and the Sackville community. I also have been attending many events from the WGST student society, and I hope to become more involved with them next year. They work very hard to plan awesome events!

5. What is one piece of advice you would give to your first-year self?

Do not be afraid to go out of your comfort zone and be confident in your own abilities! I probably would not have gotten this amazing internship if I had not applied and believed in myself!

Bonus question: How has the COVID-19 pandemic affected your internship?

I have been very lucky that my internship has not been affected too much by the pandemic. We have to follow health guidelines in the shelters, wear masks, sanitize multiple times a day, and we take our temperatures twice a day. But it has not affected my responsibilities. Since the restrictions have lifted, we have been getting lots of more calls and visits to the shelter, as it is difficult to escape an abuser while stuck at home. The pace has become a lot quicker, but it also means we get to help more people!