5Q with Commerce student Jerica Leblanc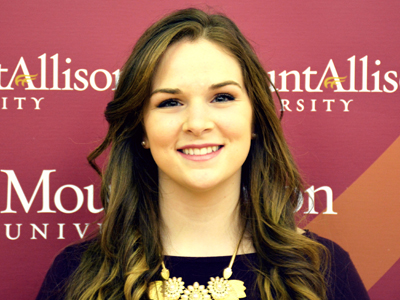 Jerica Leblanc, from Moncton, NB, is working this summer as a Ron Joyce Centre for Business Studies summer intern with Ernst & Young (EY) in Halifax, NS.

1- What kinds of things are you doing in your summer internship with EY?
I work for Ernst & Young in Transaction Advisory Service (TAS), more specifically in the lead advisory group that deals with mergers and acquisitions (M&A). I do a lot of the "heavy lifting," as one of my managers calls it, which allows the rest of my more experienced teammates to work more efficiently. I do industry research on companies we are trying to engage with, to help prepare my managers for when they meet with the client. As we do M&A, I spend a lot of that research looking specifically at precedent transaction (deals that have happened previously in the industry in question) and potential buyers/sellers for the client. I also do some work with the client's financial statements when needed; sometimes it is simply data entry, other times they'll need a certain calculation.

2- What is your favorite part of your summer internship?
I was lucky enough to be a big part of EY's Entrepreneur of the Year (EOY) Award committee. I had the opportunity to interview several entrepreneurs in the Halifax area, write executive summaries based on those interviews, and submit them to the judges. I'm excited to note that the four summaries I wrote are all Atlantic Canada finalists. I also planned a boat cruise on the Halifax Harbour with the 2016 finalists, past nominees from 2012 onward, sponsors, future EOY candidates, EOY Committee members, and EY Partners (a total of 100 guests on board). It was a lot of work to plan and ensure everything was ready and organized. I'm sure the committee leaders were holding their breath at times wondering if I'd pull it off – but I got so much positive feedback and made lots of connections in the process. It was also a great opportunity to get to know many of my coworkers and several of the office partners.

3- What have you learned that will be useful in your future courses at Mount A and in your future career?
I have learned that patience, hard work, and communication go a long way in this work.

4- How does this fit in with what you would like to do in the future?
It's right up my alley — my plan has always been to get my CPA (Chartered Professional Accountant) designation after university and I hope to get a job with one of the "Big 4" accounting firms. So getting my foot in the door with EY this summer has been pretty much a dream come true — it's exactly what I've been working so hard toward the last few years.

5- What extracurricular are you involved in at Mount A?
The last three years I've played on the men's field lacrosse team. I often get weird looks when people hear that for the first time, but it's not as weird as you'd think. I played most of my life growing up so I can keep up with the boys pretty well, and they're a great group of guys who have included me since day one and have always had my back as they would for any other team member. I'm very fortunate to have the teammates that I do. This year I'll also be on the Commerce Society executive, a role that I've wanted since my first year and am very excited to do! I'm looking forward to taking on more responsibility, planning new events, and hopefully making it a great year for the Commerce Society. I'm also very fortunate and excited to be working alongside four other awesome exec members.