5Q with Commerce student Anise Boudreau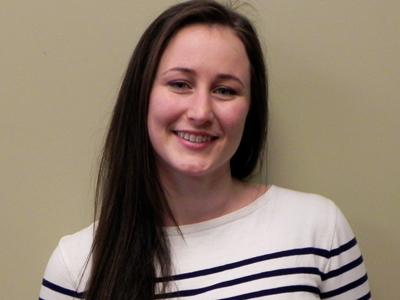 1- What made you decide to come to Mount Allison?

After doing my research and looking into a number of options, I was sold on Mount A's Commerce program and its strong reputation for producing leaders. But like many other students, it was friends attending Mount A who first introduced me to the campus and the Mount A experience. As I was living in Moncton, I had the chance to visit a few times. I visited the admissions office and the people there were understanding and informative, and helped me make my final decision to attend.

2- What was your experience like participating in a case competition through the Ron Joyce Centre for Business Studies?

Being provided with opportunities to learn outside the traditional classroom setting through exposure to real-world situations offers a fantastic complement to the in-class lessons and mentorship received from our professors. I was privileged to be part of an amazing group in J.D. Irving's Direct Exchange Case Competition who worked collaboratively and truly epitomized what it means to be a team. What I learned most through the experience was the importance of trust, not just in one's teammates, but in oneself and in relationships with potential clients — a point reiterated by the competition judges in their feedback.

3- How have you applied what you have learned at Mount Allison in your part-time job?

Mount Allison offers so many opportunities for students to hone their skills and talents. From a young age I have always been drawn to competition, especially when related to fund raising and commerce. I began working part-time as a teenager and took time after high school to work before entering university. While I had gained a great deal of experience in my positions leading up to attending Mount A, it was the ability to study in Sciences, Arts, and Commerce that truly broadened my perspective of the world and my potential within it. Now, my combination of Commerce and Sociology has undoubtedly increased my strategic capacities and interpersonal skills. The programs both complement and challenge one another and I believe this has helped me develop in the areas related to emotional intelligence and leadership in having to know myself and work across disciplines.

4- What prompted you to register for the Paris and Seville experiential language courses and what did you gain from your experience abroad?

Growing up in rural New Brunswick did not afford me numerous opportunities to expand my cultural horizons outside of my local area. My first year in residence gave me the chance to meet and interact with students from across the globe, but it was not until last year that I was able to travel abroad myself and immerse myself into a new place and culture. Through the process, I gained a greater appreciation for art, history, cuisine, and discovering new places, and in reflection I also gained a new-found appreciation for the place I call home.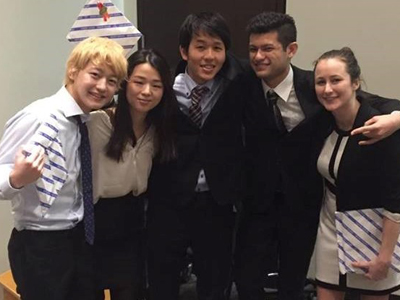 5- You attended the Global Career Seminar, hosted by Kwansei Gakuin University (Osaka, Japan), in Toronto in February where students work in a cross-cultural setting to analyze and offer solutions to real-world problems facing Japanese/Canadian companies. What was memorable about this event?

My experience at the Global Career Seminar was rewarding academically, socially, and personally. There was such a good energy within the group right from the beginning and it was a neat experience to interact with students from U of T, Queen's, and KGU, coming from a much smaller university. Participants were talented and had impressive stories; the ability to network and benefit from mentorship moments was unique and very valuable. Working within a diverse group offered many benefits and I found it really brought out my own creativity.

The team I was a part of worked very well together. During the final presentation everyone was prepared. Our efforts earned us an award from our peers as top group, and this was a big honour. A lot of useful feedback was provided throughout the seminar, which was really helpful both professionally and personally. This experience will most certainly be remembered as a major highlight of my degree.