5Q with Commerce and political science student Taryn MacMillan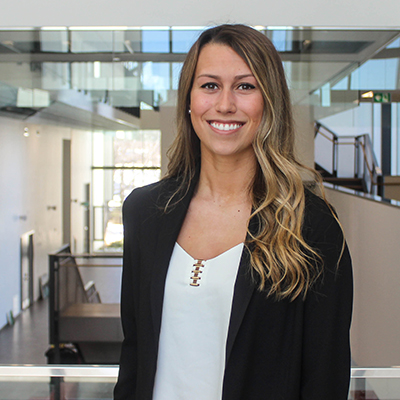 1- You worked this summer in human resources for Irving as part of the Mount Allison Internship Program. What was that experience like?
The experience was awesome. I was working with their talent acquisition team, which does all the student hiring. My main assignment involved a lot of research for an HR-related project and I also worked on six mini projects in several different areas. I had to present the final major project to the chief human resources officer, which was pretty cool. I worked in Saint John, but I am from Moncton, NB, so I ended up meeting so many other awesome interns from lots of different universities.
2- You were a member of a team of two who won The Pitch competition this past year at Mount Allison, where you had to pitch your ideas for a product in front of a panel of judges. How was this experience and other skills you developed during your degree helpful in your internship?
Well my presentation skills proved very useful. That is one of the things I am super thankful for. I felt comfortable presenting to the chief human resources officer because I have lots of experience in presenting. All my marketing classes required we do presentations. The Pitch competition was another type of experience as it was presenting in a high stress situation as we had to pitch to a panel of judges.
My ability to do research was one of the other skills I used. The position required more research than I expected, but I have a political science minor so I do enjoy research. I have also done tons of research projects in marketing that I drew from.
Then of course communications skills are valued wherever you go. One of these I used in particular was cutting things down to the essentials. I had 35 slides for the presentation originally and my manager said we need to get this down to 12. I have had to do the same kind of thing for essays in my marketing classes.
3- What did you learn in your internship that will be useful in the future?
One of the big things I learned, by sitting in on interviews, was the proper etiquette for interviews and what you should and shouldn't say. Another key thing is the importance of teamwork and collaboration. There were many projects that I was working on that required the help of several different departments and working together became a key factor for creating valuable work.
4- What extracurricular activities are you involved in at Mount Allison and how do you fit them in with your school work?
I have played soccer since my first year at Mount A. I actually do better in first-term in season because I have a strict schedule. I have practice every night from 7:30 to 9:30 and I am travelling for soccer pretty much every weekend. I must follow my schedule to get my work done. I am also doing Mounties in Motion and I have done Right to Play in the past. Mounties in Motion is a group of athletes working to give back to the community. I go to the middle school once a week and tutor a student in a specific subject. I am also volunteering on two MASU committees, the communications and entertainment committees.
5- Why did you decide to come to Mount A?
First the academics. It has a great reputation. The second piece was soccer. My teammates have become my family over the past four years, it has been such a great experience.