Biology professor Dr. Karen Crosby ('04) examines the links between stress, appetite, and our brains
Many can relate to feeling stressed and reacting in certain ways to it. For some these reactions may be food-related, such as overeating or perhaps losing your appetite. The adage "stressed is desserts spelled backwards" is well-known for a reason.
Mount Allison Assistant Biology Professor Dr. Karen Crosby's research and teaching focuses on the neurobiology of appetite. Using rats, Crosby and her team examine how stress affects neuronal activity in a brain region called the dorsomedial hypothalamus. This research provides important information into the link between stress and appetite.
"Various human and rodent studies show that acute stress tends to suppress appetite while chronic stress tends to increase it," says Crosby. "If we can better understand how stress affects the brain to influence appetite regulation, that knowledge might help lead to potential drug treatments to ultimately combat obesity in the future."
While obesity is a growing problem across the country, Crosby's research also focuses on stimulating appetites, which could be useful for key groups such as cancer patients and individuals living with eating disorders.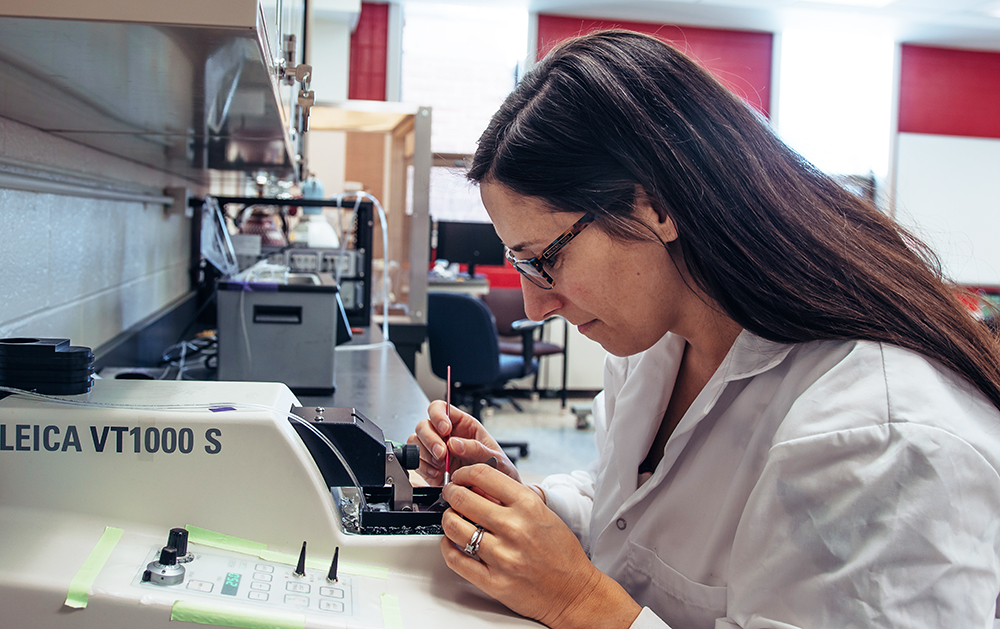 Some of Crosby's research shows that stress can affect the brain by altering cannabinoid signaling. She recently presented on the effects of plant cannabinoids, such as tetrahydrocannabinol (THC), found in cannabis, on the brain at a provincial forum hosted by Mount Allison shortly after the drug's legalization this fall.
While she has not specifically studied THC in her lab, Crosby investigates how endogenous cannabinoids, those produced in the brain, might enhance appetite by acting as cannabinoid receptors, leading to the activation of neurons that increase food intake.
"This could explain why people may get 'the munchies' and overeat when they use cannabis," explains Crosby.
Crosby says she first became interested in studying the brain during her undergraduate studies at Mount Allison.
"I majored in biology and minored in psychology. I took several courses with Dr. Suzie Currie (former biology professor and now Dean of Pure and Applied Science at Acadia University). Her enthusiasm for physiology was contagious," she says.
She continued her studies at the University of Prince Edward Island for her Master's and then the University of Calgary for her doctorate before returning to Mount Allison as a professor in 2013. Crosby currently teaches biology classes in human and animal physiology, comparative chordate anatomy, foundations of biology, and neurophysiology — a course she developed at Mount Allison.
Crosby has also maintained an active research program on campus, receiving funding from several agencies including the Natural Science and Engineering Research Council of Canada (NSERC), the Canadian Foundation for Innovation (CFI), and the New Brunswick Health Research Foundation (NBHRF). This support has enabled her to purchase new lab equipment and work directly with students, employing them as research assistants.
Other areas of her current research studies include examining how high-fat diets affect cannabinoids. She is also planning to study prenatal stress and how this can affect the brains of offspring in the future.