Profiling one of Mount Allison's largest and most active chapters
Mount Allison maintains regional alumni chapters throughout the world, keeping alumni connected to the University and to each other. Wherever you live, explore our alumni chapters to meet with alumni in your local area and attend Mount Allison Alumni events. Find one near you.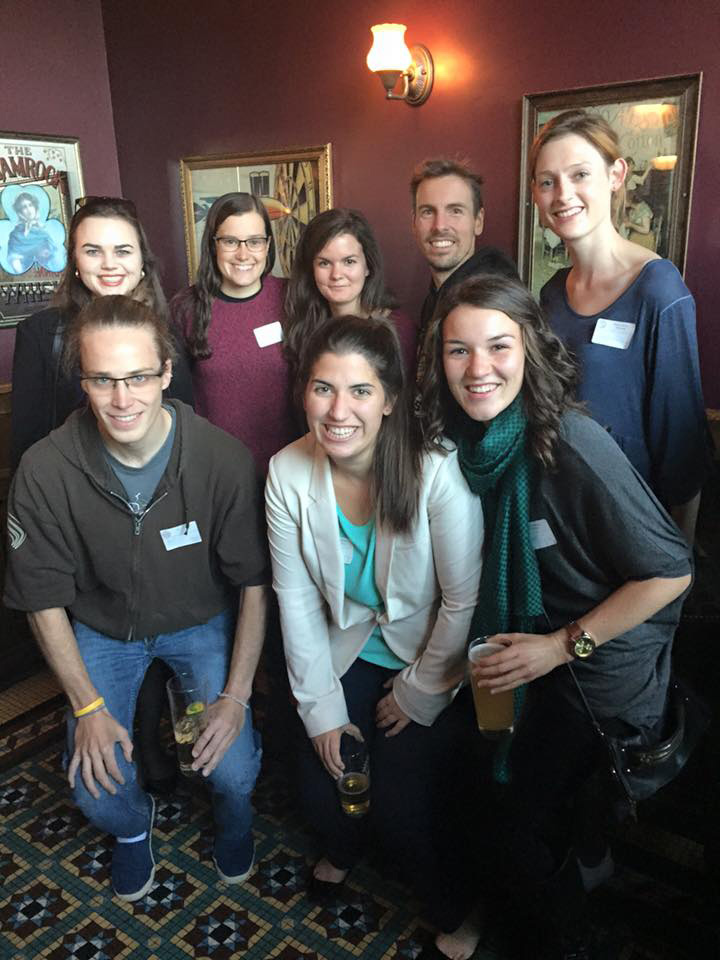 The Ottawa Alumni Chapter is one of Mount Allison's largest and most active. Over 1,186 active alumni live in the area and many events and get-togethers are held throughout the city.
Lead volunteer Dana McBain ('04) has been volunteering with the Ottawa Alumni Chapter since 2006.
"Mount Allison is such a close-knit community that most alum are keen to stay involved in one way or another. I got involved with the Ottawa Chapter as soon as I moved back to Ottawa in 2006," says McBain. "Mount Allison was (and still is) an important part of who I am and I wanted to do what I could to stay involved and provide a platform for other alum to keep in touch. That was in 2006... and nearly a decade later I'm still thrilled to be able to catch up with my fellow alumni a few times a year to remind us of the great times we had. Ottawa has a particularly loyal group of Allisonians, which makes it pretty easy and very rewarding to stay involved after all these years!"
Eilish Elliott ('15) is completing the first year of her Master's at Carleton University. She felt it was natural to continue her involvement with Mount Allison as an alumni volunteer.
"I moved to Ottawa this past August and I knew very few people in the city. I attended the fall pub night and really enjoyed the opportunity to meet new people, re-connect with others, and feel a bit of Sackville so far from my second home. I see staying involved as a great way to continue doing just that," she says.
"Additionally, the people who have most helped me adjust to living in this new place are all other Allisonians — including some I hadn't really known before moving here. I hope that through my involvement with the alumni chapter I will be able to help other newcomers to Ottawa feel more at home here the way my fellow alumni have for me."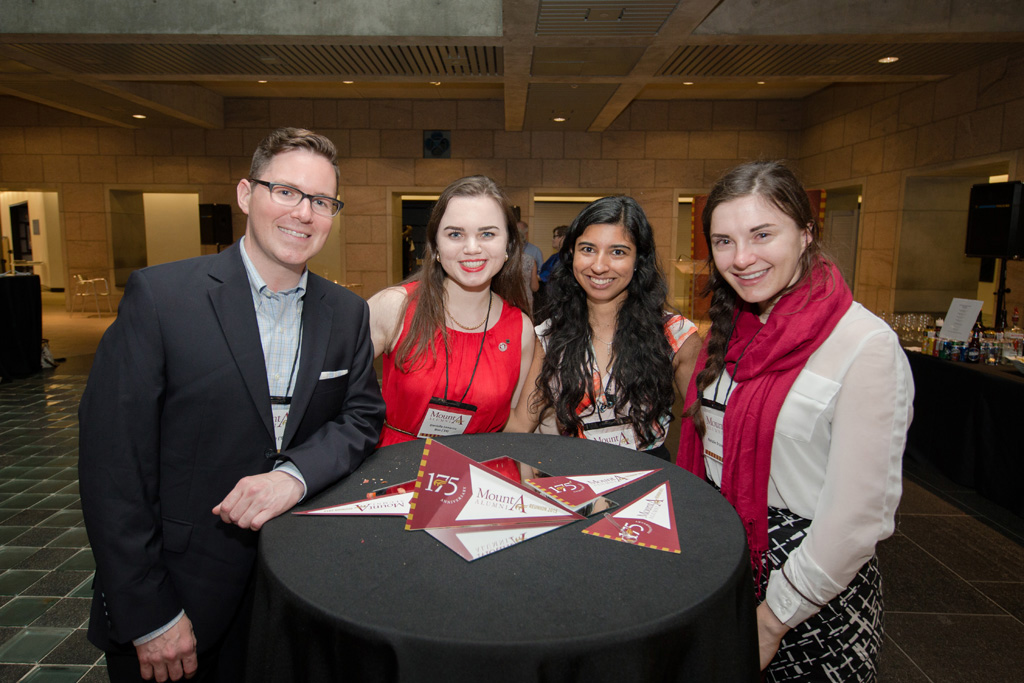 Past events in the Ottawa chapter include the 2015 Loney Bowl viewing party at Bowman's Bar and Grill (owned by Allisonians), a celebration of Alex Colville and Mary Pratt at the National Art Gallery that saw more than 300 guests, as well as the annual Atlantic University Pub night and other Chapter pub nights and gatherings.
Want to get involved? Visit the Ottawa Chapter page or find them on Facebook (Mount Allison University — Ottawa Alumni).
Interested in volunteering with your alma mater or starting an Alumni Chapter in your area? Contact Mona in the Alumni Office – meestabr@mta.ca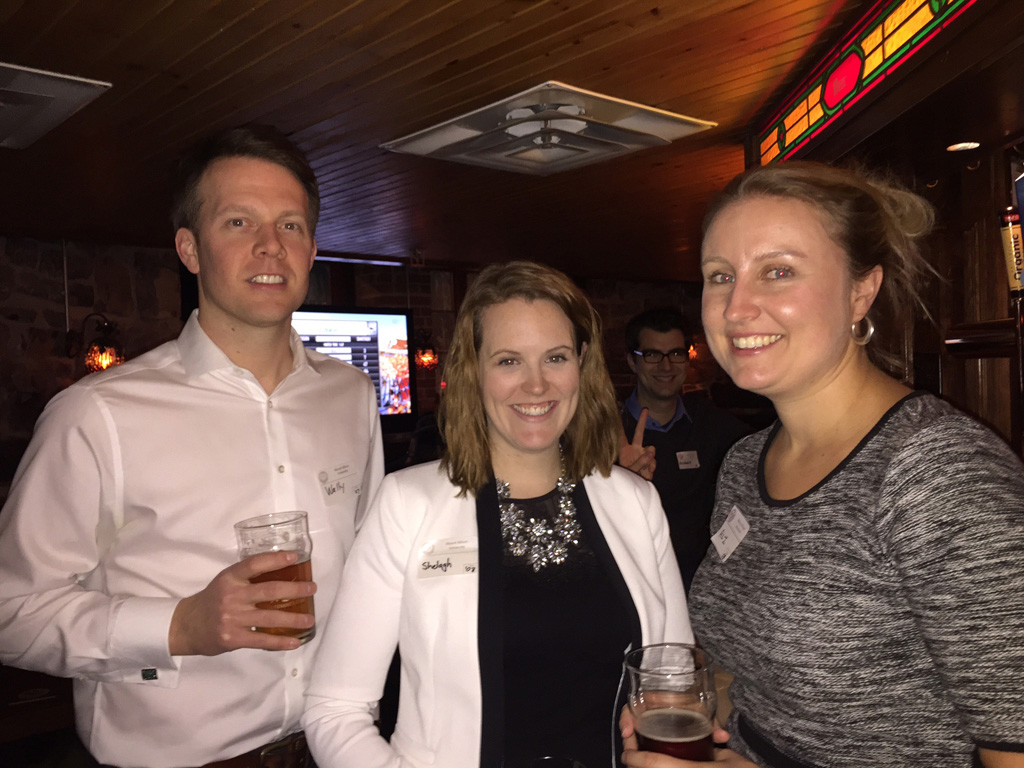 Photo captions from top:
Dan Lee ('63), Elizabeth (Dykes) McCubbin ('64), and Bruce McCubbin ('63) at the National Art Gallery.
Front row, left to right, Joel Cargill ('15), Leah Rosetti ('13), and Eilish Elliott ('15). Back row, left to right: Danielle Biss ('14), Amelia MacDonald ('14), Laura Salisbury ('13), Laurent Brisebois, and Tessa Morris ('15).
Brad McBride ('99), Danielle Lenarcic Biss ('14), Mesha Sagram ('14), and Natalie Brunet ('14).
Wally Fowler ('07), Shelagh Connolly ('08), and Ali Duret (('08) at the Ottawa Pub Night, Feb. 25, 2015.