Introducing the Bachelor of Arts in Computer Science and Music
New joint major allows students to explore unique opportunities in a growing market
Students can now enroll in an exciting new program that is unique in the Atlantic region, the Bachelor of Arts Joint Major in Computer Science and Music.
Dr. Laurie Ricker, professor in the Department of Mathematics and Computer Science and Dr. Kevin Morse, associate professor of composition in the Department of Music are two of the faculty members leading the program. The pair recognized a growing interest in electronic music and music technology content in Mount Allison music courses and connecting these to computer science courses related to sound. The program allows students to combine their interests and abilities in both technology and music and helps develop problem solving and programming skills in these areas.
"The marketplace is opening opportunities for students and there aren't many places to go in the region to get these kinds of skills," says Ricker. "Having diverse interests and diverse skill sets in those areas can bring students to interesting job opportunities. People will be able to take their skills and find gainful employment in the future."
From film, television, or video game music to sound design and music analysis tools, the new program prepares students for expanded career opportunities. Ricker says it was important for the program to ensure students could continue their interest in either computer science or music without experiencing any limitations through academic criteria.
Morse says many students in these programs already had an interest in both disciplines and were passionate about growing their skill set not just for course credit but also as personal hobbies.  
"This program helps us expand what it means to be a musician. I think the more traditional sense or popular public perception is that a musician is a performer. The reality is that we train students at Mount Allison to be musicians in a variety of ways."
Morse says that students in Mount Allison's music programs have long been able to focus their training on a wide range of areas such as music education, music theory, music history, performance, or composition.  
"Allowing students to now make computer science and technology a bigger part of their musical training is one more way we are helping students explore what it means to be a musician or a computer scientist today—and in a way that matches their interests and career goals."
Support from the Bragg Women Music Opportunities Fund and innovation funding from the Crabtree Foundation helped Mount Allison add two new courses and purchase upgraded computer hardware and recording equipment, which is housed in the New Music Creation Lab in the Marjorie Young Bell Conservatory of Music.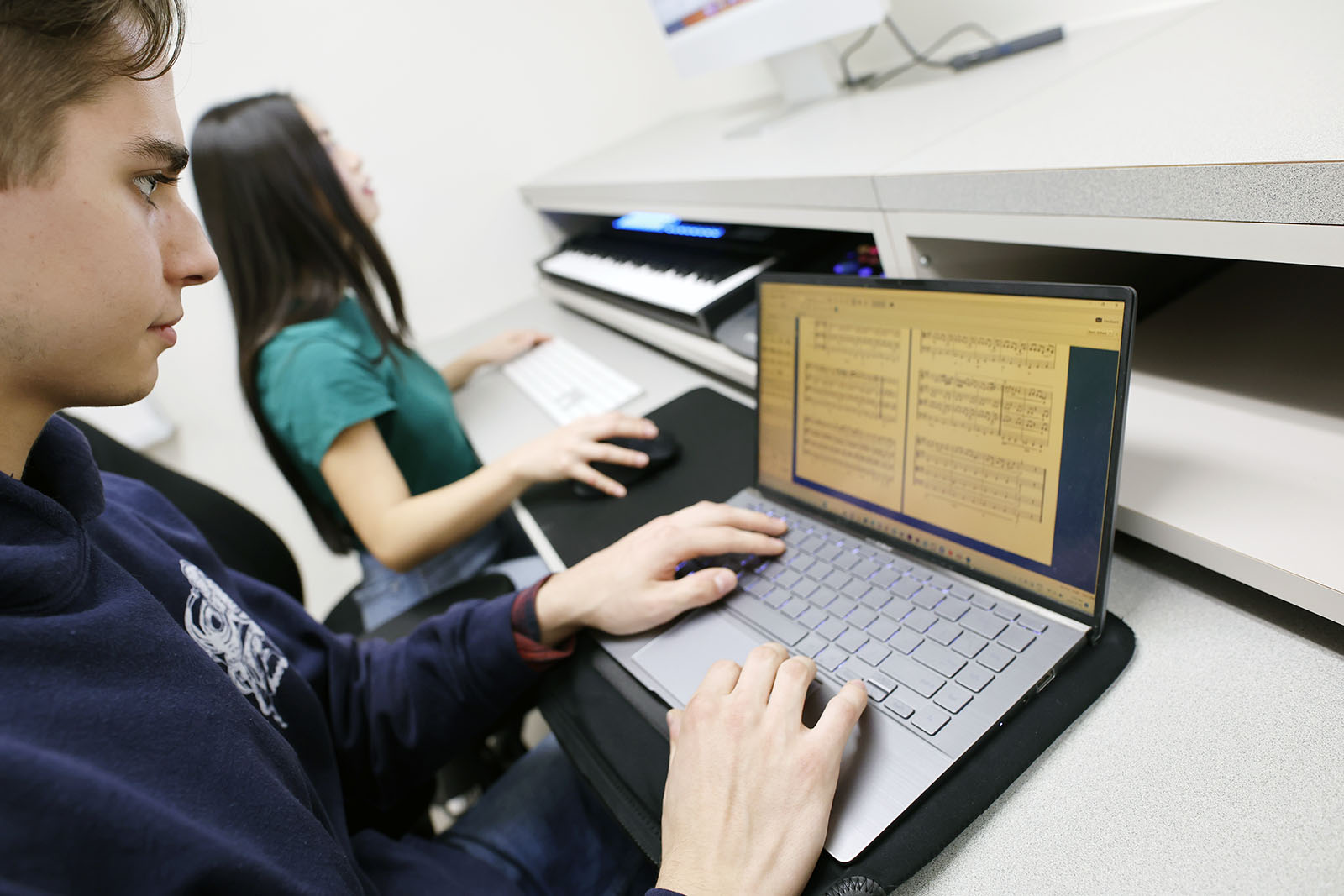 Second-year student Jacob Richard says he originally enrolled in computer science with an interest in exploring a minor in music. When Morse explained the joint program, Richard knew it provided the perfect opportunity to combine his two passions.
"Dr. Morse made it clear that I could explore any computer science or music career path after this."
Richard enrolled in the two new courses: MUSC 2171 (Sound Recording Techniques) and MUSC 3171 (Introduction to Electronic Music Creation).  
"Sound Recording Techniques has been one of my favourite courses so far. Both courses are very hands on, which is perfect for me."  
Other key components to this program include PHYS 1401 (Physics of Music and Sound), and a capstone project, which is an independent study jointly supervised by music and computer science faculty.
"One of the goals for the degree and the capstone course especially is to get students to learn about how to create and manage digital artifacts, which is an all-encompassing term for an electronic piece of music or digital entity that manages some sort of music creation," Ricker says.
Richard is still undecided on what he wants to do for his capstone project but says he enjoys making electronic music through Digital Audio Workstations (DAWs), an electronic software used for recording, editing, and producing audio files. He would like to take on the challenge of making his own DAW software or create synthesizers or a musical instrument that incorporates coding.
Find out more about the Bachelor of Arts Joint Major in Computer Science and Music. Questions? Contact music@mta.ca