New Allisonian-directed docuseries shares experiences of a Syrian family's journey to New Brunswick
Over the past few years, stories of Syrian refugees and families fleeing their home country in war have dominated the news around the world, including Canada. While many stories celebrating communities coming together and families adapting to life in Canada continue to be shared, many important aspects are left out of the mainstream discussion.
Recent Mount Allison graduates Sage Shaheen ('20) and Anas Nannis ('20) wanted to change this narrative with an emphasis on some important voices — those of the refugees. The pair began working on Exiled in the fall of 2020. The docuseries explores the immigrant experience of the Elhasan family, a Syrian family of seven who came to New Brunswick as refugees in 2015. The series is now available on Bell Fibe.
"Many of the documentaries I had seen about Syrian refugees were told from similar viewpoints. They share the experiences, but really only focused on part of the story," says Nannis. "There's so much more to the journey, in between Syria and Canada. I wanted to help share these stories and viewpoints from refugees' experiences more widely."
The Elhasan family, who are personal friends of Nannis', filmed the series over the course of a year (50+ hours of filming), with all seven family members graciously giving their time and stories to the project. The series shares the family's journey in New Brunswick, entering the local workforce, navigating the public school and post-secondary systems, and learning a new language and culture. Add in a global pandemic to the mix for good measure.
"It's important for people to better understand this complex experience of many refugees," says Shaheen, who currently works with a non-profit organization assisting refugees in the province [she did not work with the Elhasan family in this role]. "I'm honoured to be a part of this project, which helps to do just that, foster better understanding and empathy around the refugee experience."
Ensuring the Elhasan family members' voices and experiences were shared directly was a key component for both Nannis and Shaheen throughout the project.
"We filmed the conversations in Arabic and added subtitles during production, there is no voiceover," explains Nannis. "This allowed everyone to feel comfortable in sharing their stories and experiences directly, which I believe is an important component to documenting their adaption to life in Canada."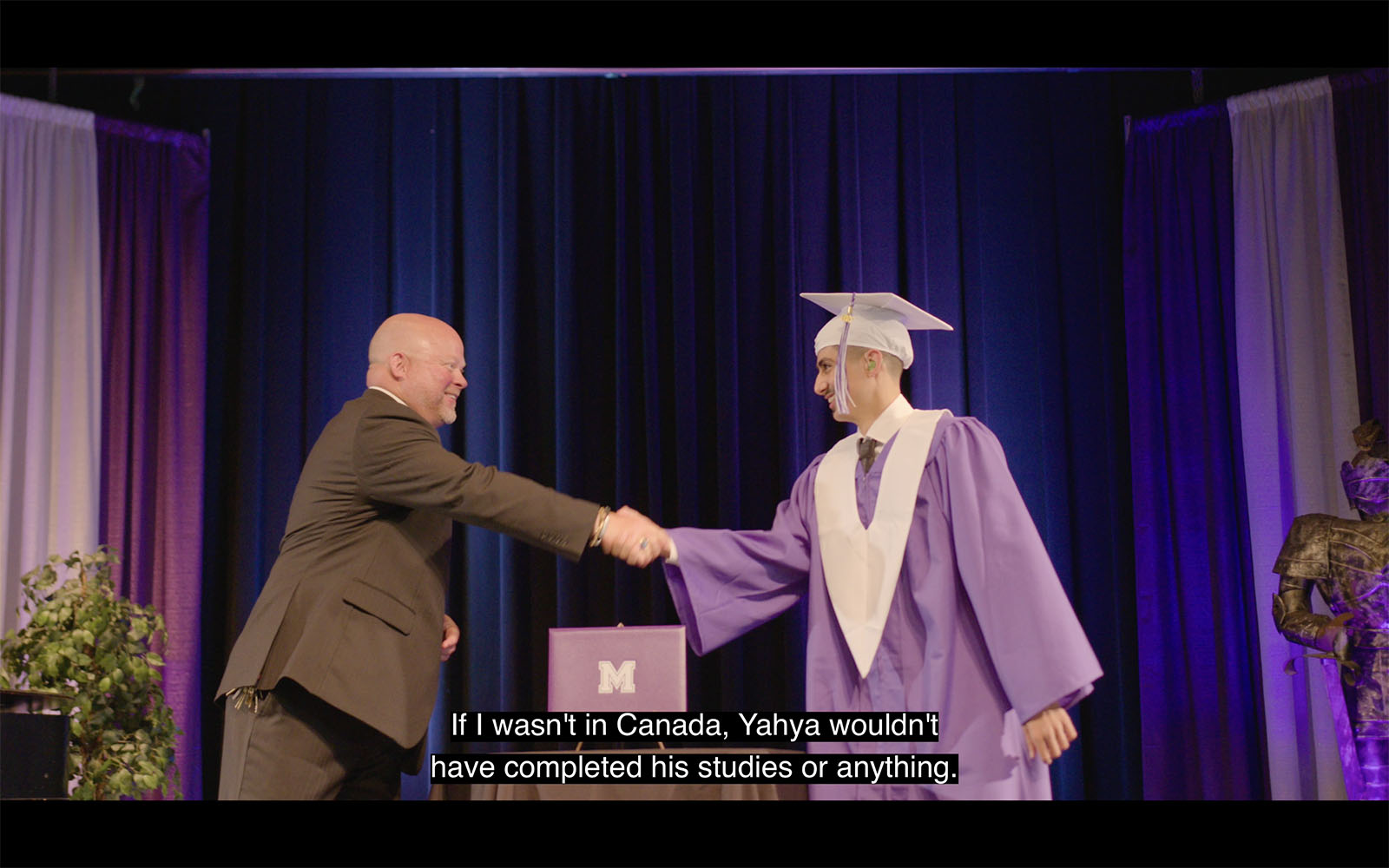 While Nannis completed his studies in aviation, his work in media began long before coming to Mount Allison. 
"I started photo and videography work in 2011, during the uprising in Libya where I grew up. I was part of a team that provided images and updates to international media about the war," he says. "In 2012 we launched the first Libyan TV channel to broadcast in the language of the Amazigh Indigenous people of Northern Africa."
Nannis came to Canada in 2014 and began his studies at Mount Allison in 2015. His love of storytelling continued and by his third year he had launched his own videography company — AN Media — which is now based in Moncton.
Shaheen works with the New Brunswick Refugee Clinic, based in Moncton, which provides free bilingual legal services to refugee claimants and assists at-risk persons with applications for permanent residency on humanitarian and compassionate grounds. Originally from the United States, she worked with Nannis to help develop the series proposal for Bell and provided support throughout the filming.
She says she's always been driven to helping others and her time working with refugees helped her determine her passion to begin a career in this field.
"There are a lot of misconceptions around why refugees may come to a country like Canada. It's not always by choice," she says. "In many cases they are leaving much of what they know, their culture, extended family, language, and starting somewhere completely different."
Both coming from outside of Canada themselves, Nannis and Shaheen understood first-hand the challenges newcomers to the country could encounter, whether through the immigration process or adjusting to different cultural norms. Both also volunteered with the Sackville Refugee Response Coalition (SRRC) while students at Mount A. The SRRC helped support several families from Syria and the Congo in coming to Canada. Nannis served as an Arabic translator for the group while Shaheen worked directly with a Congolese family in various ways including English language learning, logistical support like child care, and transportation.
Shaheen credits this experience, along with her honours work around refugee matters in Kenya with international relations professor Dr. Dave Thomas and her experience working at the Scalabrini Centre in Cape Town, South Africa, for helping her find her current path in refugee work.
"I received the Mansbridge Internship in 2019, which enabled me to travel to Cape Town and volunteer at the Scalabrini Centre," she says. "Having this kind of opportunity, in addition to my studies, really helped me discover my passion for refugee work."
Exiled is currently available for viewing on Bell Fibe TV. View the preview below.