Class of 2020 makes history
Mount Allison's virtual conferring of degrees inspires at-home celebrations across the miles and decades
When Mount Allison made the difficult, but necessary, decision to postpone both the 2020 Reunion Weekend and Convocation ceremonies due to the COVID-19 pandemic, plans to celebrate the Class of 2020 and ensure they received their degrees in a timely manner moved into action.
"We really wanted to find a way to honour the Class of 2020 and share the Mount Allison experience they know and love, even if it was going to be from a distance," says University President and Vice-Chancellor Dr. Jean-Paul Boudreau. "A committee of students, faculty, and staff came together, working under very tight timelines, to bring this to life through the virtual conferring of degrees."
The 2020 event was the first time in-person Convocation ceremonies were postponed at Mount Allison, making it a truly historical one for the University. 
The program included messages from the President, Chancellor Lynn Loewen ('82), Class President and Valedictorian Nigel Verret, individual slides for each grad, as well as the Alma Mater Song, sung remotely by members of the Class of 2020: Sarah English, Laura Scaravelli, and Isaiah Yankech. The online ceremony, which aired on May 25, had more than 10,000 views in its first 24 hours and continues to be watched around the world. 
The Record reached out to some of the members of the Class of 2020 to hear about their virtual celebrations as Mount Allision's newest alumni. Thank you all for sharing your stories and photos with us. 
---
SARA McCONNELL ('20)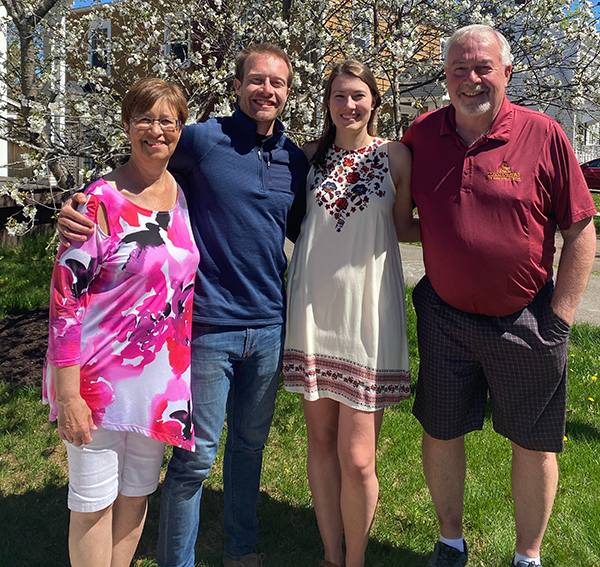 It wasn't the final semester or Convocation Sara McConnell ('20) envisioned, but it was still unforgettable. The 22-year-old received her Bachelor of Science with First Class Honours with Distinction on May 25, surrounded by her family in their living room in Moncton, NB. 
"It was a really nice way to celebrate Convocation with my family," says McConnell. "I had an amazing experience at Mount A. It was an encouraging community for me and I've grown immensely as a person there. I'm grateful for all the friends I made." 
Living in New Brunswick, McConnell was able to celebrate with close extended family members including her parents, Nancy Tingley and Norval McConnell ('80), brother Kyle, and  aunt Katharine (McConnell) Paunins ('82). She even wore her maternal grandmother Phyllis (Fawcett) Tingley's ('41) graduation robes, the same ones she wore at her Mount Allison Convocation 79 years ago.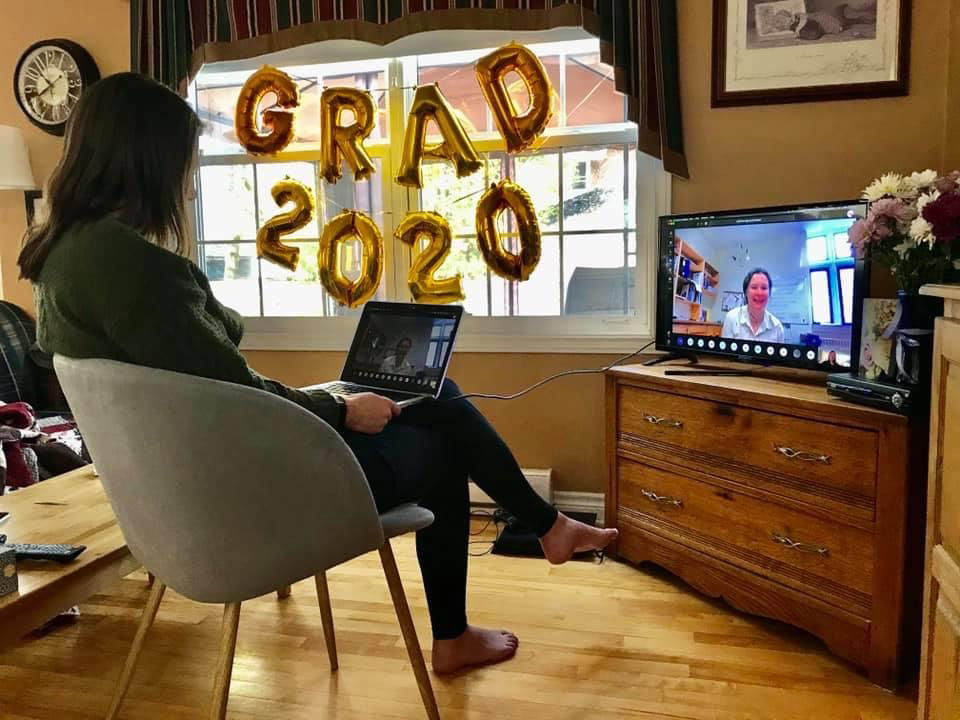 McConnell completed her thesis, earning several awards for her academic endeavours. She spent this past summer as a student summer research grant holder, studying  Halenia deflexa, the mating systems of these New Brunswick-based plants and importance of pollination for these species. 
"I moved home at the end of March to finish my honours thesis. I lived off campus my last year, there were six of us total. It was nice to have this kind of support the last few weeks of the semester," says McConnell. 
Outside her academics, McConnell was also involved in residence life, field hockey, the Right to Play student club, and the MASU. This year she served as entertainment director, organizing the first-ever virtual ASCARS Awards, a Mount Allison highlight each spring. 
McConnell is keeping another family tradition alive as well — working in education. She will be taking a Bachelor of Education at St. Thomas University starting in September. Both her parents are retired teachers, well-known for their roles in education throughout Moncton area schools and community groups. 
---
SEAN CAREY ('20)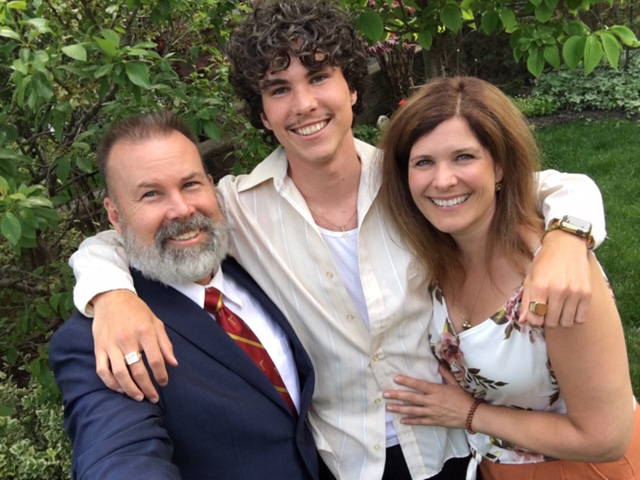 The Carey family of Toronto, ON also marked Convocation Day on May 25. Sean Carey received his Bachelor of Fine Arts, following in his dad Stephen's footsteps — he earned his BFA in 1991. 
"One of the great things about the virtual ceremony was that additional family members and friends were able to participate," says Stephen. "Sean's older brother, a Carleton University student, was able to watch from Ottawa along with his grandmother. Sean's younger brother was working that day so couldn't join us. My sister continued her streak of only attending Mount Allison Convocation ceremonies. She was at mine while missing two of her own!" 
The Careys in Toronto — Sean, his mom Kristine, and Stephen — dressed up for the occasion, bringing out their Mount Allison attire including a garnet and gold tie, cufflinks, and lapel pins.   
Both generations of Carey Allisonians were involved in a number of activities on campus. Stephen and Sean both studied under Thaddeus Holownia and Dan Steeves in Fine Arts. Outside the studio, Sean worked as an equipment assistant for the Football Mounties, a team Stephen played for during his time at Mount A. The father and son duo also both played intramural hockey and lived in Harper Hall.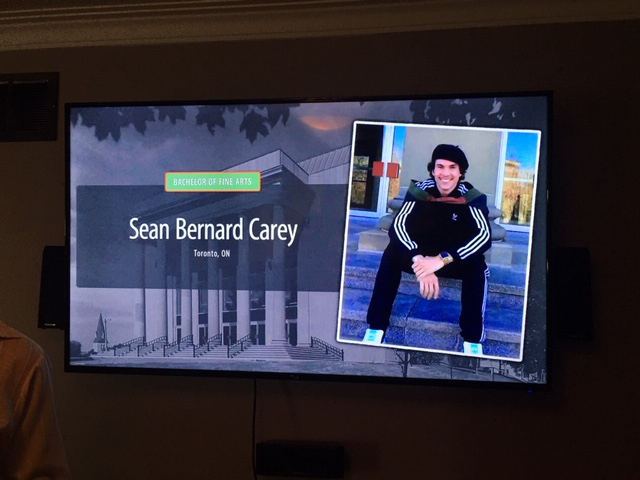 But, as many Allisonians can now attest, moving home from university during a pandemic is not for the faint of heart. 
"Being several provinces apart along with this being Sean's final year, we had some difficulty getting him home," says Stephen. "He could have flown home early after the closure, but had four year's worth of stuff. I'm not sure if you can fully imagine the amount of stuff art students accumulate." 
When the New Brunswick borders closed in March, Sean was still living in Sackville. Stephen obtained permission to travel into the province to pick him up, resulting in a marathon trip in early May. 
"I left Toronto on Saturday morning, May 2, and arrived in Sackville at midnight after clearing check points in both Quebec and New Brunswick," says Stephen. "We packed up on Sunday morning, did a very quick visit to Convocation Hall to take some grad pics before having a physically-distant driveway goodbye with Dan and Lisa Steeves and heading home. Fifteen hours later we were back home in Toronto. So, in a 40-hour period, I drove for 30 hours!"   
So, what's next for the newest Carey Allisonian? Sean plans to take a gap year and look at career options or further schooling, possibly an MFA or BEd. He's also planning to continue his printmaking work. 
His father has one more thing to add to the list. 
"It's time for Sean to get his driver's licence so I don't have to do all the driving next time we make our way to Sackville," chuckles Stephen. 
---
AMINAH SIMMONS ('20)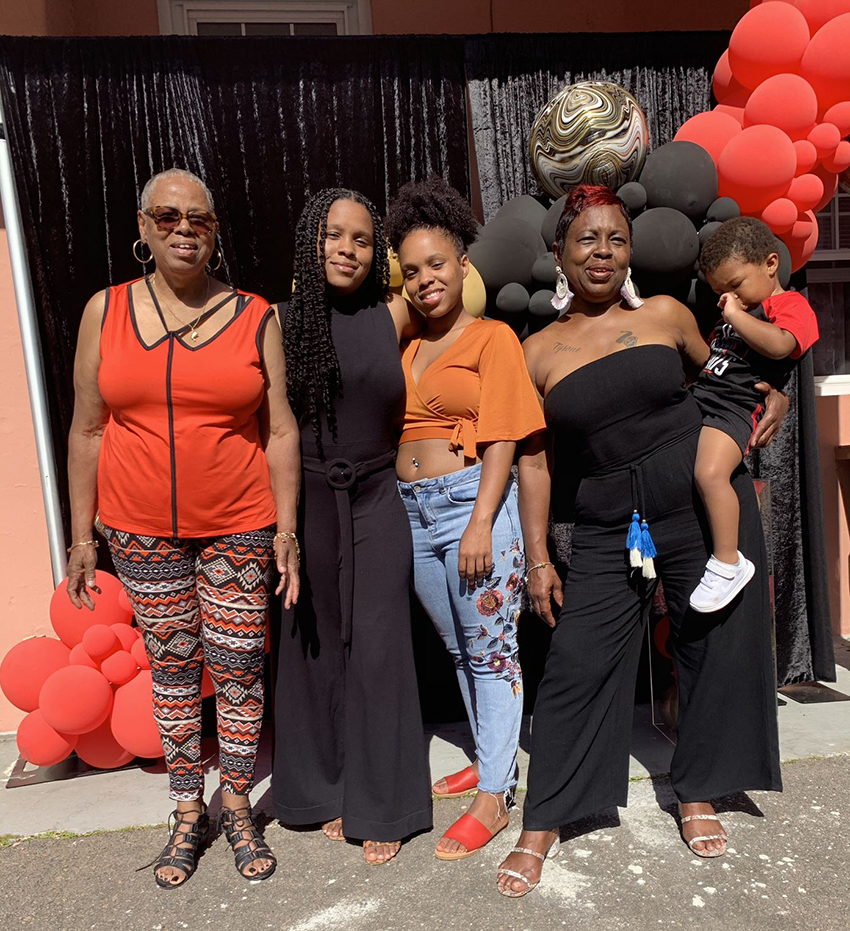 Aminah Simmons celebrated her graduation in her hometown of Devonshire, Bermuda. 
"My family threw me a surprise 'backyard graduation.' We had Mount Allison-themed decorations all around the backyard and they brought out the flat screen TV," she says. "When my name was announced, I put on my cap and gown and walked up to the TV and did a speech. It felt real. I had a few of my loved ones there (because we could only have 10 people gatherings at a time) and we celebrated and talked about what the past four years were like."  
Simmons graduated with her Bachelor of Arts, majoring in religious studies, minoring in women's and gender studies. She was also the recipient of the 2020 Barritt-Marshall Award, given to a graduating international student whose contributions to the internationalization of campus and the community have helped to promote cross-cultural understanding and co-operation. The award is named after the late Robert V. Barritt ('50) and Ralph Marshall ('50), who were both from Bermuda. 
Simmons passionately worked to promote inclusivity on campus. She served on residence executive, volunteered with the International Mentorship Program, was a member of the University's Anti-Racism Education and Response Team, and was elected as MASU's first-ever ethnic diversity representative. She was a founding member of the Caribbean Students' Association as well as the Mount Allison Black Students' Union. She also worked at the R.P. Bell Library and participated in the Maple League's Up for Debate competition in 2019, taking home first prize in the debate tournament. 
Despite these many impressive accomplishments, Simmons says she was shocked to receive the Barritt-Marshall Award this spring. 
"I knew I was involved in a lot during my studies at Mount A, but I did not know I would or could be nominated for a grad award," she says. "There were so many other deserving international students so I was/am extremely grateful. Especially as a Bermudian, getting an award created by fellow Bermudian alumni made it that much more special!"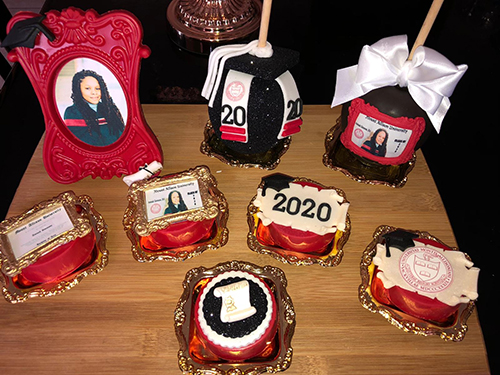 Once the COVID-19 pandemic moved Mount Allison's winter term online, Simmons quickly returned home to Bermuda in March to finish her studies. 
"Once Mount A announced that it was closing because of the virus, my mother booked me a flight and I had two days to pack up my apartment and get on the plane," she says. "It all happened so fast and I was quite sad that I did not get to say goodbye or see you later to some of the faculty, staff, and friends that became special to me during my studies." 
But she plans to return to New Brunswick. 
"Once my country lifts its travel restrictions, I plan to come back to New Brunswick. I am passionate about advocacy work and marketing and communications, so I will be attempting to start a career in those fields,"  she says.
While the majority of 2020 grads received their diplomas by mail, some Sackville-based graduates had their degrees run to them, literally. President Boudreau, who is also an avid runner, personally delivered 18 diplomas on a 21-km run on June 19. Boudreau was followed by a staff member driving a van holding the diplomas and his ceremonial President's robes for photos with graduates. The delivery was featured in Canadian Running Magazine this summer.
---
Watch the Virtual Conferring of Degrees ceremony: