Many reasons to stay in touch
Staying connected to Allisonians around the world
If you haven't updated your contact details with the Alumni Engagement Office recently, particularly your e-mail address, you could be missing out. Invitations to pub nights, receptions, Reunion Weekend, and gatherings to cheer on the Mounties with people who are as enthusiastic as you are — these are just a few of the reasons to stay in touch with Mount A.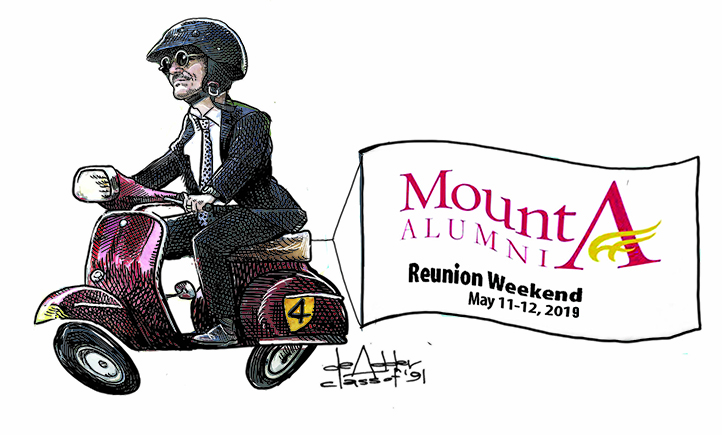 "Alumni may think that we will use the information to ask for donations or flood their inboxes, but our main objective in encouraging them to stay in touch," says Carolle de Ste-Croix ('90), director of alumni engagement. "We want our alumni to continue to feel connected to the campus and to each other."
For many alumni, staying connected with Mount A is important for a wide range of reasons. Cheryl Hodder, a three-time alumna (BA '81, honours certificate '82, BEd '83) says, "I really enjoy reading about my classmates and colleagues in the Record. The geographic diversity of my Mount A classmates and friends and the wide array of professions and accomplishments that they have successfully pursued is amazing. It is a wonderful way to keep informed. I also enjoy following the President on social media!" 
For Fredericton-based Sarah Bell (BMus '11), it's the ongoing connection with campus that matters.
"I love getting updated on events and happenings at my alma mater. It makes me feel like I am still a part of a place that was so important to me at that time in my life," she says.
"I keep my contact information up to date because I enjoy the events and opportunities to reconnect with alumni classmates in my city and to make new connections with other local alumni," says Heather Webster (BA, honours psychology, '15), who now lives in Halifax.
For Lindsay James (BSc, chemistry, '14), who is studying dentistry at Dalhousie University, receiving updates is important. But as a former member of the women's varsity hockey team, she says the biggest benefit of keeping in regular contact with the alumni team at Mount A is hearing about reunions and major events.
"A couple of years ago, I had the pleasure of partaking in the Women's Hockey Reunion. A bunch of my former teammates and I returned to Mount A for a weekend full of fun and laughter, a reunion I will never forget," she say. "This May it will the fifth-year reunion of my graduating class, so I will be paying special attention to my e-mail updates regarding Reunion Weekend."
"There are many great reasons to stay in touch with Mount Allison," says Anne Bannerman Blades (BA '82), who lives in Ottawa, "but for me it's how it provides the opportunity to maintain contact with friends and former classmates — whether that be at local alumni gatherings, class reunions, or the informal, spontaneous get-togethers that often happen at cottages or golf courses across Canada and elsewhere. Attending these events, or even reading about them in the Record, reminds me of how fortunate we have all been to attend Mount A and the lifelong connections that we forged."
It all starts with updating your contact details. It's quick and easy at mta.ca/Alumni/Connect. While you are on that page, take a minute to check out local chapters near you, class pages, and the social media links.
Cheryl Bell ('83), Director on the Alumni Board and Chair of the Board's Communications and Archival Committee