Mount Allison student Eli Wood ('22) honoured with 2018 Discovery Youth Award
Eli Wood, a first-year psychology student from Weymouth, NS, was honoured this fall with the Discovery Centre's Youth Award for his research and device that seeks to explore alternative, natural ways to treat anxiety.
Part of Halifax, NS's Discovery Centre programming, the Discovery Awards were established in 2002 to recognize talented individuals and outstanding companies in Nova Scotia for their national and international work in science and technology.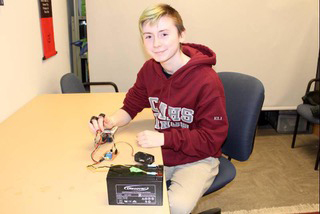 "Receiving the award was astounding. Better than that was the impression of being within a room of scientists, innovators, and change makers," says Wood.
Wood's project, Stimulation of the Vagus Nerve Through Targeted Temperature Therapy 2.0, studies the use of a sensor and a cooling device element combination to help treat situational anxiety.
"My inspiration for the project came from a friend who had severe anxiety," says Wood. "They were on medication and there were a lot of side effects, so I was looking for a natural way to treat it."
He began working on the project in high school, participating in the Canada-Wide Science Fair three years in a row. In the 2018 competition held in Ottawa he was named one of the senior finalists for the Youth Can Innovate Award for his current work. All his science projects have been psychology-based, which helped him chose his area of study at Mount Allison.
"I plan to finish my undergrad in psych and get master's and doctorate degrees to go on to practise clinical psychology," says Wood. "I am also going to keep working on my project and modify my device as I continue my studies."
Now partway through his first year, Wood's intention is to do an honours degree in psychology, with an additional sociology major and minor in women's and gender studies.
Wood's award-winning device is small enough to fit in a travel cooler and his testing thus far has proved it to be effective in helping people with their anxiety.
"My project was born out of the desire to help people with their anxiety and this beginning device may help people do that without needing medication or the use of psychotherapy," he says.
Outside of his studies and research, Wood is also involved in his house council, serving as the diversity and inclusion representative; the Psychology, Sociology, and Women's and Gender Studies Societies; and is a volunteer with SHARE. He is also a member of Mount Allison's Catalyst group.
This March Wood will be attending the national Jack.Org summit in Toronto as a delegate. Jack.org is Canada's only charity training and empowering young leaders to revolutionize mental health in every province and territory. Through talks, chapters (including one at Mount Allison), and summits, young leaders identify and dismantle barriers to positive mental health in their communities.
Off-campus, Wood volunteers with the Sackville United Church as a social justice liaison.
"This work entails the bridging of a town and gown mentality," he explains. "My work includes working with on-campus groups and community groups and encouraging the development of partnerships with the hopes of completing some social justice and/or social change initiatives within Sackville."
Photo: Yarmouth Vanguard/Eli Wood
---
Hear more about Wood's award-winning project: