Reg Caughie ('61) inducted into Curling Canada Hall of Fame after 37-year stretch playing Brier Bear
Brier Bear was meant to be a one-time only gig.
"I was on the organizing committee for the 1981 Brier in Halifax," recalls Reg Caughie. "Other sports had mascots and I suggested we have one for the event that year. They said, 'Reg, great idea, you're it.'"
And so Caughie found himself in a bear costume for the run of that year's Canadian men's curling championship.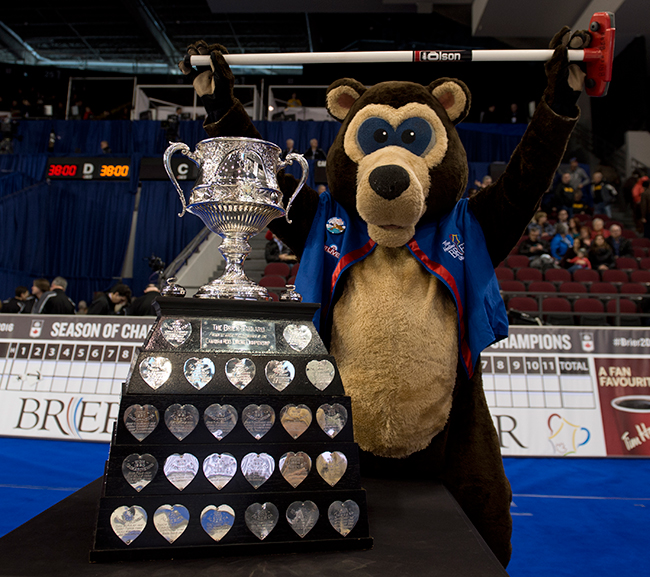 By the end of the week everyone had fallen in love with Brier Bear and Caughie had acquired a standing engagement, playing Brier Bear at 37 consecutive Briers.
Now 80 years old, his last appearance was at the 2017 Brier in St. John's, NL, where he now lives.
"I've been to a Brier in every province in Canada over the past 37 years," he says. "Each Brier was unique. And I was in three Calgary Stampede parades and four Grey Cups. I met an awful lot of people across the country and have long-lasting friends. It was a very unique part of my life."
Caughie made a point of visiting children's hospitals, schools, and senior citizens' homes everywhere Brier Bear travelled.
"I've been a people person all my life," says Caughie, who made a career in the banking and trust business. "The greatest thing about it was the friendliness of it and creating an awareness of the game itself. It was enjoyable, meeting up with people from different parts of the country and once you get in that costume, there are so many things you can get away with. If I brought some joy to people, that made me happy too."
Brier Bear was inducted into the Curling Hall of Fame in 2017 and the mascot has been officially retired.
Caughie says he had no objection to someone else taking over, but everyone else felt it just wouldn't be the same to have someone else do it.
"I don't know too many sports that have a mascot inducted into the hall of fame," he says. "That was really flattering. I was quite surprised."
While Brier Bear is Caughie's most visible post, he is a long-time volunteer in many sports, including softball, curling, and soccer. At Mount Allison he was a member of the University's soccer and curling teams, played several intramural sports, and wrote sports stories for The Argosy. He was also elected President of his class in his sophomore year and met his wife of 56 years, Diane Allen ('61), while at Mount A.
"I think everybody has to have a liking of some sort — I like sports," he says. "I tried all the sports — badminton, boxing, bowling — I tried them all. It was interesting to me. And there are so many interesting people in sports. With curling, I am a curler myself, and it was great to rub shoulders with these tremendous players."
Caughie has been inducted into the Softball Newfoundland and Labrador Hall of Fame and the Nova Scotia Curling Hall of Fame as a builder and in 2015 was made an honorary life member of the St. John's Curling Club. He has also been recognized by the Canadian Curling Association several times, including receiving the Board of Governors Special Recognition Award in 2005.
He continues to be involved in local sports and in St. John's the youth curlers compete each year for the Brier Bear Fairplay Awards and the Caughie Cup.
Brier Bear photo by Michael Burns/Curling Canada
---