Creating a space to talk about art
Award-winning curator Mireille Eagan ('04) brings Atlantic art to the forefront
Mireille Eagan has been working in art galleries since she was 16 years old.
"I'm from Fredericton and had my first job at the Beaverbrook Art Gallery," she says. "I always had an interest in art but actually intended to study archeology when I started at Mount A."
Looking in part to escape early morning Latin classes, Eagan decided to take art history and found her niche. She now has her Master's in Art History and has been working as a curator for a decade, the last seven years as the curator of contemporary art in St. Johns, NL's The Rooms.
"I believe the role of a curator is to create space to talk about art, why we make it, what it says about our culture, and maybe what's missing," she says. "Every region is unique in its art. Atlantic Canada is truly a place for opportunity."
Eagan will be working to develop the discussion for an entire province this year with her latest exhibition focusing on the art history of her adopted home.
Future Possible opened this spring at The Rooms and is the first of a two-part series documenting the art history of Newfoundland and Labrador.
"The first installation looks at art work and history up to 1949," explains Eagan. "Part two of the exhibition will look at art history after 1949. We are also working on a major publication with the exhibitions that will compile an art history which has never been fully written before. It's exciting to be part of a project that's never been done in the province."
Although relatively early in her career, Eagan's resumé lists a number of impressive exhibitions and awards. She has sat on various juries with the Canada Council for the Arts, was awarded the VANL-CARFAC Excellence in Visual Arts Award in 2017, in 2013 served as the Atlantic juror for the renowned Sobey Art Prize, and was a juror for the RBC Painting Competition in 2017. She recently received a Gold Medal from the Digital Publishing Awards for an essay written on Christopher Pratt for Canadian Art.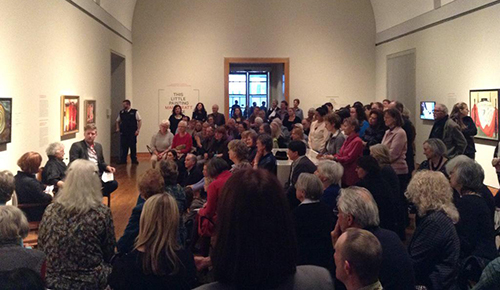 Two of her favourite and most famous curated shows have Mount Allison connections. In 2015, Eagan co-curated the nationally touring exhibition of Mary Pratt's ('57) work, as well as the exhibition Mary Pratt: This Little Painting at the National Gallery of Canada. The show was the first solo exhibition of an Atlantic woman artist at that institution. That same year, she also curated Christopher Pratt's ('57) 10-year retrospective exhibition The Places I Go.
"It was so exciting to work with both Mary and Christopher on their exhibitions," she says. "At first, it was also very intimidating. I had studied both their works at Mount Allison, they seemed larger than life. Getting to know them as people during the process was such an honour."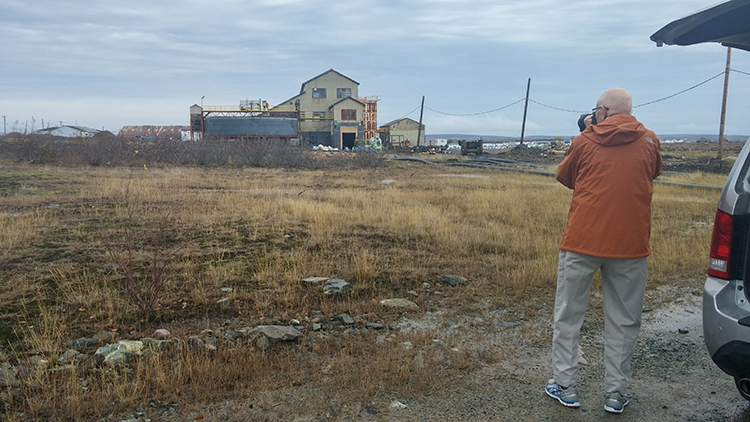 An invitation from the director of the Struts Gallery, John Murchie, piqued her interest in the Sackville Arts Community.
"It's a very special, vibrant arts community that's so supportive," she says, adding this level of community support has stayed with her.
"I'm in touch with people I met in Sackville, including Fine Arts faculty and alumni. I learned so much from people like Gemey Kelly, Anne Koval, and Thaddeus Holownia."
And let's not forget the Mount Allison alumni connection.
"When I was working with Christopher (Pratt), we spent one of his regular afternoon drives around Newfoundland singing Mount Allison songs," she laughs. "You really do carry a part of the Mount Allison and Sackville communities with you wherever you go."
PHOTO CAPTIONS: 1) Award-winning curator Mireille Eagan. 2) Installation of "Future Possible: Art of Newfoundland and Labrador to 1949" which opened at The Rooms this spring. 3) Artist talk with Mary Pratt ('57) at the National Gallery of Canada. 4) Christopher Pratt photographing a building in Buchans, Newfoundland, during his and Mirelle's roadtrip.