Mount Allison's Aviation program celebrates 10th anniversary
A decade ago, Mount Allison announced a partnership with the nearby Moncton Flight College (MFC), one of the leading flight training establishments in North America, to offer a Bachelor of Science in Aviation. The aviation program at Mount Allison is one of only a few in Canada that allows students to earn an undergraduate degree that incorporates flight and ground school training.
Bob Rosebrugh and then-Dean of Science Margaret Beattie began designing the program in 2006 and Rosebrugh became the program's co-ordinator two years later when it was approved. He has seen the program grow from two students in fall 2008 to approximately 90 in the program today. More than half of those students are currently working on their flight training at MFC.
"Because of the growing pilot shortage, we have grads moving to airlines in little more than two years after graduating — something I never thought I'd see," he says.
Rosebrugh says immediately after graduating most students take jobs as flight instructors or with small airlines or charter companies. Within a few years, many are flying with major airlines like Jazz, Encore, Porter, and Air Canada.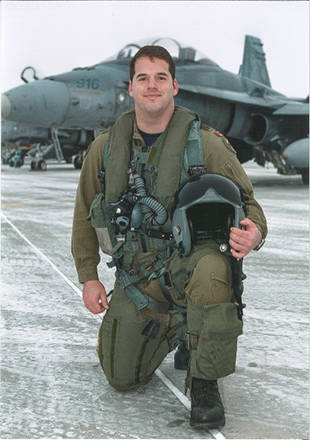 Conor Anson-Cartwright ('13) says being able to complete a university degree along with a commercial pilot's licence with a multi-engine/instrument rating in four years is quite an accomplishment. Although it required a lot of hard work, he says it was worth it.
"For those aspiring to become a pilot as a career, it is the best option," he says. "Having a science degree also keeps my doors wide open for potential future endeavours."
Anson-Cartwright flies for the Royal Canadian Air Force as a Fighter Pilot at 433 Tactical Fighter Squadron in Bagotville, QC. He has also been accepted into Embry-Riddle Aeronautical University for a master's program.
Third-year aviation student Mihar Raouf, from Moncton, NB, chose to study at Mount Allison because she could combine both her passions — flying and biochemistry.
"Whenever I'm overwhelmed with studies, I go flying at the College where I forget anything that happened earlier and just enjoy the amazing views and the different world," says Raouf.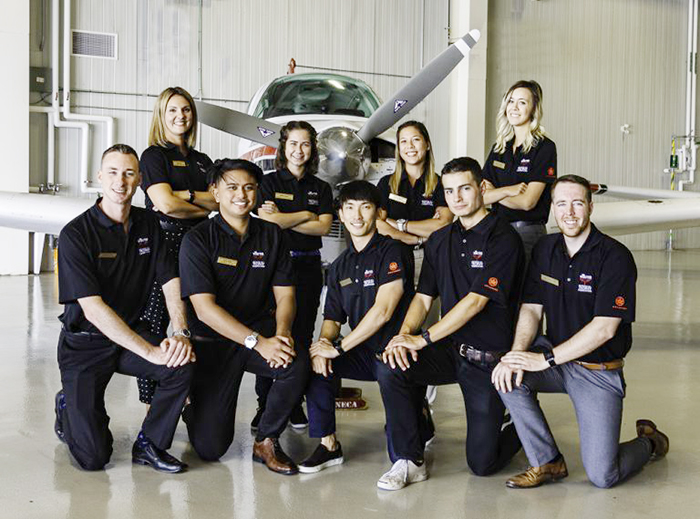 Raouf recently competed in the Webster Trophy Competition for Canada's Top Amateur Pilot at Seneca College as the finalist from the Atlantic Region. She completed a written exam, a simulator test, and a flight test.
"MFC's very strong training program gave me the courage to compete with finalists who had 250+ hours of flying experience, compared to my 60 hours," she says.
She also had the opportunity to meet examiners and inspectors from Transport Canada, captains from major airlines in Canada, and aviation students from all across the country.
In first year, aviation students take introductory courses in mathematics, computer science, physics, and geography. Flight training begins in second year, where students take three courses per term on campus and ground school training each year, while one-on-one instructor training and flying takes place at the MFC campus. Students complete more than 200 hours of flying; receive hundreds of hours of ground training; learn about navigation, airplane instruments, aviation regulations, and weather; and graduate with a Commercial Pilot Licence (CPL), a multi-engine class rating, and a Group 1 instrument rating.
Raouf remembers her first solo flight fondly.
"My first solo was exciting, exhilarating, and nerve-racking," she says. "Flying solo means if you encounter a problem you have to find a solution on your own. The day I did my first solo will never be forgotten because the feeling of leaving the ground on the takeoff and being up alone for the first time was amazing and I felt the freedom in the sky."
Photo captions: 1) Third-year Aviation student Mihar Raouf  2) Conor Anson-Cartwright, Fighter Pilot at 433 Tactical Fighter Squadron, Royal Canadian Air Force  3) Webster Trophy Competition for Canada's Top Amateur Pilot at Seneca College
---
Check out this video of a solo flight to Halifax, NS by aviation student Anas Nanees ('19). (Anas also created the Share Your Story video campaigns for Annual Giving, which can be viewed at www.mta.ca/annualgiving)