MtA student group assists local wildlife rehabilitation centre
It's a Saturday morning in early September. Biology and psychology student Erica Geldart ('18) is on the road. She's headed to the Atlantic Wildlife Institute (AWI) in Cookville, NB, about 15 minutes outside of Sackville, where she is part of a group of students who volunteer weekly at the non-profit wildlife rehabilitation centre.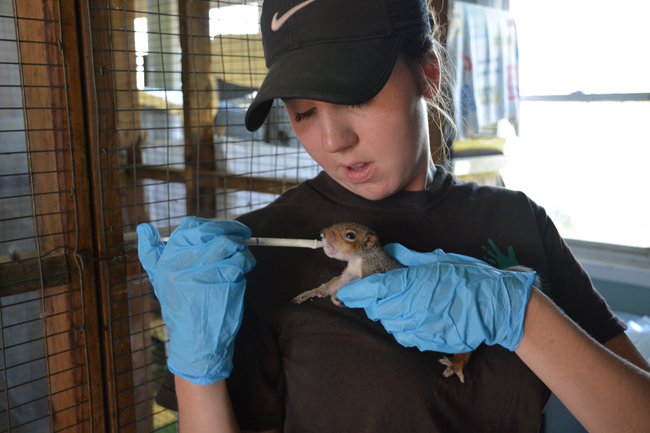 Geldart is a founding member of AWI-MtA Wildlife Club, a student volunteer organization that works with the Atlantic Wildlife Institute every weekend and for special events throughout the academic year. Established in 2015, the student society currently has about 148 volunteers and is growing.
"Animals, specifically wildlife, have always been a passion of mine," says Geldart. "I kept my eyes peeled for a student group that dealt with wildlife but had no luck finding it amongst groups at Mount A."
So, she made her own group using local connections. Working with AWI and fellow students Emily Hubley ('18), Mary Austin ('19), and Allison Harris ('17), Geldart began the volunteer group, gaining official club status from the Mount Allison Students' Union in 2016. 
The Atlantic Wildlife Institute was established by Pam Novak and Barry Rothfuss in 1996 and is dedicated to the rescue and rehabilitation of wildlife that have been displaced as a result of human encroachment on natural ecosystems. A private, registered charitable organization, the AWI's wildlife work contributes both to scientific knowledge on the causes and effects of environmental stress and to public awareness of the essential link between ecosystem health and human well-being.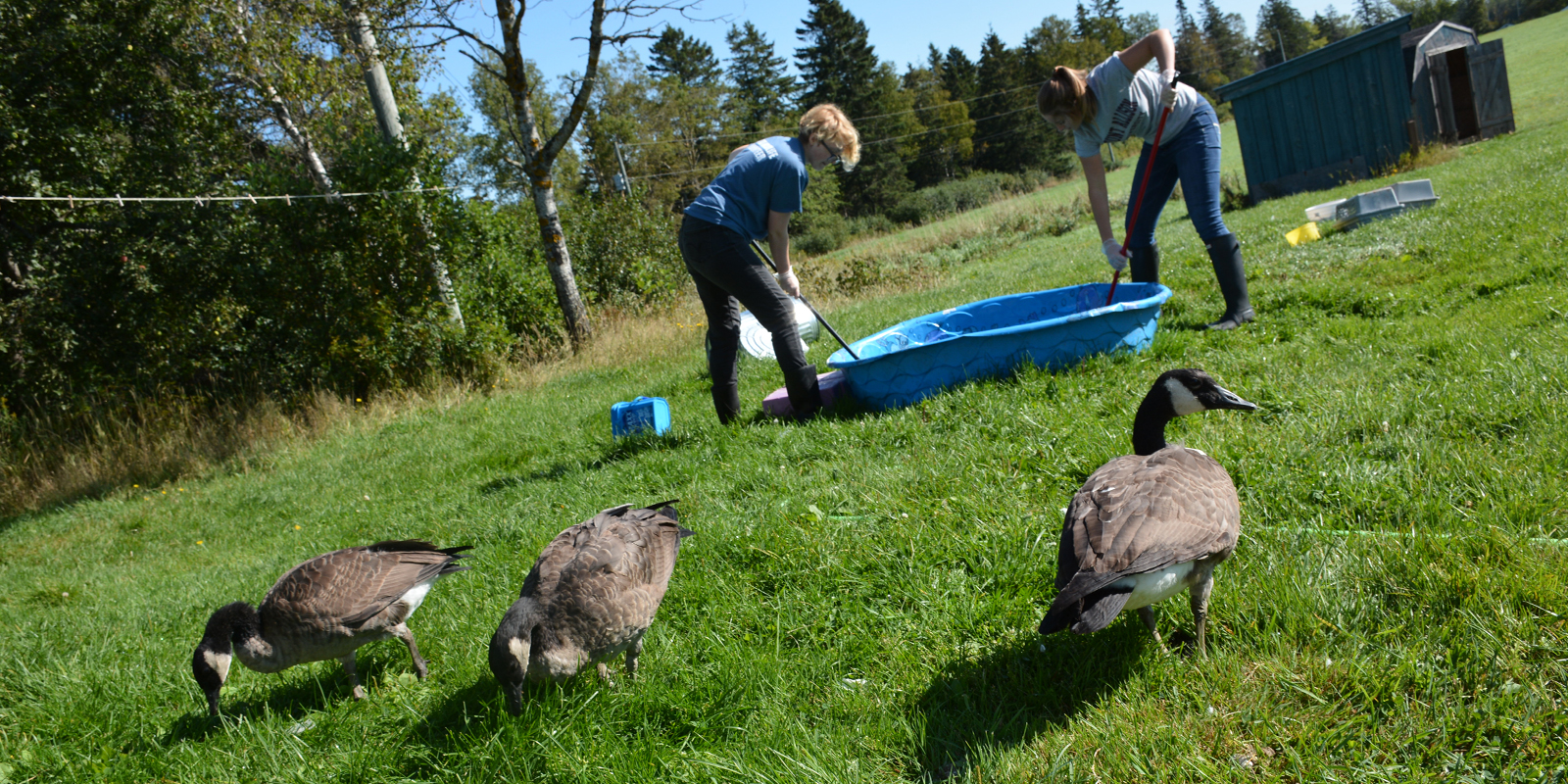 "We've had Mount Allison involvement at the AWI since the beginning," says Novak. "Our relationship, especially with our student volunteers, is really twofold. We learn a lot from each other. Having the students here on a regular basis is a huge help to us, but also gives them first-hand experience and education in animal care.
"We've seen many of our student volunteers continue on to master's and veterinary programs. I think their experiences here have helped play a role in this."
Student and community volunteers assist with many tasks at the AWI including hand-feeding young, orphaned wildlife, cleaning out cages, preparing meals and water, building enclosures when needed, and releasing animals back into the wild. The group also works diligently to assist with fund raising and raising awareness for the non-profit.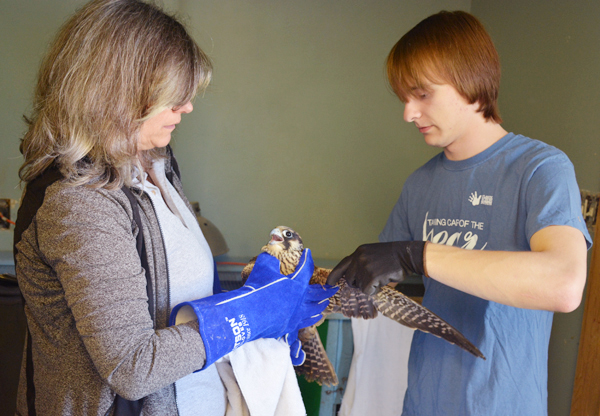 AWI-MtA Wildlife Club members are also invited to a number of seminars, conferences, and events with AWI founders, giving them opportunities to learn more about environmental impact and wilderness outside the organization.
Fellow AWI volunteer Robert Loughead ('20) is pursuing a BSc in biology and a BA in music. Growing up in rural Nova Scotia, Loughead has been surrounded by animals of all shapes and sizes his entire life and thought the AWI would be a great organization to be a part of when seeking out volunteer opportunities.
"It's very rewarding to be helping local wildlife recover and get back to the wild, but also helping the family that runs the Atlantic Wildlife Institute," he says. "The more work done by volunteers, the easier it is on them."
Learn more about the Atlantic Wildlife Institute at: atlanticwildlife.ca or follow them on Facebook @AtlanticWildlife and Twitter @atlanticwild
---
Photo captions (photos above)
1) MtA-AWI volunteers Rachelle Smith ('18), Erica Geldart ('18), Robert Loughead ('20), and Rosa Douglas ('20), with Pam Novak of the Atlantic Wildlife Institute.
2) Erica Geldart ('18) feeds a baby squirrel.
3) Rosa Douglas ('20) and Rachelle Smith ('18) clean out the goose pond while three Canada geese wait to go for a swim.
4) Volunteer Robert Loughead ('20) assists Pam Novak with physiotherapy on a peregrine falcon.