Introducing the first Joyce Foundation Purdy Crawford Bursary recipients
In October 2014, at the opening of the Purdy Crawford Centre for the Arts, Canadian businessman Ron Joyce announced that The Joyce Foundation would be making a $5-million gift to Mount Allison University in memory of the late Purdy Crawford ('52, LLD '91) — Mount Allison graduate, past Board chair, chancellor emeritus, and Canadian leader in law, business, and philanthropy.
It was Crawford's dream that no student who was accepted to Mount Allison would be held back by financial barriers. This generous gift has begun to support that dream. The Joyce Foundation Purdy Crawford Bursary was established for New Brunswick residents and now, just over a year later, 12 first-year Mount Allison students have benefitted from the $5,000 bursary, which is renewable each year based on good academic standing.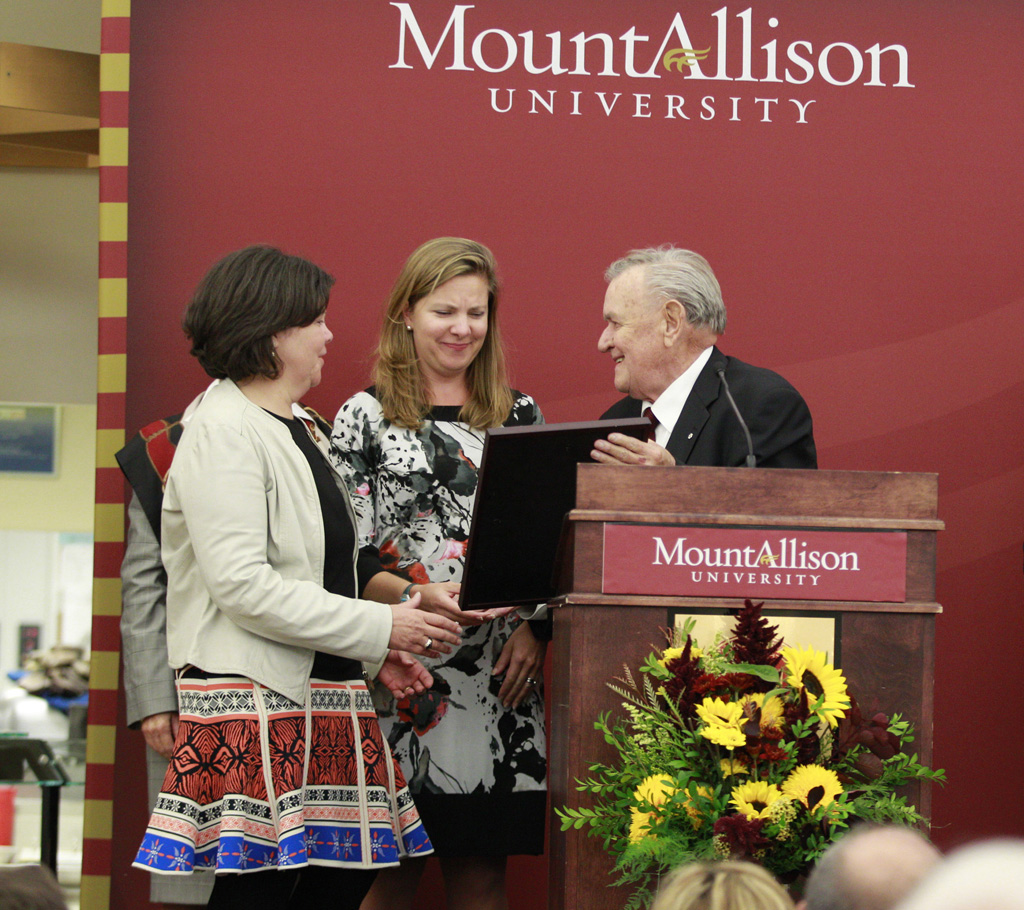 "It is wonderful to know that 12 students have started on their way at Mount Allison with the help of The Joyce Foundation Purdy Crawford Bursaries," says Ron Joyce. "Those students, and many others to follow, will surely find that their post-secondary education will open new opportunities, new vistas before them. Everyone benefits when youth can build a solid foundation for future success."
First-year philosophy, politics, and economics student Noah Fry, from Moncton, NB had heard about his parents struggles to afford a university education and had seen both of his sisters take on large debt to do the same.
With this in mind, he pursued all of his financial options. Along with being awarded Mount Allison's most prestigious entrance award, a Bell Scholarship, he was also awarded a Joyce Foundation Purdy Crawford Bursary.
"This bursary has been instrumental in spurring my personal development in both academics and leadership," he says. "I chose Mount Allison knowing that I would be entering a warm community with generous donors and faculty members. It was an obvious choice."
Cheryl Mackinnon, a first-year history student from Richibucto, NB, says this bursary was definitely a contributing factor in her decision to come to Mount Allison, along with her attraction to and comfortable feeling on campus.
"It definitely has had an impact on my life as a student," she says. "Because of the requirement of the bursary to involve myself in an activity, receive a mentorship from another student, or attend the President Speakers' Series, it pushed me to go outside of my comfort zone and really engage."
Photo captions:
Two of Mount Allison's first Joyce Foundation Purdy Crawford Bursary recipients, Cheryl Mackinnon ('19) and Noah Fry ('19).
Ron Joyce makes the announcement of a $5-million donation from The Joyce Foundation to establish The Joyce Foundation Purdy Crawford Bursary Fund at Mount Allison. From left to right: two of Purdy Crawford's daughters and Mount Allison graduates Suzanne ('79) and Sarah Crawford ('95); Ron Joyce (LLD '98).