Mount Allison's observatory getting upgrade thanks to Walker Wood Foundation, long-time supporter of education and student success
The existing Mount Allison Gemini Observatory (MAGO) houses two 11" Schmidt-Cassegrain telescopes, which are used by students, faculty, and the wider community. A donation from the Walker Wood Foundation is making a new telescope possible, which will enhance teaching and expand the observatory's public outreach.
"We have wanted to do more with the observatory for a long time and are so thrilled to have this donation," says Dr. Catherine Lovekin, head of Mount Allison's Department of Physics. "It's important for students and opens wonderful opportunities for the community to make use of our facilities."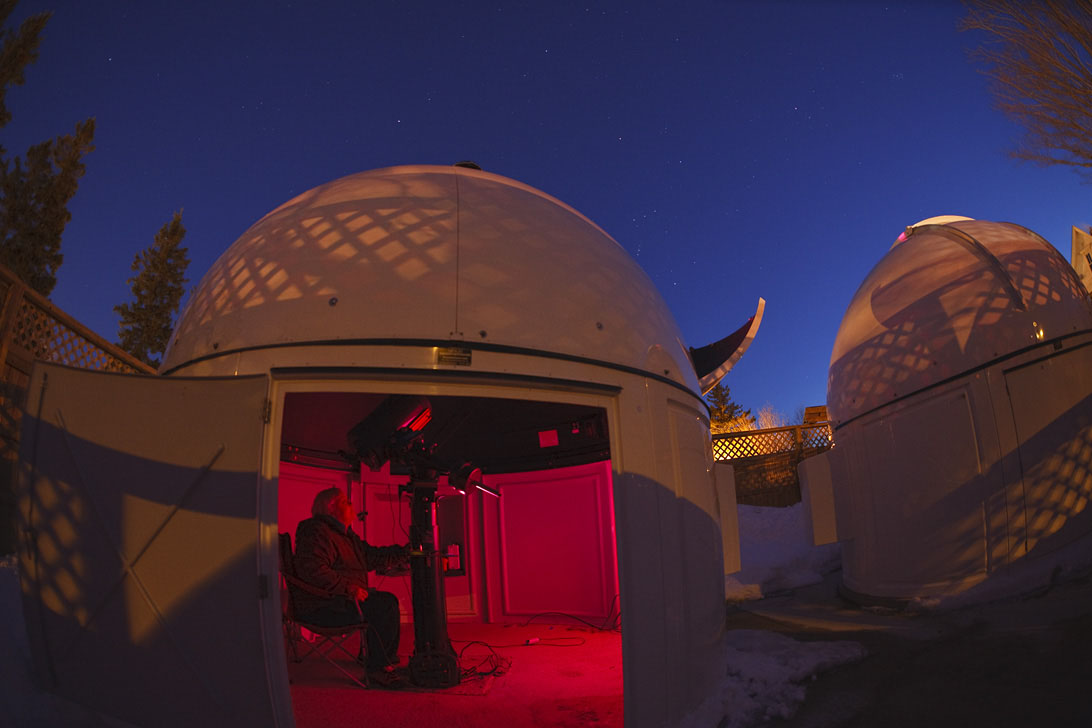 The new telescope will be operated remotely, meaning that unlike with the existing telescopes users will no longer have to shovel a pathway through Sackville's snowy winters to access the observatory.
"The new telescope will be able to be operated from, well, anywhere," says Lovekin. "In fact, anyone will be able to send a message to the telescope and request a picture of a certain object or area of the universe."
Lovekin says the idea is to get more people in the community using the observatory and interacting with the telescopes — whether that's local school children, scientists, or amateur astronomers on the other side of the world.
The physics department hosts MtA Open Observatory Night (MOON) events throughout the year where visitors of all ages connect with faculty, see stars and planets through the telescopes, and ask questions about the universe.
With a smaller diameter than the existing telescopes, the Gemini Observatory's new addition will be able to capture images of larger sections of the sky — for example, users will be able to see the entire Andromeda Galaxy. Lovekin explains that having this larger field of vision is helpful for tracking the movement of comets, moons, supernovas, and other objects and phenomenon.
An example of how it can be used in teaching is having students track the orbital movements of Jupiter's moons over several nights and use their findings to determine the mass of the planet itself.
Renovations to the observatory will begin soon.
This is only the most recent generous donation from the Walker Wood Foundation, which has created five student awards at the University. The foundation now supports scholarships in all Mount Allison faculties and in the last decade more than 30 Walker Wood Scholarships have been awarded to students.
The promise of this new donation to support both students and university-community engagement was something that appealed to members of the foundation.
"The University is deeply grateful to the Walker Wood Foundation," says Courtney Pringle-Carver, Mount Allison's vice-president of university advancement. "It's inspiring to see donors engage with multiple areas at the University, exploring how they can best have an impact. Whether supporting student financial aid or learning infrastructure, the Walker Wood Foundation is making discovery possible."