Mount Allison history under the microscope
Dr. Vett Lloyd revives histology course using biology department's historic slide collection
Histology, also known as microscopic anatomy, is a branch of biology that deals with the study of the microscopic structure and function of tissues and organs. It is a crucial part of medical research and diagnosis, providing insights into how our bodies work and how diseases develop.
Histology played a pivotal role in the development of modern medicine and was an integral part of the biology curriculum at Mount Allison for most of the 20th century.
It was a chance encounter by Dr. Vett Lloyd with the department's slide collection that helped revive interest in the course.
"I found this amazing slide collection sitting on the shelf covered in dust," says Lloyd.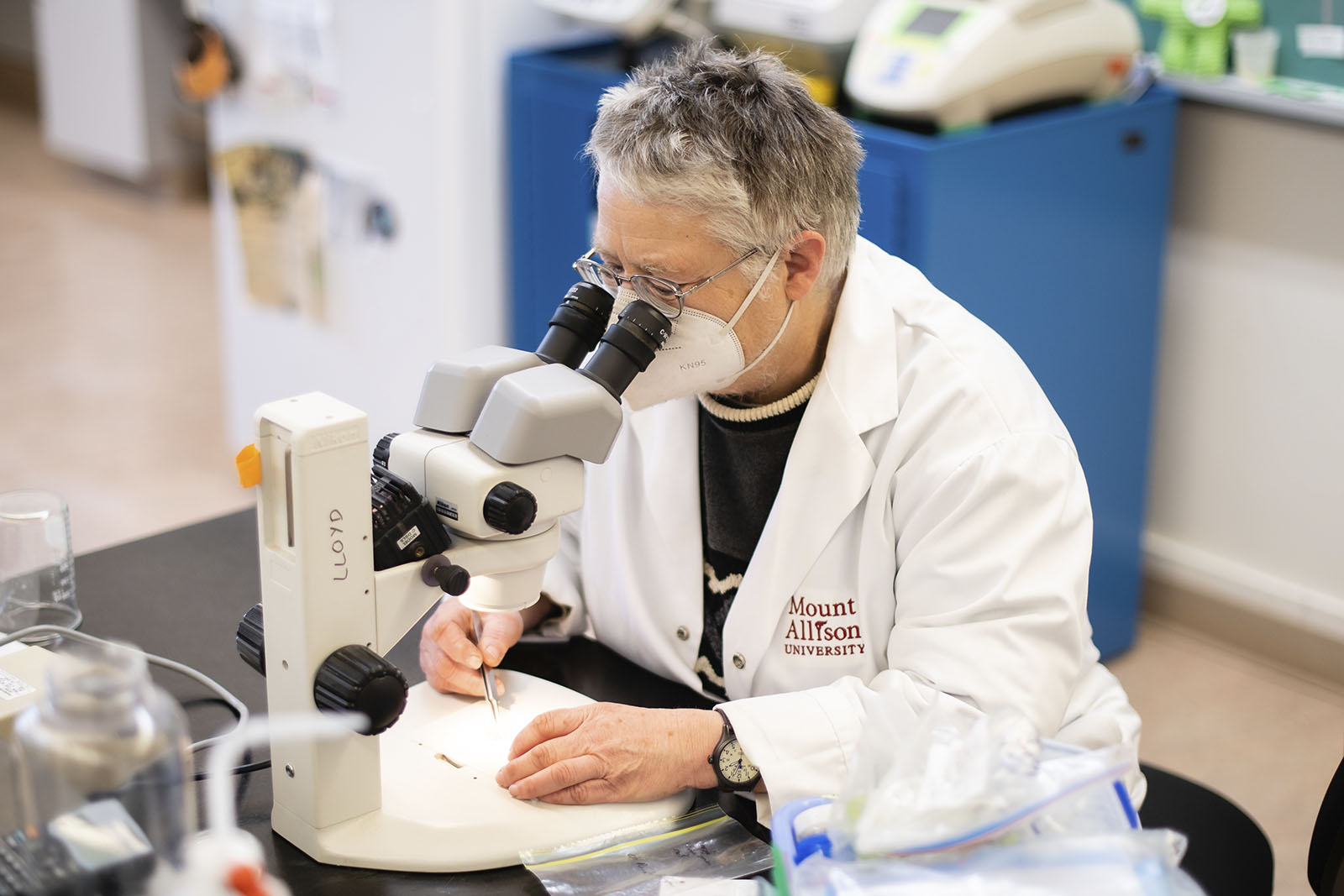 The collection, comprising nearly 100 slides, was created by students between the 1930s and 1950s. Despite their age, the slides have been well-preserved.
"It's an interesting technological comparison," says Lloyd. "If you're doing histology now, or say you have a biopsy taken in hospital, your sample is essentially consigned to robots. But this was done by people. And they did phenomenal work. Those slides are nearly a hundred years old, and they could have been made last week by a robot."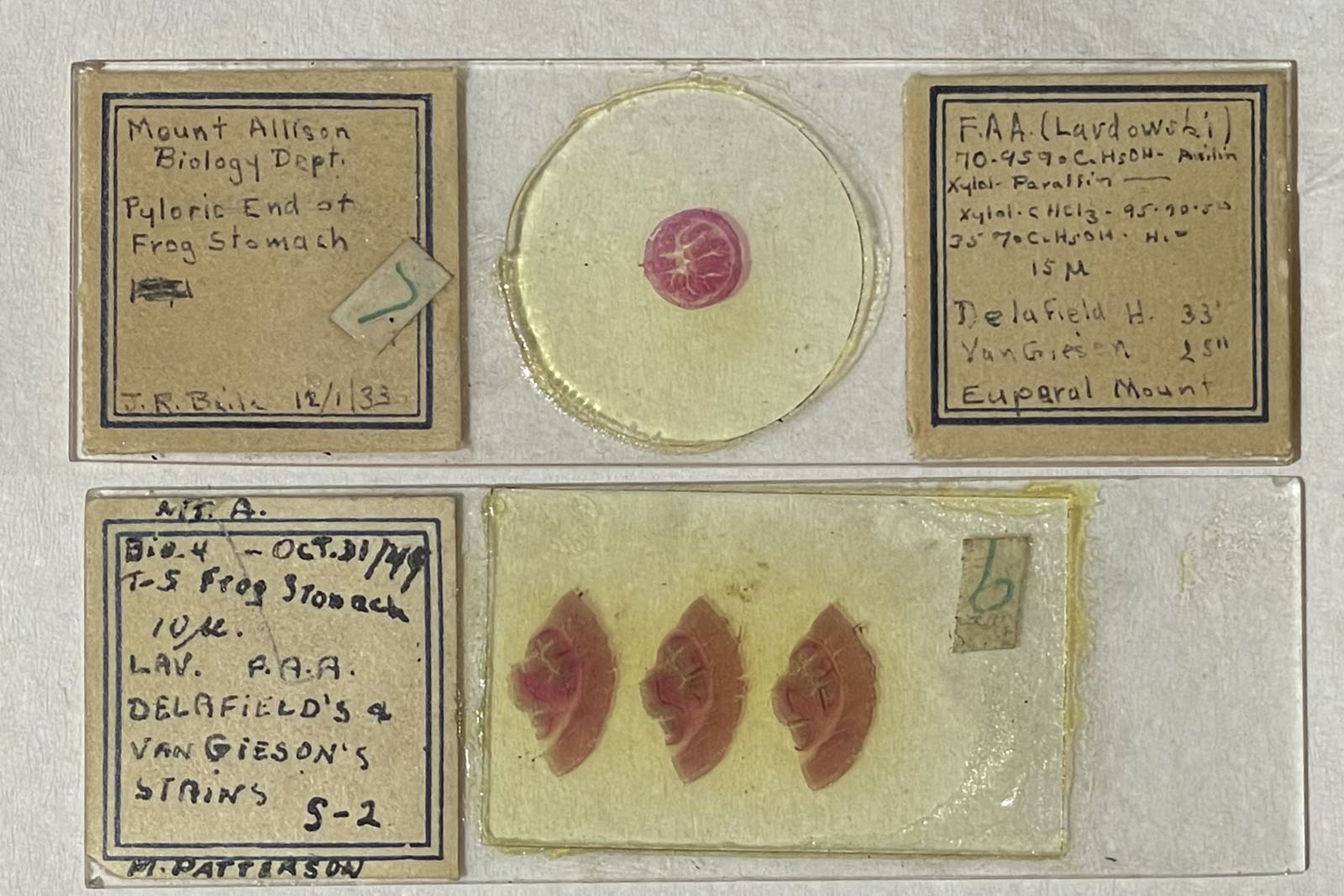 Lloyd gave her students the option to research the individuals who created the slides for their final project. It was a chance for them to connect with Mount Allison's past, but also to explore those early students' career progressions.
Among them was Elizabeth Marion Hebb ('40), who attended the Royal Victoria Hospital School of Nursing in Montreal. She made significant contributions to premature birth care, helping to establish a new facility for premature infants at the Royal Victoria Hospital, which evolved into the NICU.
Another accomplished student was John Ray Baile ('34) who, after completing medical studies at the University of Michigan, served in the US Navy during the Second World War. He later worked as a researcher for a pharmaceuticals company and as a science teacher.
Helen Elizabeth "Betty" Robertson ('41) went on to work as a laboratory technician and manager for a medical practice in Saint John, NB. She kept in touch with biology professor Dr. Roy Fraser, exchanging tissue specimens and discussing medical advancements.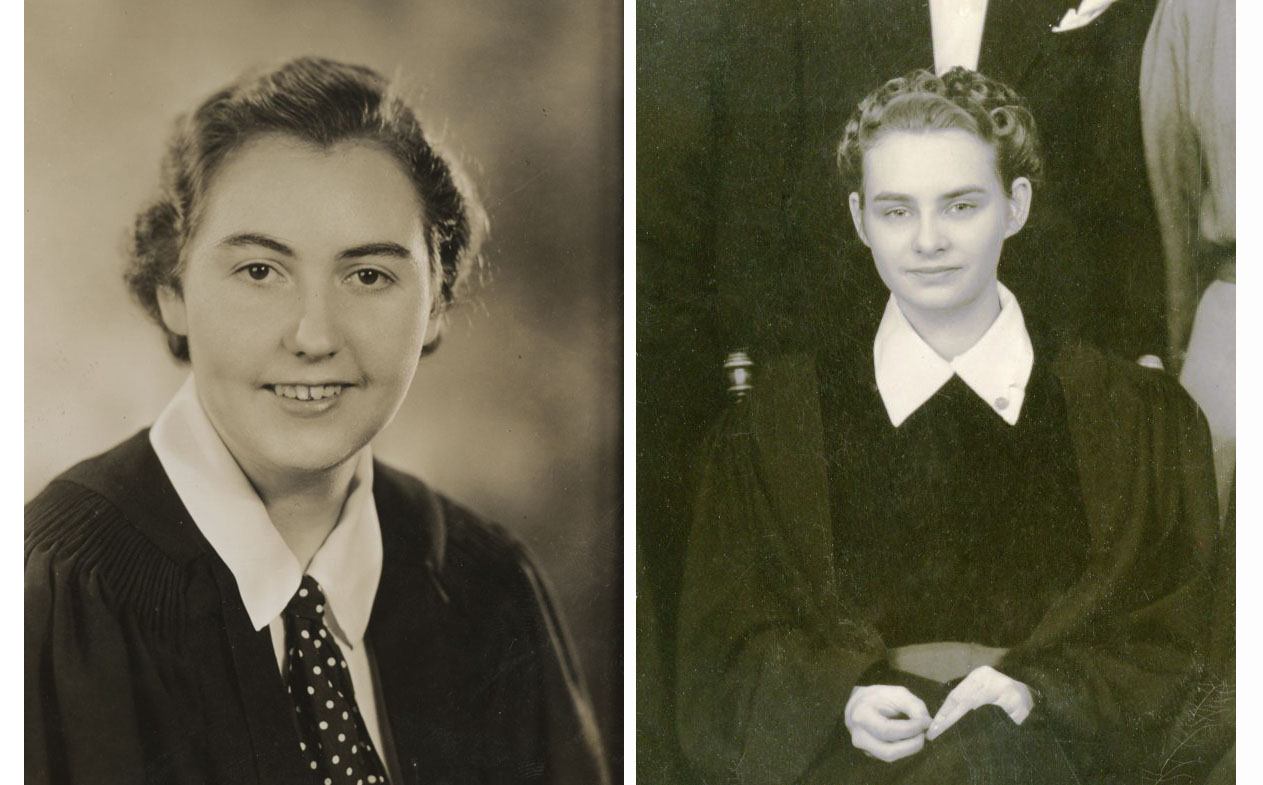 "I really enjoyed seeing all the different career paths these students took," says honours biology student Tannis Nelson. "I feel like there is so much pressure for us to choose a path as soon as we graduate, but these students went on to do such different things, even over the course of their careers.
The students were also fascinated by the more personal details they found during their research. Honours biology student Lara Swart, who researched John Baile, says it was heartening to discover there was more to his life than work.
"He was also very family oriented," she says. "I found some letters which described him as a sensitive, caring person. It was nice to see a more personal side of his life."
Those personal details also extended to their time at Mount Allison, where many of them participated in a range of clubs and societies.
"It was nice to see how involved they were in everything from drama to the yearbook," says honours biology student Charmaine Serrano. "It shows the importance of exploring different interests while you're at Mount A."
Lloyd had another goal with the project — that her students might relate to the challenges faced by students in the mid-twentieth century, whose studies and lives were similarly impacted by a global event.
"At that point, students were coming into the Second World War. I think students now are starting to understand that the COVID-19 pandemic, which for them has been a life-changing event, is a similar kind of disruption these former students went through, and they went on to be successful in spite of it," she says. "I think it provides perspective and hope for the future."