Entrepreneurship programming
How donors help students innovate, launch businesses, and develop transferrable skills
Mount Allison's Entrepreneurship for Everyone is a for-credit course that builds on the University's growing offerings in entrepreneurship. The course is open to students from any academic discipline.
"We want to foster the entrepreneurial spirit and mindset across campus and make it more accessible to everyone," says Rebecca Leaman, Mount Allison's director of experiential learning and career development. "We've had students from physics, English, Commerce, Fine Arts and other departments participate."
Leaman says the course makes sure to emphasize transferrable skills. Students learn research skills, study conflict resolution and the psychology of negotiation, explore how to set a personal mission statement and identify and define their values. Students have also received funding to help launch their innovations from the Jane Craighead and James Cherry Innovation Grant, TD Bank, Gerald Schwartz and Heather Reisman Foundation, and Future NB (a provincial program supporting experiential learning).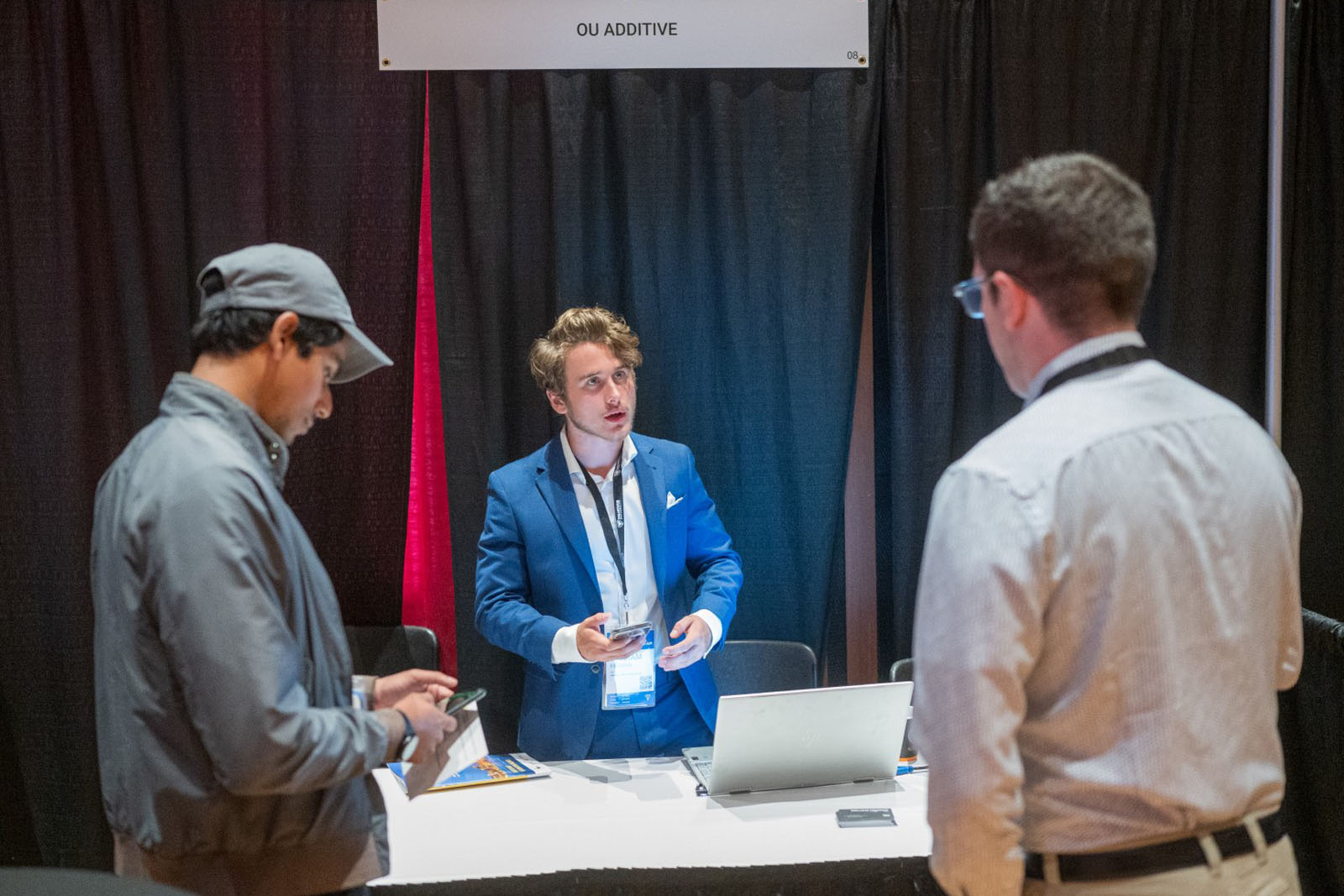 William Henman received the Jane Craighead and James Cherry Innovation Grant and says it was a crucial investment in his future, helping him access tools and equipment, participate in an industry conference, and grow his network of potential clients. Henman is the owner of OU Additive, developing a 3D printing technology for use in aerospace and other industries.
"I've spent three years working on the manufacturing of my liquid technology and am getting ready to build a full-scale prototype," says Henman, who is a third-year student in physics and computer science.
Henman says funding is important because as a student all your spending is going toward your education itself, leaving you little capital to work with as a young entrepreneur. In addition to start-up funding, donors have supported entrepreneurs-in-residence, networking events, an annual Dragon's Den style pitch competition, and mentorship and coaching.
Thanks to such programming supports, economics student and videographer Alan Kong (seen in banner image) launched 506 Media, which works with agencies and companies on video projects, and Lumière Wedding Films.
"My longstanding passion for videography began to bloom in 2021 with a commercial gig, and Mount Allison has provided the ideal platform and supports for merging my passion with real-world opportunities," says Kong, who is developing a robust client base in both New Brunswick and Toronto and says the past few months have been a period of both professional growth and personal introspection and discovery.
"Over the last several years, our donors, coaches, and mentors have been critical in helping more and more students dive into the world of start-ups and entrepreneurship," says Leaman. "The outcomes have been successful new ventures — from a dance studio to a microbrewery to young writers publishing their first books. Even in cases where students haven't continued with their start-up idea, they have gained invaluable creative thinking and leadership skills and are graduating with a clearer sense of their strengths and values, setting them up for future successes."