2020 Alumni Award Winners
Mount Allison celebrates the accomplishments and commitments of three Allisonians
Barbie Smith ('75, '76) — Charles Frederick Allison Award
The Charles Frederick Allison Award, named in honour of the University's founder, recognizes outstanding, lifelong dedication to Mount Allison by an Allisonian.
Coming from a long line of Mount Allison alumni, some may say it was destiny for Barbie Smith ('75,'76) to become a Mountie. Before her arrival on campus, both of her parents and her brothers had already attended, all regarding their time at the school fondly, further encouraging her to attend. It is a tradition that Smith is very proud of, and she has become one of the most dedicated and involved alumna Mount Allison has ever seen.
"I've come to know Mount Allison as a second home, a place where I can reunite with old friends and continue to meet new ones," says Smith.
A retired teacher, Smith continues to embody the spirit of Mount Allison in her day-to-day life. In her final year at the school, she was elected the first female Grad Class President for the Class of 1975, and she has been fulfilling those duties above and beyond all these years later.
She continues to work toward their class legacy goal and puts together special reunions for her class every five years. Some years after her graduation, she became involved with the Alumni Board, serving 12 years in total, spending the later years serving as President. Following her retirement from the Board, she continued to stay involved in alumni activities. She has volunteered at every Reunion for the past 20 years, become engaged with Global Brigades, and has worked with University Archivist David Mawhinney on the archives. Her dedication and loyalty go unmatched, and she is always willing to lend a helping hand at her alma mater.
Following her graduation, Smith spent some time working in the insurance industry in Toronto. Although she was gaining success in this area, she began to miss her home province of New Brunswick. She then decided to return to pursue her career in education, working in Quispamsis at Kennebecasis Valley High School. Smith continued working as a teacher, moving to Fundy High School in St. George and finally returning to her hometown of St. Andrews, finishing her career at Sir James Dunn Academy in 2012. Smith now spends her retirement sewing for people in her town and continues to give back to both her town community in various ways.
Mount Allison is proud to present Barbie Smith with the Charles Frederick Allison Award for everything she has done and continues to do for the Mounties family.
---
Norval McConnell ('80) — Lifetime Achievement Award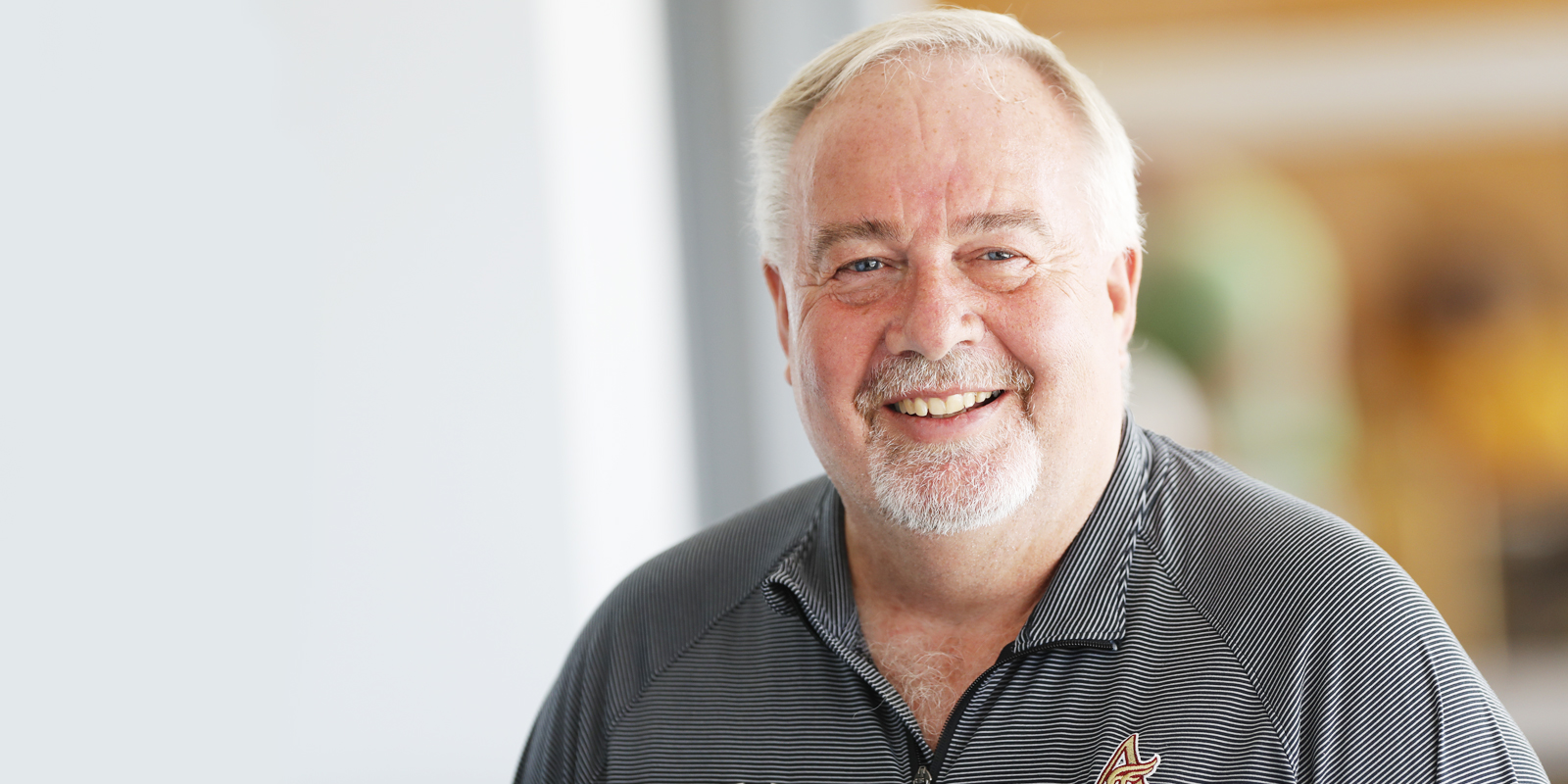 The Lifetime Achievement Award recognizes the outstanding accomplishments of an alumnus in their chosen professional field.
"Norval taught me that you don't have to punish a kid to get them to behave, you have to show them you actually care," says Emmanuel Octavious ('23) a former student of Norval McConnell's ('80). (Read more about Emmanuel and Norval's story.)
Following his BSc degree from Mount Allison, McConnell decided to pursue a career in education, receiving his BEd from St. Francis Xavier University and his MEd from Université de Moncton. This path resulted in a 32-year teaching career, working as a vice-principal, principal, and later a senior education supervisor in various schools.
McConnell exhibits the joyous spirit that every student looks for in their educators. His dedication surpasses just the academics, and he places a strong value in various facets of learning, such as the informal education that comes with participation in extracurricular activities, with an emphasis on athletics.
McConnell holds very fond memories of his time on the varsity basketball team at Mount Allison, which inspired his commitment to participate in local basketball leagues. Over the past 40 years, McConnell has coached at least one basketball team per year, influencing these young athletes' lives for the better.
"Mount Allison is a giving place and I think it encourages us to be giving adults," McConnell says, when asked about why he feels the drive to stay involved.
It is without a doubt that McConnell has a passion for volunteer work and community involvement. Since his graduation, he has maintained a strong connection to Mount Allison, attending reunions and participating heavily in various fund raising events, such as the Homecoming Golf Classic.
On top of his dedication to his alma mater, McConnell continues to be a strong presence in the Moncton area, his lifelong home. Besides being a key presence in community basketball, he is also heavily involved in the United Way, the YMCA, the Dragon Boat Festival, and the Lions Senior Centre. McConnell's commitment to community betterment resulted in his acceptance of the Paul Harris Award in 2015 and the Order of Moncton in 2018. McConnell attributes this passion to his parents as well as his time at Mount Allison, noting how he would see his professors attending his basketball games and other athletic events.
Norval McConnell is an inspiration within our Mounties community, displaying how influential giving can be.
---
Caleb Martin ('07) — Contemporary Achievement Award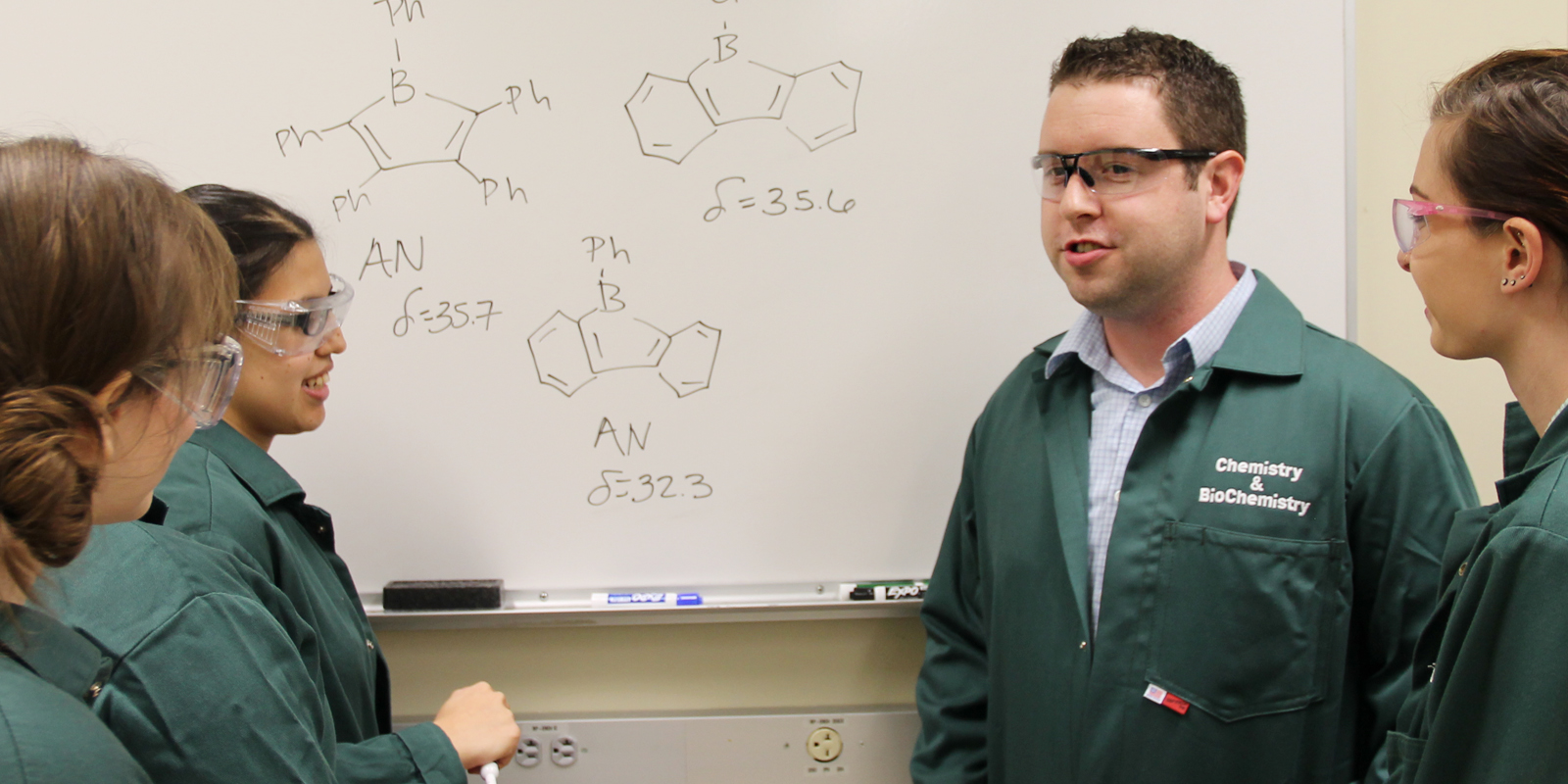 The Contemporary Achievement Award recognizes an individual who has attained outstanding accomplishments early in their career.
During his time at Mount Allison, on top of his research commitments as an honours student, Caleb Martin ('07) was involved in leadership and academic activities.
"I got involved in chemistry research in my second year at Mount Allison, which certainly changed my career path," he says. "I worked on projects with professors Glen Briand and Steve Westcott, who have helped me immensely at Mount Allison and afterward. I still keep in touch with them today and view them as life-long friends."
Martin participated in the Chemistry Society as vice-president, communications in his third year, followed by president in his fourth year. he was also involved in residence life, holding the position of secretary-treasurer in Campbell Hall in the first year it was open to students. Moreover, he was active in campus-wide intramurals, playing hockey with his fellow students, and founded the Mount Allison Wrestling Foundation to bring entertainment to the student body. These traditions continue to be widely successful on campus today. Given his involvement in these various activities, Martin then received awards within the Chemistry department and a leadership award in his final year at Mount Allison.
Upon graduating his BSc, Martin continued to pursue his education in chemistry. He completed his PhD in 2011, studying at the University of Western Ontario (now Western University), focusing his research on sulfur, selenium, and tellurium chemistry. Martin initially became interested in research during his time at Mount Allison, volunteering during three academic years and working as a research assistant in Sackville for two summers.
Following the completion of his PhD, he made the move to the Golden State of California, pursuing a post-doctoral research position at the University of California, working for renowned chemist, Dr. Guy Bertrand. In 2013, Martin accepted an assistant professor position at Baylor University in Waco, Texas, where he runs a research group of his own and was promoted to associate professor in 2019.
Martin's current research focus is synthesizing analogues of benzene containing boron, and in 2018 he was selected to receive a Faculty Early Career Development Program Award from the National Science Foundation (NSF). This prestigious grant awards his research enterprise $650,000 of funding over the course of five years to support further research in boron chemistry. Some applications for Martin's research include producing durable and portable energy sources.
Caleb Martin is a wonderful example of how special the undergraduate experience can be when nurtured by caring and devoted professors.