Creating Canada's literary trail
Hughena Matheson ('66) leads unique project celebrating Canadian literature
There is something special about reading a novel and recognizing a place you know.
Project Bookmark Canada is taking that feeling to the next level by presenting excerpts of Canadian literature on enameled porcelain aluminum plaques installed at the very place the excerpt describes.
"It is creating a literary trail across Canada from BC to Newfoundland and up to the north," says Hughena Matheson, President of Project Bookmark Canada. "It is unique in the world. In many countries you find plaques that note writers who lived in or visited that place, but these plaques are exactly where the author imagined. For instance, you can stand on Citadel Hill in Halifax reading the French or English bookmark presenting an excerpt from Hugh Maclellan's Barometer Rising and you are in the character's shoes, looking out across the city and Halifax Harbour with the doctor surveying the city after the Halifax Explosion. It's a powerful connection to the land through literature."
There are currently 29 bookmarks across the country, with several more in the works.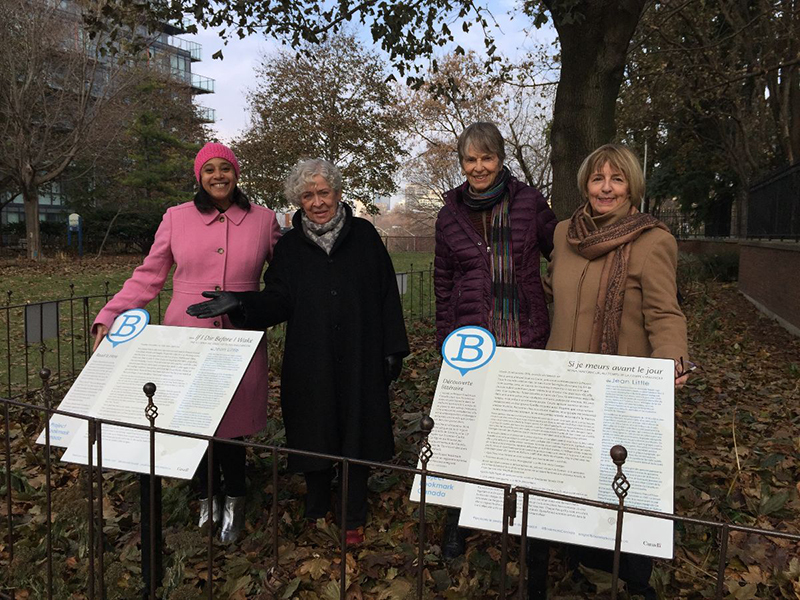 Matheson says they want to expand the number of bookmarks and ensure there is at least one in each province and territory. Currently New Brunswick is the only province without a bookmark and none of the territories have bookmarks yet. She would also like to see more children's literature featured.
"We would like to have them coast to coast to coast," she says.
Matheson, who grew up in Sydney, NS, graduated from Mount Allison in 1966 with a degree in honours Latin.
"So I was obsolete before I graduated," she says with a laugh, "but I loved the language and my classes were so small — in some I was the only student. I remember having a one-on-one class with Dr. Crake."
After graduation, she moved to Ontario to teach English and Latin in high schools. She has retired from full-time teaching, but still occasionally supply teaches.
Matheson first learned about Project Bookmark when her reading circle in Hamilton, ON was asked to make a bookmark suggestion.
"For me this is about a love of literature. Canada has a huge anthology of novels, short stories, and poetry set in exact locations right across this country, so there is lots of potential," she says.
The study of Canadian literature is relatively new. Mount Allison's Canadian Studies program — the first in the country — wasn't established until 1969, three years after Matheson graduated.
"When I was at Mount A there was not one Can Lit course," Matheson recalls.
Nor has Canadian literature always been well-regarded. The very first bookmark, unveiled in 2009, features an excerpt from Michael Ondaatje's In the Skin of a Lion.
"At the unveiling of his bookmark, he remarked that when he was talking about writing a thriller with a setting in Toronto, people thought he was crazy. He remembers being told it was commercial suicide to set a thriller in Toronto or any other Canadian city," Matheson says. "I think what Project Bookmark does, is it emphasizes that Canada is a land of storytellers and great stories."
The project also highlights the quality and breadth of Canadian literature. Each bookmark features an excerpt of no more than 500 words from a work of fiction. The place it describes, however, must be real and it must use its actual name and not a fictionalized one.
"We want people to wonder what came before and what came after," Matheson says. "The idea is to encourage people to go ahead and read the whole book."
Matheson says they are always looking for ideas for new bookmarks — submissions can be made online on the Project Bookmark website. The projects are funded by donation, with a bilingual set of plaques for a bookmark costing up to $75,000 to research, create, deliver, install, promote, and insure, depending on the location.
Find out more about Project Bookmark Canada: https://www.projectbookmarkcanada.ca/ and view current bookmarks.
---
Photo captions: Hughena Matheson with a bookmark in Cavendish, PEI, that includes the Lucy Maud Montgomery poem 'The Gable Window'.
Hughena Matheson, far right, with board members from Project Bookmark Canada, at a bookmark in Toronto, ON that includes an excerpt from If I Die Before I Wake: The Flu Epidemic Diary of Fiona Macgregor by Jean Little.