Brent Harris ('11) launches New Brunswick's first tool library and shop in Saint John
Builders from all areas and ages could take a page from Brent Harris' book.
Harris is the founder of the Saint John Tool Library (SJTL), New Brunswick's first non-profit tool library and DIY (do-it-yourself) centre, based in the heart of the city.
"When I returned to the Saint John area with my family, I lived with five or six of my friends in the south end of the city," he says. "I saw a lot of disconnect between the needs of these neighbourhoods and the resources being made available. I thought it was important to be closer to these issues to help find better solutions. The SJTL is one way we hope to help make these connections."
The SJTL uses the model of public libraries. Patrons can borrow any of the 700 tools available at the site at no charge. The group recently added community classes covering basic home maintenance and repairs such as wood working, using power tools, and crack filling drywall. The organization, which has four full-time staff members, also offers construction and contracting services.
The facility, which Harris describes as a cross between a co-op and a social enterprise model, is funded by membership holders. Established in partnership with the Pond Deshpande Centre for Social Innovation at UNB, and Economic Development Greater Saint John (EDGSJ), the SJTL opened its doors in 2018.
Harris says they see individuals from all over the city using the library.
"We have people using the tool library for many reasons. Tools are expensive and take a lot of resources to make, they can be hard on both finances and the environment," says Harris. "For many, it's just not efficient or affordable to own and store a tool you will only use a handful of times. I like the phrase, 'It's not the tool you need, you need the task done,' the hole in the wall is your goal, not the drill. This way of thinking could be applied to a lot of different material goods in our society, things like small kitchen appliances, craft supplies."
Harris, who holds a degree in international relations from Mount Allison, says he was always interested in construction and contracting work. He worked on a construction crew every summer throughout university.
"I enjoy this work and it was always something I came back to," he says. "I worked for International Needs Canada, an NGO based in Toronto, after graduation. But I decided to come back to construction and contracting work through the tool library."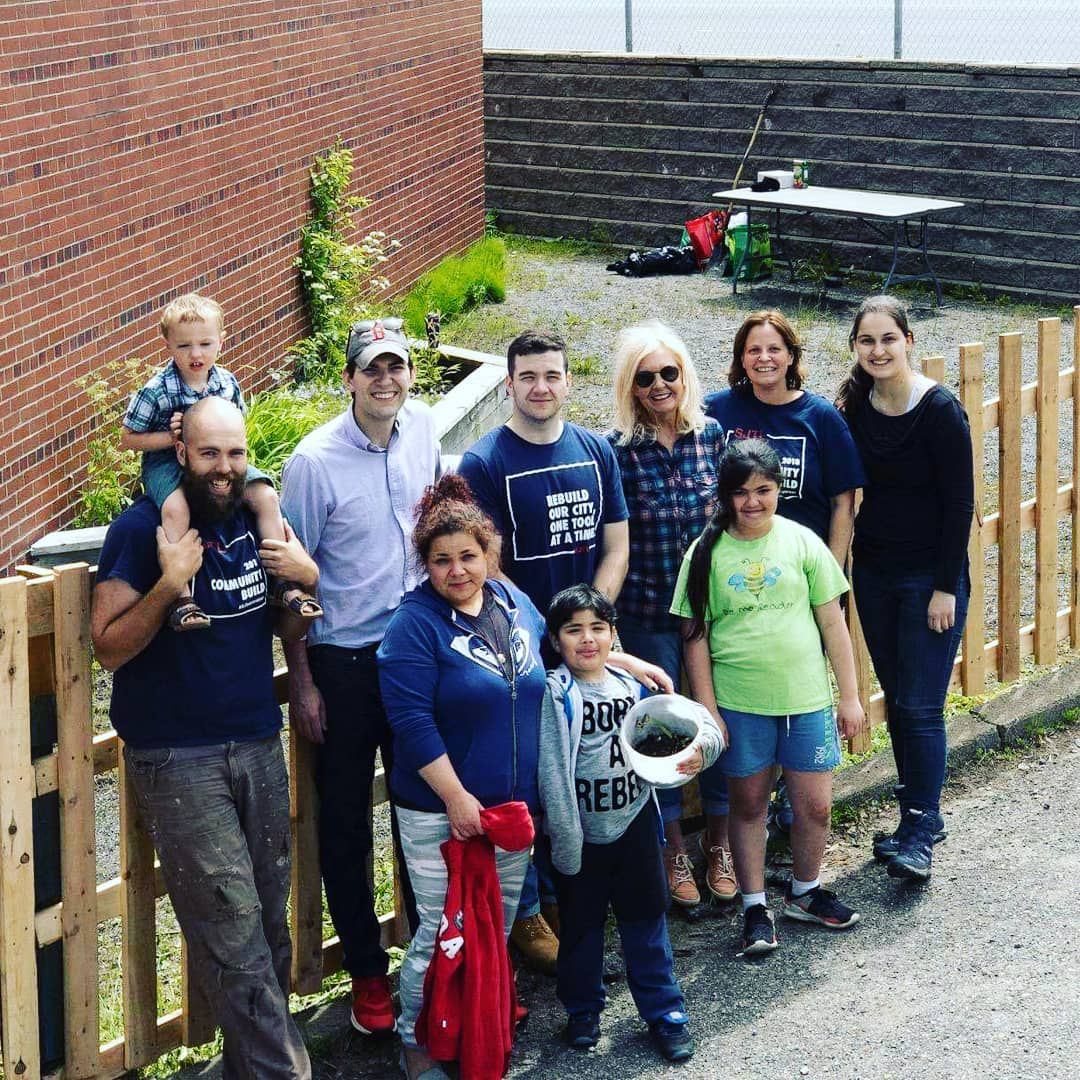 Through Harris's vision, the SJTL has also established a Community Build outreach component, literally and figuratively.
"The Community Build initiative seeks to bring the culture of barn raising into the 21st century," he explains. "We bring a team of volunteers together, collect donations, and work together to get a construction job done for a qualifying applicant."
Community Build applications are open to anyone who is a homeowner or a landlord with a compelling story of need and tenant support. Harris and the SJTL recently made headlines when they began work restoring a rundown property on Saint John's historic Victoria Street.
While the SJTL and its supporting projects have a strong presence in the city's Upper East Side, Harris acknowledges this model of social enterprise and community adaption takes time.
"The model for tool (and other) libraries is a good one; we see this success in our public library system," says Harris. "Our main goal is to become a sustainable organization with membership support. Once we have this, we can help grow seed money for other tool libraries in the region."
---
Learn more about the Saint John Tool Library: