Rev. John Perkin moves on to next chapter of his professional ministry career after 27 years on campus
After 27 years, Rev. John Perkin is retiring this summer as Mount Allison's chaplain. Perkin has been called to serve as minister at First Baptist Church in Ottawa — the oldest Baptist church congregation in the heart of the city.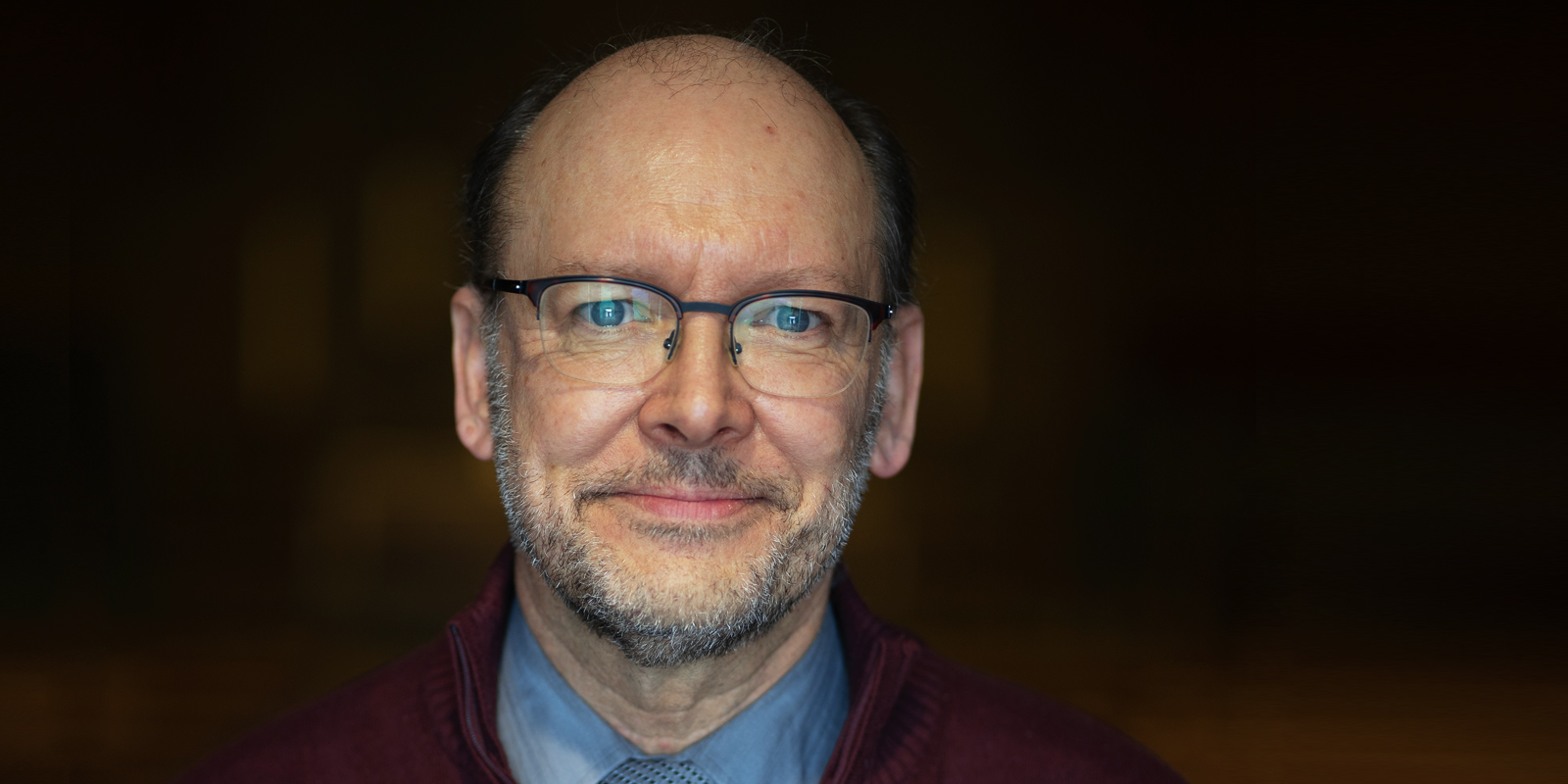 "I look forward to stepping back into a community of faith to preach and lead worship, to nurture spiritual life and awareness, to engage in community service, and to provide ongoing pastoral care," Perkin says. "It seems a good challenge to take on for what will likely be the last chapter of my professional career in ministry, which began almost 40 years ago in Winnipeg."
Of course in pandemic times, his career at Mount Allison came to an unexpected conclusion. He will move to Ottawa later this summer to take up his ministry under the imposed gathering restrictions.
"The pandemic has changed many things. When I delivered what was my last lecture in my apocalyptic course, I did not know at the time it would be my final lecture at Mount Allison," he says. "We held a final chapel Vespers service just before the University closed down and I knew that service would be my last one, so we made it as special as we could. Of course, I was not anticipating that there would not be the usual Convocation Weekend celebration of our graduates and the chance to see colleagues as we wrap up the year in the way we usually do."
Perkin plans to return to Sackville often as his wife Dodie will remain in town, but there are many things he says he will miss about Mount Allison itself.
"I will miss the ongoing and regular interaction with students and their complete openness to learning. I will miss the opportunity to mentor young people at a critical time in their lives as they are making decisions about what is important to them, what they want to do, who they want to become," he says.
And while he plans on being busy in Ottawa, he anticipates weddings to slow down considerably. Perkin officiated 30 or more weddings a summer at the University Chapel — sometimes three or four a day.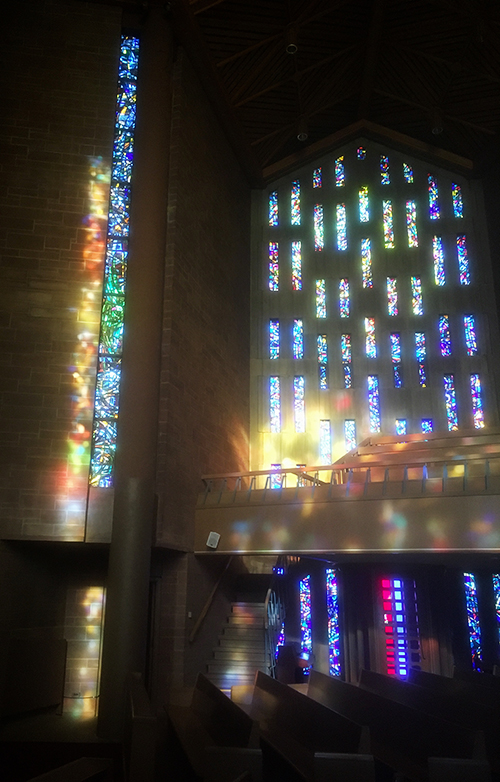 He will also miss the University Chapel itself.
"It's a magnificent building, so inspiring, and I have loved being in a sacred space that is open all day, every day," he says. "The high ceiling, the great acoustics, the many wonderful events that have taken place there, the magnificent stained glass, the fantastic early morning and evening light, the music, and the way the chapel can accommodate almost 300 people, but also feel comfortable with 30, and the quiet times and the busy times in the chapel."
For Perkin, pursuing the ministry was a natural choice. His father taught religious studies at Acadia and, even though he first ventured down a number of different paths, he came back to theology.
Originally from England, Perkin studied at Acadia University, the University of Manchester, and McMaster University. His studies have included the history of ideas, international relations, theology and biblical studies, pastoral care and counselling, and adult education.
An ordained minister in the Baptist denomination, he has served churches in Winnipeg and southern Ontario.
"I had been told by a few people, including my sister, that university chaplaincy would be a good fit for me," he says. "Then an opportunity came up at Mount Allison."
Twenty-seven years ago this summer, Perkin, his wife Dodie, and their young son Wray ('13) moved to Sackville for a 10-month contract as university chaplain.
"From applying to being offered the job, it was 24 days," Perkin says. "We had one baby and another on the way [Joanna ('17)] and we did one of the most foolish things and bought a house on a 10-month contract. We still live in that house today."
In Perkin's position as university chaplain, he provided spiritual faith guidance to the Mount Allison community, as well as pastoral care and counselling. He says grief counselling became a significant part of his work. He worked with students of all faiths and delivered non-denominational Christian worship services on Sundays.
"I dealt with the larger issues of life like identity, purpose, and meaning," he says. "We come to recognize that the smaller issues of life are often related to the larger issues of life. This age group (18-25) is dealing consciously or subconsciously with these larger issues."
After his first year, Perkin also began teaching at the University. He taught in the area of faith and culture from a historical perspective, with courses like The Apocalyptic Consciousness, The Historical Jesus, and The Bible and the Arts.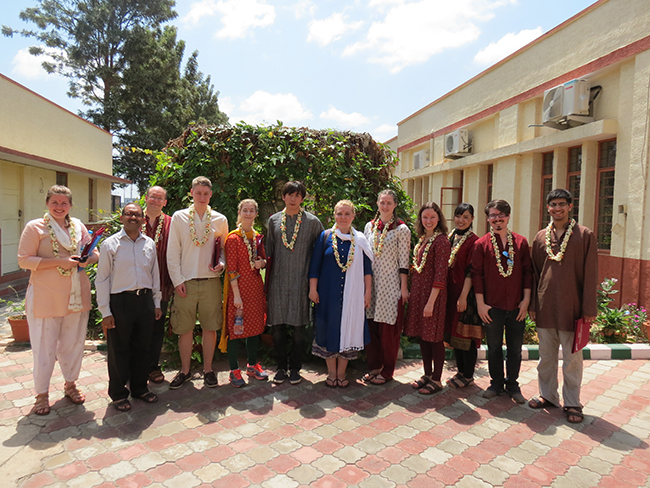 He also travelled with students to India three times for the Summer Studies in India program.
"Travel and reflection on travel are such an excellent part of education," he says. "To be in a different place and culture and to share in life. What I love most is meeting people in ordinary circumstances and learning how they live."
He and his family also spent six months in Japan during the early part of his career, helping to set up the MASSIE (Mount Allison Semester Studies in English) Program.
"Appreciating rich history, people, and commonalities that transcend differences is so important," he says.
Although Perkin says his line of work doesn't always come with immediate tangible rewards, there is satisfaction in working with students at this point in their lives.
"There is a joy in being a part of students' awakening into the world around them and adulthood and possibilities," he says.
Outside of his work, Perkin enjoys the outdoors — hiking, biking, canoeing, and birdwatching.