Dr. Gary Brooks ('60) followed in his family's philanthropic footsteps
For Dr. Gary Brooks, attending Mount Allison was just what you did in his family. His father Garland Chapman Brooks ('34) was the first to attend. Brooks and his siblings Sheila ('58) and brother Randall ('72) followed.
"From the time I was very young we would attend concerts at Mount Allison and we would drive around the University," he says. "I recall saying when I was three, and it is legend in my family, 'Where will I live when I go to Mount A?'"
Philanthropy was also a family tradition. Brooks has been donating to Mount Allison for more than 25 years and established the History of Psychology Prize, which is awarded annually.
"At the time, there were no psychology prizes. My father supported a lot of charities and he established an award at Emmanuel College in Toronto in the art of preaching, which gave me the notion of establishing awards," he says.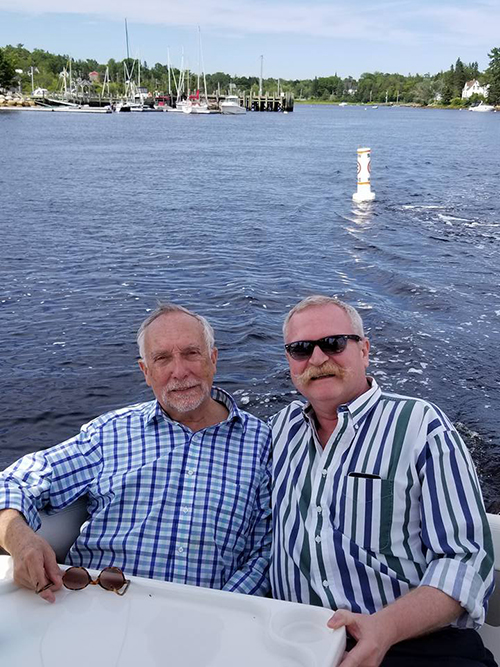 A professor in psychology at St. Francis Xavier University for nearly 35 years, and now professor emeritus, his area of specialty is the history of psychology, which he was inspired to pursue by Dr. Jim Tuck's Intro to Psychology class at Mount Allison in 1957.
"I can still remember the material he covered and how he covered it," Brooks says.
Brooks returned to his beloved Mount Allison to teach in the Department of Psychology from 1963-69. He credits these years as the most memorable in his 44-year teaching career.
"The University was in an exciting period of transition with a collective sense of purpose and the quality of my students was exceptional," he says. "My interest in supporting Mount Allison is as much due to my time as a faculty member as my years as a student — they were both highlights of my life."
In 2018, he continued his philanthropic efforts by donating his father's cane to the University as the next class cane, which is handed from class president to class president and inscribed with each name. This year, he watched the cane be passed virtually for the first time, during the Last Lecture.
"It was very touching," he says. "I was quite moved. The students were so engaging and it was really well put together."
Brooks also recently committed an estate gift to Mount Allison.
"It is partly just one of the things my family did," he says. "Of all the schools I went to, I thought I got a very good education at Mount A and I loved every minute of it. Mount Allison is a lifelong passion. It's in my blood."
---
Giving back to Mount Allison through your estate shows your confidence in the University — not just today, but over the long term. Legacy giving also provides you with an opportunity to have a transformative impact on the lives of students and to be intentional in providing support to areas that mean the most to you. To learn more about the new MtA Legacy Society and legacy giving at Mount Allison, please contact Jeff Wright, executive director of development, at jrwright@mta.ca.
Photo caption: Gary Brooks, left, and his partner Angus Campbell, taken last summer in Chester Harbour.