Alumni events and gatherings
Allisonians gather in-person and virtually
With the Atlantic Bubble open and in the Public Health alert yellow level, 36 golfers, including Mount A grads, supporters of the University, friends, and coaching staff, gathered in Moncton, NB for a down-sized Golf Classic, organized by Norval McConnell ('80). A total of $5,800 was raised for Mounties men's and women's basketball!
On Saturday, Oct. 3, the Mount Allison Alumni Engagement Office hosted the first-ever virtual Annual General Meeting. Fifty-three alumni gathered on a Zoom call, which featured a Q&A with President and Vice-Chancellor Dr. Jean-Paul Boudreau. Everyone enjoyed some social time using the platform's breakout room feature.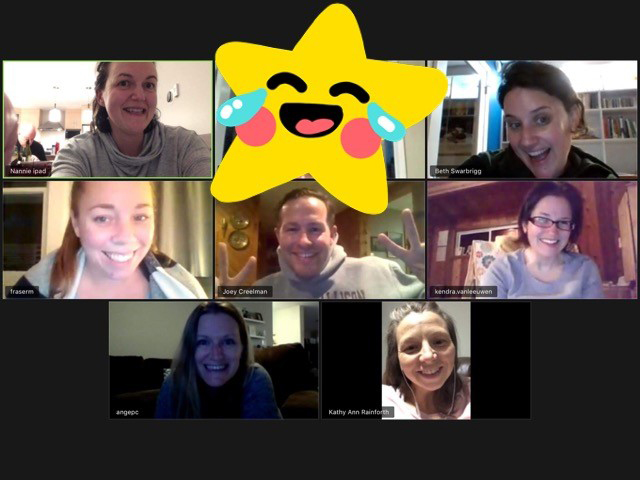 A tight-knit Trueman House crowd gathered for many Friday night Zoom calls! Pictured left-right/top-bottom are Sarah Melanson ('01), Beth (Lindsay) Swarbrigg ('01), Mairi Fraser ('02), Joey Creelman ('01), Kendra Deane ('01), Angela Roach-Fraser ('01), and Kathy Ann (Turner) Rainforth ('01).
This year's Fall Open House was a four-day virtual event, which included an alumni Q&A panel discussion. Open House was a huge success with 550 students registered and 328 "on-the-spot" admission offers given out! A big thanks to the alumni who participated in the Young Alumni Panel: Everett Patterson ('20), Megumi Gates ('19), Rachel Howlett ('18), Heather Webster ('15), and Devika Pandey ('13).