Seeing things crystal clear
Doug and Michelle Milburn's business endeavours bring unique technology to Cape Breton's manufacturing sector
It could be said the Milburns have made a direct route to Mount Allison over the years. Four out of five brothers in the Sydney, Cape Breton family are Allisonians and three of those brothers met their spouses on campus, including Doug ('86) and Michelle (Campbell) ('87).
"I had originally picked another school but then I came over for Winter Carnival when I was in high school," says Michelle, who is originally from PEI. "I changed my mind after that."
Despite the strong Allisonian influence in his family, Doug says his decision to come to Mount A was made in the moment.
"My older brother was there, it honestly wasn't a highly-thought-out decision," laughs Doug. "I like to live in the moment. The world is more connected now. The younger generation, they spend a lot more time thinking about these kinds of decisions than I ever did."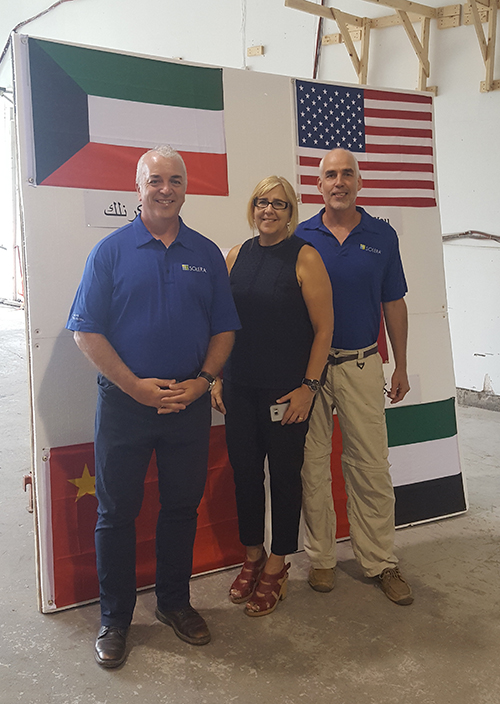 Doug studied physics at Mount Allison, where he did summer research with Dr. Paul Cant, and then earned his Master's in physics and a PhD in mechanical engineering at the University of Waterloo. Michelle earned a BA with a double major in psychology and sociology and continued her studies at Guelph.
"I had a good time at university so I kept on going, 13 years all together," says Doug with a chuckle.
The desire to be closer to family eventually led them back to Cape Breton.
"When Doug was finishing his PhD, we were looking at different options, he had a job offer in the States. But we decided to come back to the Maritimes," says Michelle. "It's got the best of both worlds, for lifestyle and business."
In 1995 the Milburns co-founded the Sydney-based company Advanced Glazings, whose team invented SOLERA and Aerogel window products, designed to control sunlight in an energy-efficient manner.
"We design windows you can't see through. We can tailor the amount of natural light and help control glare and hot spots in buildings," explains Michelle, who is now the company's Chief Operating Officer. "We've worked to develop this technology and are currently the only company in North America and Europe to offer this kind of product."
Advanced Glazings products have been used in projects throughout the world including Cirque du Soleil's practice facility in Montreal and the Smithsonian. They also provided the 2019 NBA Championship-winning Toronto Raptors' training facility with natural light using their large proprietary SOLERA glass skylight in the team's dressing room. The window technology can also be found on the Mount Allison campus in the Campbell Hall residence, built in 2004.
As the company's COO, Michelle runs the day-to-day operations for Advanced Glazings, something for which she says her Mount Allison degree helped prepare her.
"An arts degree gives you experience in a lot of different things. It prepares you to take that experience and apply it to new challenges when you graduate," she says.
But the Milburn innovative and entrepreneurial spirit did not stop with Advanced Glazings. Being one to see beyond the looking glass, Doug co-founded Protocase in 1999, also based in Sydney, NS, which manufactures custom sheet metal and CNC-machined electronic enclosures, mounting hardware, and miscellaneous components. The products are custom-built for clients around the world in science, engineering, and innovation in a two to three-day time frame.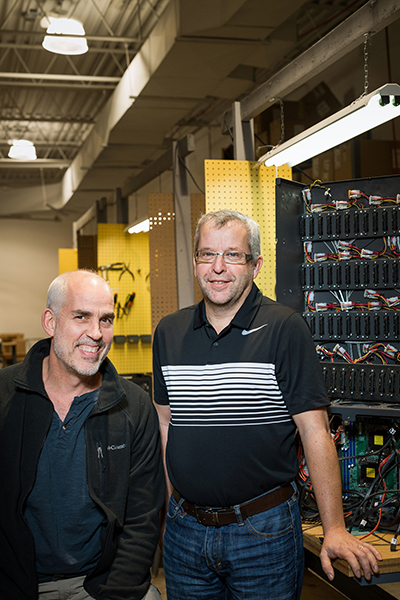 "Protocase also has a division called 45Drives, which makes very large storage servers," he says. "45 Drives products are used in a number of fields: research and development, medical, video production, government. All facilities for both companies are based in Sydney, but we work for companies worldwide."
Advanced Glazings and Protocase employ approximately 250 people in the Sydney area, including 2018 physics grad Sara Ripley, who joined the Advanced Glazings team just after graduation, and Allan MacMillan ('99), who is the company's research and development supervisor.
"I work in research and development, helping with product testing and working with architects to show them modeling products with and without this technology," says Sara. "I saw this opportunity in my final year at Mount Allison and am so glad I took it. I was able to use my studies right away in the workforce."
Originally from Fredericton, NB, Sara says the move to Cape Breton was not a hard one for her. Throughout her time at Mount Allison she worked as a student summer researcher, which included travelling to Mainz, Germany with physics professor Dr. Dave Hornidge.
"I was used to living away from home. Starting work right after graduation wasn't a big transition for me," she says.
Sara has worked to make Sydney home, connecting with Allisonians at work and in the community and also volunteering as a coach for the girls' basketball team at Sydney Academy. She says this kind of community connection was one her Mount Allison experience helped foster.
Michelle agrees.
"I have yet to hear from someone who went to Mount A who didn't love it. It really served us well," she says.
---
Photo captions:
1) Sacramento Kings practice facility
2) Terry MacGillivary, left, product manager with Advanced Glazings Ltd., and Michelle and Doug Milburn at a news conference for the company's shipment to Kuwait University College for Men
3) Doug Milburn, left, with Steve Lilley, the co-founder of Protocase and 45Drives. One of the 45Drives' Storinator units is pictured in the background