MasterChef — Allisonian Style
Andy Hay's ('08) East Coast Kitchen celebrates regional cuisine
Commerce graduate Andy Hay ('08) has built a career by having an open mind and taking chances.
"I tend to like throwing myself into situations just to see how I survive and how I do," he says when asked what led him to audition for CTV's MasterChef Canada Season 5.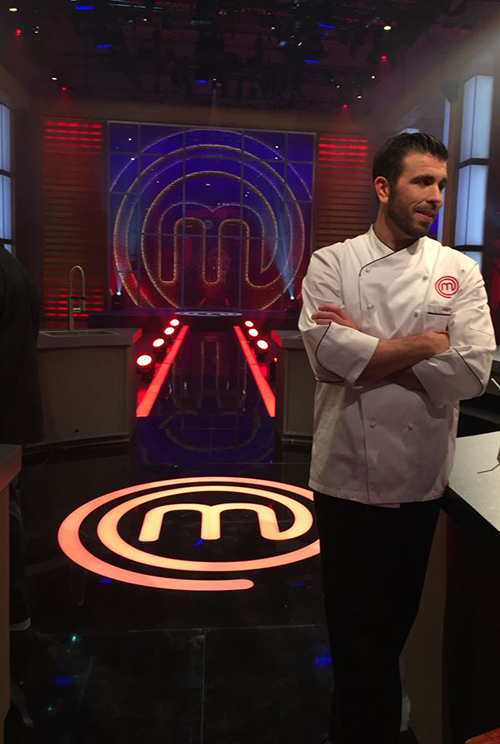 Following graduation, Hay returned to Halifax where he worked for an insurance company for two-and-a-half years before realizing he wanted to get out there and find a job about which he was truly passionate. Hay chose to first go on a backpacking trip through Southeast Asia and while enjoying street food during his travels discovered his excitement for cuisine.
Upon returning home, Hay found he was craving foods he had eaten on his trip and set out on his journey of learning how to cook through cookbooks and YouTube videos. After five years of working and perfecting his craft, he decided to audition for MasterChef.
"I thought, 'There's no risk in doing this, it'll be a funny story,'" he says.
His story went from being a fun risk to a reality as he completed the audition process and won a spot on Season 5, eventually being named runner-up. He won his spot on the show by creating a lobster dish, an homage to his home province, Nova Scotia.
MasterChef was just the beginning for Hay. He realized this was a hobby that could clearly become a business opportunity and as soon as the show ended, he began to build his company, Andy's East Coast Kitchen.
Combining his knack for cooking with his Commerce education from Mount Allison, Hay was able to create his culinary adventure tourism company, which has been growing and thriving since its opening about a year-and-a-half ago. With culinary adventure tourism, Hay and his team provide their clients with large, authentic, Maritime-themed meals in whatever location is provided to them. The business also has also been trying to push into social media by providing videos for clients, blog posts that include recipes, and pitching TV shows.
"It hasn't been easy but it has been super rewarding," he says.
A proud alumnus, Hay still keeps up with his roommates from the years he spent at Mount A, saying he finds the time to see most of them at least once a week. He says one of the biggest benefits of attending Mount Allison was the opportunity to learn many different things and explore various subjects. These explorations guided him into seeing the bigger picture as well as helped him be a better communicator.
Find out more about Andy's East Coast Kitchen (Instagram).
---