Artist Adam Young's ('03) unique style inspired by Fogo Island, Newfoundland
Adam Young paints every day.

"I think it's important," he says. "Most of the time I am just sitting down and putting paint on canvas and hoping something comes out. I start and it evolves into something."
Young's artistic style came to life when he moved to Fogo Island, NL in 2005, where his wife Jennifer is from. Then primarily a figure and portrait artist, he was inspired by the landscape and the architecture.
"It spurred me on to create this body of work," he says. "I was investigating light and how it bounces off water and buildings and it just developed from there."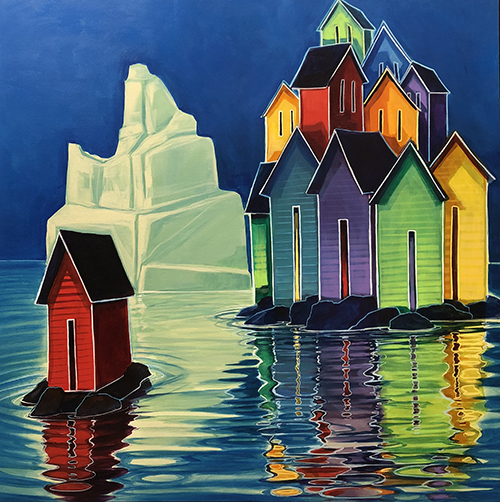 Young describes his style as mixing the messy, colourful expression of fauve art with surrealism.
"I am kind of a graphic artist in a way with sharp edges and harsh contrasts. Looking at it now, I was always into cartoons and graphic novels and that fused with my love for traditional arts," he says.
Growing up in New Brunswick, Young began painting in high school at Moncton's Harrison Trimble, under the guidance of art teacher David Brooks. He regularly did freelance illustrations and characters for newspapers.
Young chose Fine Arts at Mount Allison for its focus on traditional art education and art history, concentrating on painting and printmaking in his final year.
"Mount Allison gave me the platform to understand painting, drawing, and all the technical aspects. I had really great teachers and was introduced to the world of art," says Young.
Young completed his BEd at Crandall University and taught middle school art in Riverview, NB. He helped develop the art curriculum before making the move to Joe Batt's Arm on Fogo Island and becoming a full-time artist — establishing Young Studios.
He says social media has been a huge part of growing his following.
"I chose a non-traditional route of not going through galleries," he says. "Facebook and Instagram have been the perfect platforms to maintain control and get my work out there."
He uses the analytics from his social media to help determine where his audiences are and where he will host his pop-up shows. He traditionally visits Moncton, Halifax, Ottawa, and Toronto, sometimes alongside other artists.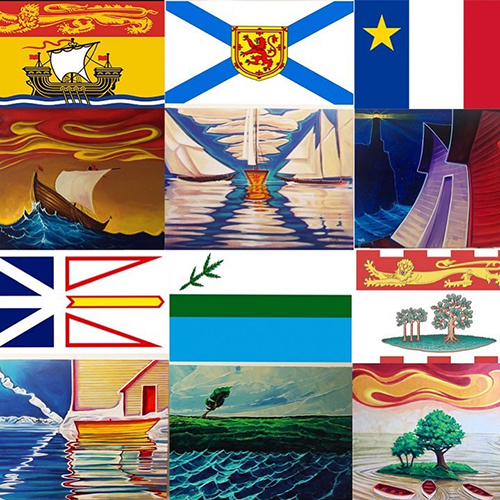 "I love the idea that I am doing what I really want to do," he says. "From creating to organizing to setting up and selling — then having people experience what I have created right in front of me. It's really nice to see."
Young's studio is located near Fogo Island Inn — a world-renowned facility that welcomes an influential audience from around the world. The Inn recommends Young's gallery to its guests.
"I have been lucky and fortunate in that way," he says.
Earlier this year, Young's art was commemorated on a coin through the Royal Canadian Mint with a limited production of only 750. He originally created the coin art for Canada 150 and when his design didn't make the cut, the Mint asked to keep his design in the archives for a future coin. He joins Allisonian and renowned Canadian artist, the late Alex Colville ('42), who also had his artwork commemorated on coins through the Royal Canadian Mint for Canada's 1967 Centennial.
Young recently opened his own studio on Fogo Island.
"I have been ping-ponging around and painting in the kitchen," he says. "It is really nice to have my own space to create and showcase my work."
You can follow Young Studios on Facebook @Ayoungstudios, Instagram @young_studios, or visit ayoungstudios.com.

 
---
Check out Adam Young at work and tour his studio: