Adam Cheeseman ('14) returns to Sackville to work as the Director of Conservation with Nature NB
Two years after graduating from Mount Allison, Adam Cheeseman chose to call Sackville home again.
"My fiancée [Mariah Malone ('13)] and I wanted to move closer to family and live in a small town," he says. "She is from the area and we both love the community, so we jumped at the opportunity to come back."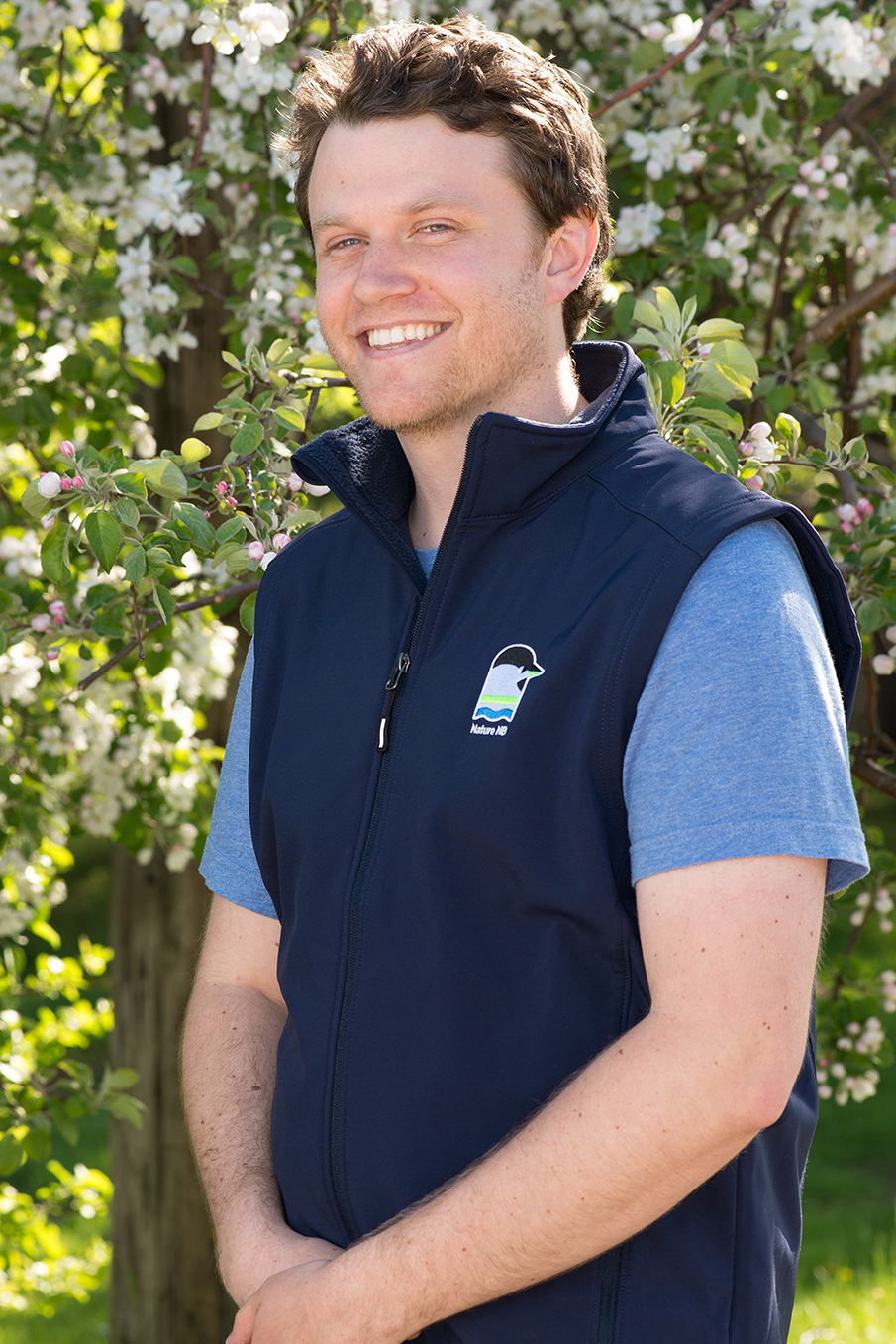 An honours environmental science graduate, he says Mount Allison provided a nice foundation for his work with Nature NB.
"My interdisciplinary social sciences education provided me with a lot of perspectives," he says.
Cheeseman completed a Master of Environmental Studies at Dalhousie University, focusing on environmental education. For his thesis, he evaluated how an overnight earth education summer camp impacted youth's environmental knowledge and behavior through surveys and interviews with participants and their parents.
Cheeseman is now responsible for co-ordinating Nature NB's climate change adaptation program, along with two stewardship programs — the New Brunswick Important Bird & Biodiversity Area Program and Protected Natural Areas Stewardship Program. Both programs aim to conserve habitat and the animals and plants that rely on them through monitoring, education, and stewardship across the province.
Through this work, he says the most rewarding aspect is the people.
"I bring my own motivation to the work, but it is amazing to experience the passion and dedication that our partners and volunteers bring to these projects. It makes it all very special. I've made many life-long connections with people who are keen about nature, the environment, and education," he says.
Cheeseman also volunteers with the Nature Conservancy of Canada (NCC), primarily with the WildPaths Maritimes project. Twice a month from spring to fall he monitors a stretch of highway between New Brunswick and Nova Scotia and records wildlife sightings (dead or alive) on a mobile application called iNaturalist.
"The information we collect is used to get a better understanding of wildlife movement in the area," he says. "This will allow scientists, NGOs, and decision-makers to find safer solutions for animals and people."
In the spring, his Mount Allison experience came full circle when he taught his first geography and environment class — Sustainable Communities — at the University. He created an experiential learning-based, three-week course, which included a variety of guest speakers and field trips.
"It was a very weird experience for me because I felt like I was just there, sitting in the class myself," he says. "It was fun and rewarding to be on the other side, though. I enjoyed it and I would do it again in a heartbeat."
Outside of work, Cheeseman enjoys outdoor activities like hiking, biking, cross-country skiing, and camping.
To find out more about Cheeseman's work at Nature NB, visit naturenb.ca