Heather McGrath ('00) makes a splash in support of Camp Brigadoon
Photo caption: BIG SWIM Event Director Heather McGrath, middle right, onsite at the 2019 event for the non-profit organization GIVETOLIVE
Following Heather McGrath's ('00) graduation, she and her husband Khristian ('00) found themselves starting their lives with work and children in Halifax, NS. Working with Natural Gas Commodity Trader, McGrath and her family began volunteering with the non-profit organization GIVETOLIVE, which was started by the company.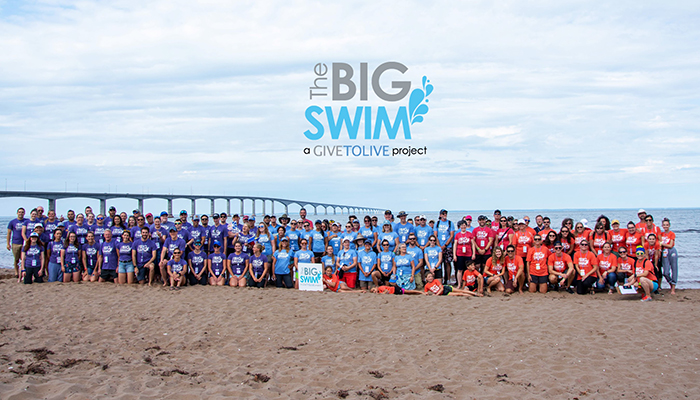 GIVETOLIVE is a Nova Scotia-based charitable foundation that inspires individuals to raise money for various causes while achieving incredible physical and emotional accomplishments. Throughout the years, the foundation has held numerous annual events such as the BIG RIDE (an intense cycling exhibition raising money for the Dalhousie Medical Research Foundation), the BIG CHILL (a snowshoeing adventure in support of Lawrencetown Education Centre), and the BIG SWIM. Since 2008, GIVETOLIVE has raised almost $3 million for various Canadian charities.
McGrath has been a part of the organization for nearly a decade, serving as event director of the BIG SWIM for the last eight years and completing the event herself in 2014. The BIG SWIM is an annual event in which volunteers raise money to swim across the Northumberland Strait — a 13 km crossing via Confederation Bridge from NB to PEI — in support of Brigadoon Village, a camp out of Aylesford, NS for children with chronic illnesses. The camp gives kids an opportunity to safely experience camp as well as meet peers who have similar stories as them.
This year, the ninth BIG SWIM took place on Aug. 18 and raised more than $175,000 for the camp. This money will be used to sponsor children in need of financial support to attend the camp. With costs at $1,300 per child, the funds from this year alone will send 134 kids to camp who otherwise might not be able to go.
Several Allisonians, along with McGrath, have participated in the fund raiser including Khristian McGrath ('00), Jay Jarvis ('01), Dara Connolly ('99), Marianne Greene ('09), Tara Mills ('01), and William Russell ('10).
When asked what really drove the decision to dive headfirst into the GIVETOLIVE project, McGrath says that it had almost everything to do with her kids.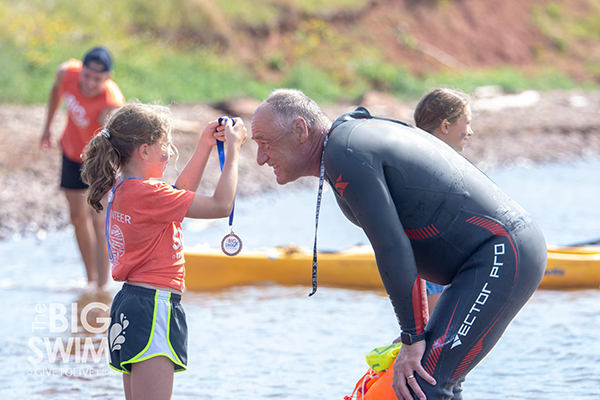 "My life changed completely once becoming a parent, and I wanted to show our girls that challenging yourself and giving back to the community is important and imperative for living a healthy, rewarding life," she says.
McGrath also has a heart full of pride when it comes to speaking about who is involved in these events and projects.
"The GIVETOLIVE family is made up entirely of volunteers like myself (with the exception of one part-time employee). Natural Gas Commodity Trader pays the bills, but GIVETOLIVE fills my heart," she says.
Current Mount Allison Science student Nate Otley of Halifax, NS has worked as a camp counsellor and as part of the leadership team at Camp Brigadoon for the past three summers. He says the experience is a life-changing one, both for the children attending camps and for staff members like himself.
"When many of the kids first come to camp, they speak of struggling to fit in with their peers due to their illness or life situation. Almost everyone leaves with a better self-concept and a support group of friends that understand them," he says. "It is heart-warming to watch kids relate to each other on levels many hadn't been able to before."
To find out more information about GIVETOLIVE, visit givetolive.ca
To find out more information about Brigadoon Village, visit brigadoonvillage.org