Norval McConnell ('80) takes on new athletics challenge

As a proud alumnus, current Mount A parent, and avid Mounties athletics fan, Norval McConnell is a regular visitor to campus. This fall he's taken on another role that will bring him to campus once again, as chair of the 2018 Canadian Collegiate Athletic Association (CCAA) Women's Basketball National Championship, taking place at Mount Allison March 14-17, 2018.
"Mount A was very good to me. I've now got the time and experience to give back in this way," says McConnell. "I'm excited to work with the team on the tournament and hope we can make it a great experience for the players and coaches."
McConnell played basketball at Mount Allison (BSc '80) and St FX (BEd '81) playing on an AUS Championship / CIS Semi-Finalist team at X. He lists winning the 1978 Small College Championship in his second year as one of his top athletic highlights at Mount Allison.
"The whole experience was really exciting, not just the games but the community as well. I had professors in chemistry (Ross Barclay, Ken Adams) who would come regularly to the games. Not every university would have that kind of support," he says.
"I'm hoping we can bring this kind of atmosphere for our current players so they can look back on their 'Mount A days' 20 years from now with good memories from that weekend."
In addition to his time on the basketball court, McConnell says the connections he made at Mount A in the classroom/lab and in residence were key for him.
"I lived in residence all four years (Hunton and Thornton) and that had a huge impact on me. I'm still close with friends I made on campus," he says. "Intramurals were also a big thing. Anyone could play and you really built a community around these kinds of activities. While I wasn't going to be on the men's hockey team, I did play hockey, volleyball, flag football, and softball throughout the year thanks to intramurals."
Originally from Moncton, NB, McConnell began his teaching career in Amherst, NS, teaching chemistry at the high school.
"I was a bit of a rarity — I was teaching in what I had studied," he chuckles.
After five years he returned to Moncton where he worked as a teacher and administrator in a number of schools in the region. Throughout his career, McConnell worked with many 'at risk' students, providing additional support for academic and social needs. He also worked as an education supervisor in district office before returning to the classroom/principal's office in 2010.
"I knew I was getting close to retirement then and wanted to get back into the schools," he says. "I loved what I did. Not everyone can say that about their careers."
Always a community-minded individual, McConnell has also coached or chaired a number of teams and organizations in the city over the past 30 plus years.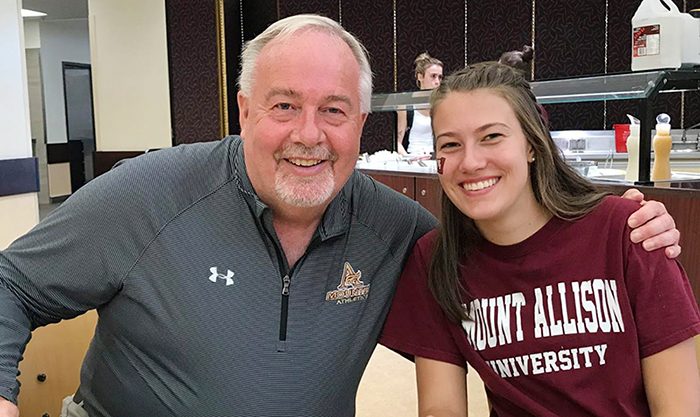 "I've coached basketball teams at every school I've worked at as well as community groups, every year from 1981 up until my retirement in 2013," he says. "Some years had more than one team and some were teams my own kids [Kyle and Sara ('20)] played on, which were really special."
Along with his coaching McConnell has served on the Moncton Kiwanis Minor Basketball Board since 1998 as their treasurer; the Irving Oil Boys High School Hoop Classic since 1987, chairing the event since 2009; and also chair of the Canada Cup National Under 18 Football Championship hosted in Moncton in 2013.
He's also served the last five years as the chair of the annual Dragonboat Festival in Moncton, raising over $100,000 annually for the Lions Sick Children's Fund and other charities in Greater Moncton. In 2007 McConnell chaired the annual Greater Moncton United Way Campaign achieving their goal of raising $2.1 Million. In retirement he spent four years as the manager of community relations and player engagement for the Moncton Miracles (now Magic) professional basketball team. Twice they were recognized by the National Basketball League of Canada as the top franchise for work in their communities.
"I tend to pick causes that are close to my heart, ones to which I have a connection," he says. "So it was easy to get on board with the CCAA Nationals when Mount A approached me."
Currently working with the CCAA office and Mount Allison athletics for the upcoming championship, McConnell is excited to be playing this new role at his campus 'home.'
"My wife (Nancy Tingley) and I joke that Mounties Basketball has become our 'date night.' We follow both the men's and women's teams and try to attend every game, even the away ones," he says.
Find out more about the 2018 CCAA Women's Basketball National Championship, taking place at Mount Allison March 14-17, 2018 at http://www.mountiepride.ca